genius strikes again*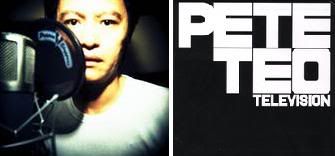 Ladies and gentlemen, boys and girls, let's begin the induction of a rare breed by the name of Pete Teo. Why a 'rare breed', you ask? Good question. Now, the problem is I don't know how to answer that. Coz this man is too deep and intelligent, I don't know where to even begin…
The fateful date: 9 August 2003. I got to know this man who shattered two of my personal childhood beliefs and I am still recovering from the tremor. Even at the tender age of 8, my beliefs were: (1) I would never take any interest in a Cinapek. (2) I had buried the idea of motherhood, simply coz I don't ever want to. But this man got me hooked like the possessed from the first line of 'Arms of Marianne', with his voice, his wit, his hardcore passion for what he believed in, his
powderful England
, his insomniac ways, his humility and most of all, his never-say-die attitude towards life. (This is kinda ironic considering the 'suicidal' theme of Rustic.). He represented the new breed of Cinapek; the one who looks like the head gangster of Kepong Baru but with the upbringing of Nottinghill. Ha. And the more I know him, he ended being the poster boy I want to paste on my wall if ever my maternal instincts decide to raise from the grave and give a hard kick. Next to his twin sister by the name of Dakota Fanning. They represent the type of children I want to have – obedient, clever and speak articulately. Heh.
So I began spreading word about him better than I spread the gospel, so much so that people began tagging me as his stalker, which is funny coz it was those who called me his stalker that did the stalking work for me. At most times, I am at the comfort of my sofa reading or drooling at Colin Firth over the 100th time of Bridget Jones Diary and I will get smses informing me of his whereabouts, what he is wearing, who he is with, which paper he appears in, which page etc. The information given were so detailed, I can safely tell you that on 31 March 2006, he was at Restoran OK in Taman Tun buying a pack of chicken rice wearing a purple shirt and denim jeans. After that, he also bought a pack of ciggs. Am I scary or what? Trust me, not really. I was actually on my way to Singapore to have Damien Rice for dinner that night. Ha.
Again, it's ironic that I also got hold of his second album, called 'Television' on the same date 3 years later – 9 August 2006. I cannot stress enough how great this album is. Every song is hit worthy; superbly written and so intelligently arranged, you cannot help but adore this man to the core. Or stalk him to the centre of the earth. As you know, all the musicians I had written about so far are those I really believed in. In my book, Pete Teo leads the pack.
Go check out his new website
here
which he created himself after much digging into the html and javascripts books. That's why I call him Genius, simply coz he is. Go say hello on his guestbook and tell him I sent you. Go enjoy his pirate jest on his blog section. Go read his studio diaries.
Go buy his new album called Television, which he wrote in the 2 months when he turned into a couch potato. But it took approximately 18 months to produce. According to Pete, if you scrutinize his lyrics and the chord sequences, you are bound to stumble upon fascinating repeated motifs; some hidden, some not. If you do, go tell him your new find.
Go, go, go buy…This will be the best investment you ever made in 2006. I vouch by it.
[Read 'A Rustic Analysis' here]
August 29, 2006 // anjali* pranced on tip-toes all over the keyboard at
11:34 am
|
incest*
This morning at 4.16am, I woke to find Mr. Smokey biting on my right jaw and nibbling on my earlobe with a funny erotic purring. I wacked him hard on the head
[the top one la!]
I swear, one of these days this cat is gonna rape me...
Help!
August 28, 2006 // anjali* pranced on tip-toes all over the keyboard at
3:23 pm
|
just a peck*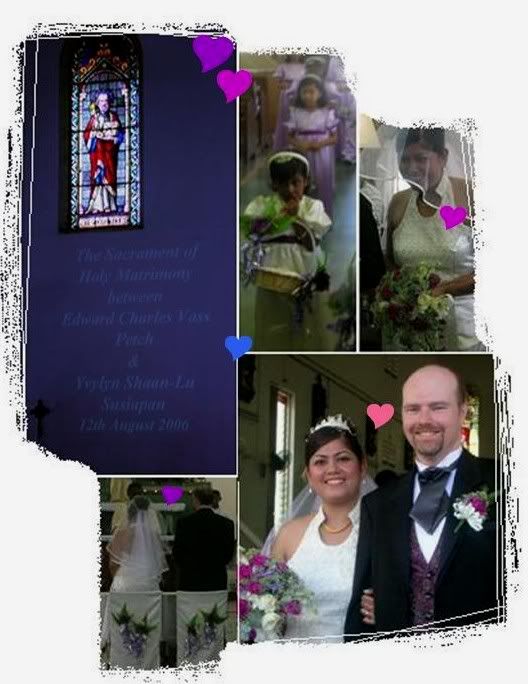 If you think the wedding of the year was yesterday, think again. It happened on 12 August 2006 la. In the industrial town of Kulim, in my home state of Kedah. Where two soul mates merged to one in holy matrimony – one from an under-developed town and one from down under. Heh.
Though I had to drive 3.5 hours to be where
Yvy
is, I think it was worth it. And the long drive allowed me time to think and ponder over some crucial life details. Prior to the long drive, I finally got myself a CD player in the car
[Yay!],
so I was well entertained along the way. I had loads of crooners hitching the ride with me, in the likes of
Benjamin Costello
,
Damien Rice
,
Thom Yorke
,
Cat Power
,
Nick Drake
,
Death Cab For Cutie
,
Josh Rouse
,
Ben Harper
and
Pete Teo
. Along the way, I finally saw some blue Malaysian skies, but not as blue as the Oz skies I had come to love.
The wedding was simple and most lovely. I learnt from Yvy's friends from Kluang that her mom sewed her wedding gown as well as those for the flower girls. And also her sexy bareback olive green sari dress, which she got to show off her fairy tattoos. Awesome is the word.
The dinner was quite fun, they had a live band playing the oldies, old couples went up dancing the cha-cha and some tuned up the old hips with some Chubby Checker's twisting. Some young blokes also went up to show off some odd moves, but all were done in the name of fun.
I sat at the same table as her hometown friends from Kluang. So I learnt new things about Yvy from people closest to her and made new friends. That night, her two friends, Geraldine and Nick bunked in with me and entertained me with their twosome philharmonic orchestra of sorts. Luckily I was dead tired, so I slept through like a baby. The next morning, I had a good chat with Nick who is doing his medical practical in Moscow. Nice guy.
We all checked out around 11.00am. I returned home to Sungai Petani, the town famous for various wrong reasons – the RM39K town clocks questioned by the ACAs, the hospital baby snatching cases, rape case at the Cinta Sayang golf course, and also the place where Datuk K married the first wife. Bleh. It was to be a short trip home, but I managed to eat my favourite chicken rice, special pasembur and tapau the mee rebus for dinner. My aunt cooked her signature dish – perut ikan (translation: fish stomach) and gave me a whole pot to bring home. Yum.
Anyway, last Sunday, Ted and Yvy came down to KL to sort out some nonsense tail-ends for their registration. We were to celebrate their 1st week wedding anniversary! So I met up with them along with Wendy, an old friend of Yvy's. Ted wanted to play pool (or was it snooker?) so everyone got roped in. Yvy referred it as my 'virgin' pool game, which turned out quite all right considering I hit home some balls. Me quite good with the stick. Heh.
During the game, I asked Ted what's with the peck on the cheek after they were announced as husband and wife. Honestly, that was like an anti-climax. I was expecting some wicked lips chomping from him, but nooooo, all we got was a simple pecking. If I had blinked, I would have missed it! For a moment, I wondered if she married an Ah Beng instead. Just a peck! Aiyo. Who would have thought! Yvy, seriously la woman…
But I damn forgiving. They compensated the hot kissing bit during the dinner tho.
Ted & Yvy, this siao char boh wishes you both to be surrounded with endless love, good sex
[Bondi Beach?]
, good communication sampai ke anak cucu cicit tot mot mat salleh. God Bless.
August 22, 2006 // anjali* pranced on tip-toes all over the keyboard at
10:24 am
|
sunset in motion*
My dear Apoo, this is for you.
Eat your heart out!
August 14, 2006 // anjali* pranced on tip-toes all over the keyboard at
1:24 pm
|
silly bird*
This is specially for BM. Hope it works!
Took this at Ayer's Rock. I think it's funny coz he is attacking his own reflection!
August 13, 2006 // anjali* pranced on tip-toes all over the keyboard at
10:29 am
|
ozcapade* [Pt 3b]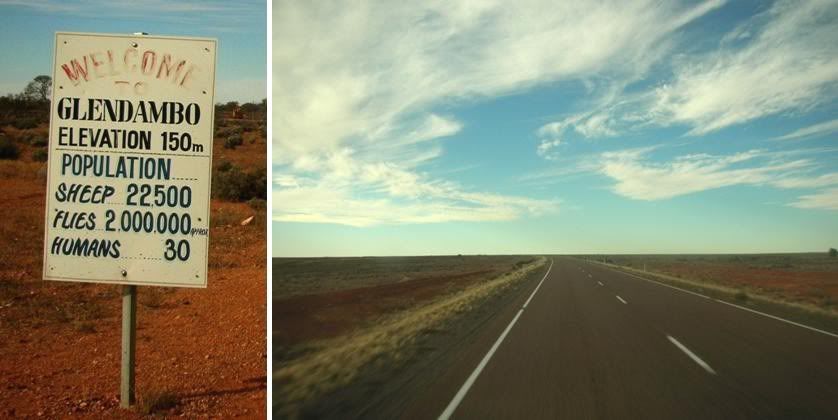 I had actually missed out these 2 shots earlier. I find the
Glendambo
sign hilarious. Don't you think? Anyway, there were not that many flies as stated as it was drawing close to winter. Summer is the peak season, apparently.
Glendambo
is a service centre on the
Stuart Highway
and was the last fuel stop we made before heading to Coober Pedy. As said earlier, the road leading to
Coober Pedy
is all desert, whereby when you get bored, you can play a road trip game called 'Spot The Tree'. The landscape is so flat; it could easily be the new benchmark to some unfortunate women's chests.
*evil laugh*
Day 8 – Coober Pedy to Uluru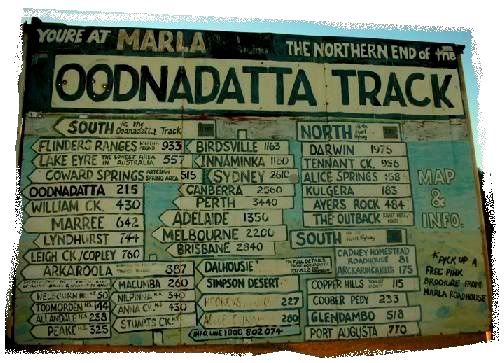 We stopped for breakfast at
Marla
which is situated at the northern end of the
Oodnadatta Track
; it's 160km away from the Northern Territory border, population 150. It replaced Oodnadatta as the official regional centre when the Ghan railway line was re-routed in 1980. I had wanted to buy 2 of the Marla fridge magnets, which bears the same signage design as per the shot, but reduced it to 1 upon realizing that it costs AUD$5 each. The old man at the counter was so kind; he gave me, the tourist on tight budget, a free cuppa of coffee with the purchase. When I asked if he was sure about the freebie, he said "Oh sure, love, it's only sugar, coffee and water." Such a sweet man. And I like how the elderly, both the men and women, always refer to me as "love". Nice.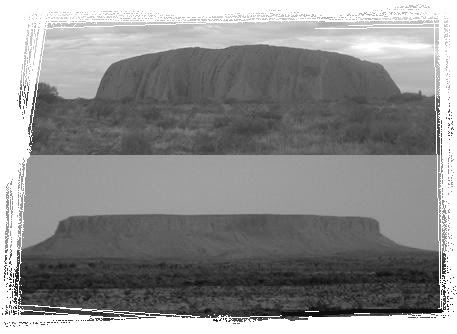 We then stopped at
Curtain Springs Station
to fuel up and to empty our bladders. Prior to that, on the road, Christian and I were grinning like doped pigs upon seeing
Mt.Connor
, which we mistaken for
Uluru
. See if you can spot the diff. You could? Liar! Pants on fire! Anyway, Christian seemed happy seeing the camels in front of the station, stating that he had finally met his long lost Australian relatives. Haa.
We reached the
Uluru-Kata Tjuta National Park
, at around 4ish. We visited the Cultural Centre, where we shown various documentaries on the Anangu (local Aboriginal traditional owners) version to the origin of Ayer's Rock's formation. From the cultural centre, you can see the Ayer's Rock, which is the world's biggest monolith, from a distance. Honestly, from this point forth, I was uplifted spiritually. I was high with excitement that I am finally seeing this mother of a rock. It has always been on my list of places to visit before I die.
At around 5.30pm, we headed to the designated viewing area to witness the sunset. It was slightly disappointing as the sun was not very strong, so we didn't get that infamous vermillion/orangey color formation. But we had loads of fun goofing around; taking various group pictures i.e. Asian, Brit, German, Men, and Women teams. Watto prepared some assorted biscuit bites with 3 delicious dips. And there was also champagne to celebrate the moment. I thought for once I shall not be a party pooper and decided to take a drink, but after 2 sips, I felt like throwing up and decided to give the balance of the drink to Justin, a young Brit bloke. Drinking and smoking just do not get along with my system.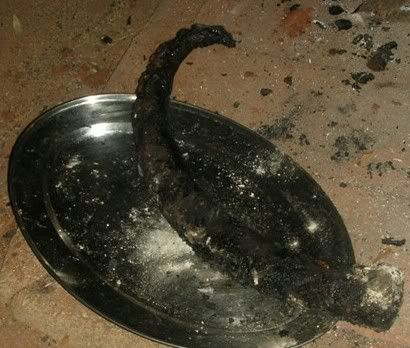 That night we stayed at the
Ayer's Rock Resort
. For dinner, we had Watto's special beer bread with 2 different types of chicken stew. I helped to make the coleslaw. And thereafter, the rest of the team had BBQ kangaroo's tail, which costs AUD$7.50. Even though I yearned to taste kangaroo meat again, I decided against it as I was 22nd in line to take a bite off the tail, and honestly, I don't fancy tasting other people's saliva. Bleh.
Also, we were asked to make a decision whether to climb
Uluru
or to take the base walk instead. Though climbing is not prohibited, the Anangu people prefer if you respect their wish not to do so, as the rock is sacred to them. Honestly, I was torn in between, so I made a small prayer leaving the decision to God instead.
That night was the first of 2 nights of camp out; each to sleep in his/her swag (a canvas-covered bed roll used in the outback). Fearing to go through another freezing night after the bad night at Rawnsley Park, I decided to sleep inside the tent. At around 4.00am, I woke to the sounds of pitter-patters around me. It had rained. You can't imagine how glad I was to be inside the tent. And it also meant, God had made the choice obvious - I was to do the base walk as the climb is closed due to the rain.
Day 9 – Uluru to Kata Tjuta & Kings Canyon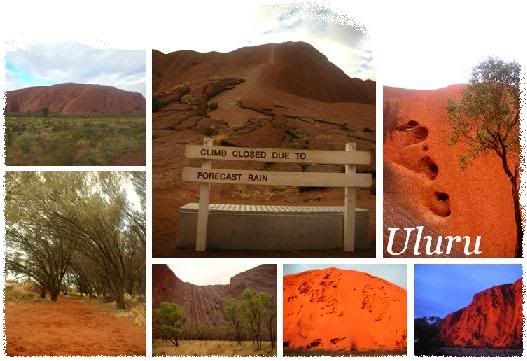 We left the camp at around 6.00am to Uluru again for the base walk. The rain has stopped but the air was still damp and the temperature was cold. The 9.4km base walk took about 2.5 hours. Surprisingly I didn't feel tired at all. Along the walk, you could see various parts of the rock which was awesome. At one point, the sun was so strong; we managed to capture the majestic orangey color formation on the rock. That was spellbounding. Another awesome moment was when we caught a small rainbow next to the rock. Brilliant. In my heart, I thanked God all the way for this magnificent moment, which is due to the said drizzle. Apparently, this is the first rain in a long, long time.

After the walk, near to our bus, I witnessed these 2 birds doing some sort of 'synchronized wings-flap'. They alternate the flapping of their wings from left to right to wade off the rain. So cute. And what was also noteworthy was at that moment, I heard "Duelling Banjos" by Eric Weissberg & Steve Mandel being played, by Watto on the bus. I have not heard the song for a long time! I've always liked the sound of banjo, which is why I like
Travis
. So in a way, I was not surprised when he started playing Travis' songs after that. Nice.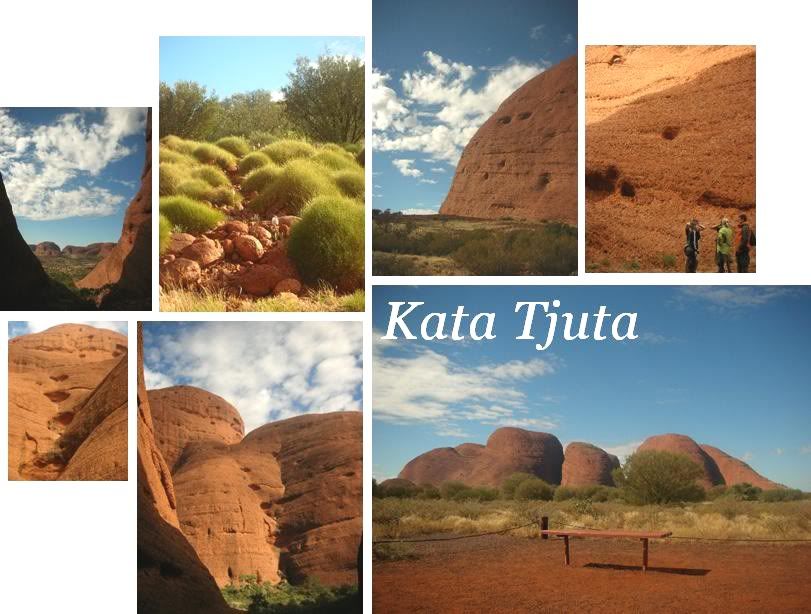 After lunch we headed to
Kata Tjuta (The Olgas).
To the Anangu people, Kata Tjuta means 'many heads'. Apparently there are 36 of them 'heads' in total. At a certain angle, the place resembles Homer Simpson sleeping on his back, with his hands above his tummy. Look at the bottom right shot and tell me if you see that uncanny resemblance. Head on the left, legs on right. Can you see it?
We walked through
The Valley Of The Wind
, which was breathtaking. The walk took about 3.5 hours, but it was well worth it. Honestly, I like this better than the Uluru base walk. The scenery was much more splendid.
On the top row, 2nd shot from the left, is the shot of those dome-like bushes, which look so cushiony comfortable. According to Watto, if you ever sit on any one of them, you're likely to spend the next 2 weeks plucking those damn thorns from your ass. Sounds like a good place to push your enemy to, eh?
On the short walk back to our bus, Bertie was insisting Eri to reveal her age. I lied and told him she is 31 years old and he decided I was lying. I defended by saying that we Asians always look at least 12-15 years younger, and that I was actually 45 years of age. He asked for my secret to staying youthful, which I replied "I drink virgin blood once a month!". Of course he didn't believe me, and was persistent to know the secret. "Do you smoke?", he asked. I replied no. "Do you drink?" and I replied no. "Damn! That's where I went wrong!" and started cursing in murmurs. That was funny.
After the walk, we drove to
Kings Canyon's Resort
to stay at the campsite. This was the last night on the road trip, which made me kinda sad. Time really flies when you're having fun.
Dinner was great, especially the Honey & Soy Chicken. This Watto chap is a damn good cook, I must say. After my return, I tried the same recipe and it turned out just as wonderful.
Day 10 – Kings Canyon To Alice Springs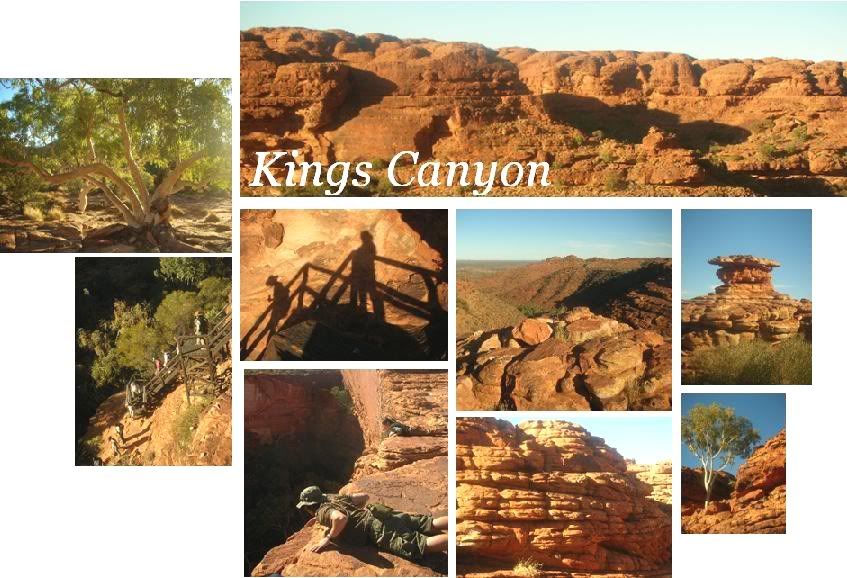 The next morning, we were treated to a sumptuous breakfast of chicken sausages instead of the usual peanut butter and jam or cereals. We left about 7.30pm to climb
Kings Canyon
, which is located at the
Watarrka National Park
.
The initial staircase climb was called the "Heart Attack Climb" as it was very steep and scary. This climb took approximately 1 hour. After that terrifying stage, it was all hunky dory. The view at the canyon was both scary and magnificent. You have to crawl slowly on your tummy to the edge for the view of the canyon walls which soars over 100m high.
Along the way, we were also shown the 'sexiest' tree in Australia – a ghost oak tree – which gives off natural SPF properties from the white powder from its bark. This tree is also unique as it is also the natural habitat for 2 pigmy koalas! You have to go and see these koalas yourself; they are out of this world! Each of them is only 5cm tall! Awesome!
Towards the end, we walked through a narrow gorge to find the waterhole at the
Garden of Eden
. There, Nancy and I decided to take our shoes off and dip our legs onto the cool water. Bertie decided to take a swim!
There are lots of movies being taken at Kings Canyon; the famous one being 'The Adventures of Priscilla, Queen of the Desert'. I have yet to watch the movie, so I can't elaborate. And I doubt if I can get hold of it now. In case you're interested, it stars Hugo Weaving.
After a heavy lunch, we headed towards
Alice Springs
, our final destination. The drive took about 5 hours. It was on this journey I learnt from Watto that in Australian English, 'dawn' is referred to as 'sparrow's fart'. Chuckle.
We reached
Alice Springs
at around 6.30pm. Nancy and the 2 Japanese girls (Eri and Seiko) decided to join me in staying at Annie's Place. We were all supposed to meet at the Melankas Restaurant cum Disco for dinner at 7.30pm. I had kangaroo BBQ, of course! All I can afford to say is that it was delicious beyond words. I shall stop here while I have some form of control over my drooling.
1/2 Day - ALICE SPRINGS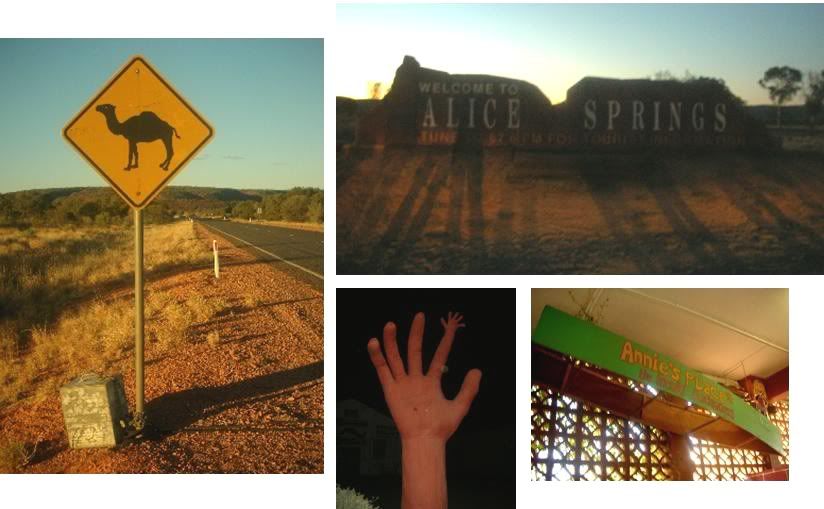 Excerpt from Lonely Planet on the origin of Alice Springs:
The Alice, as it is usually known, started life as a repeater station built in 1871 on the Overland Telegraph Line between Adelaide and Darwin. The station was built near a permanent waterhole in the bed of the normally dry Todd River. The river was named after Charles Todd, Superintendent of Telegraphs back in Adelaide, and the waterhole was named after Alice, his wife.
What else can I tell you about
Alice Springs
? Not much actually. I did not allocate time to stay longer as I had to catch an 11.00am flight to Melbourne. The night before, Nancy and I took a quick stroll to
Todd Street
, the main shopping street. It's somewhat like Adelaide, I guess, neither too big nor too small. Population - 28K.
In Alice, there are also lots of festivals. But one which I would love to come back and witness is the
ASSA ABLOY Henley-on-Todd Regatta,
which happens on every September. It's an unusual boat race. Watto aptly described it akin to the Flintstones' style of boat racing – whereby all the boats are without bottoms (see the bottom right pix) and are powered by feet! And the Todd River has to be dry. It was recorded in the Guinness World Book of Records as being the only regatta ever cancelled because the river was flooded. Amazing, huh?
3D4N Melbourne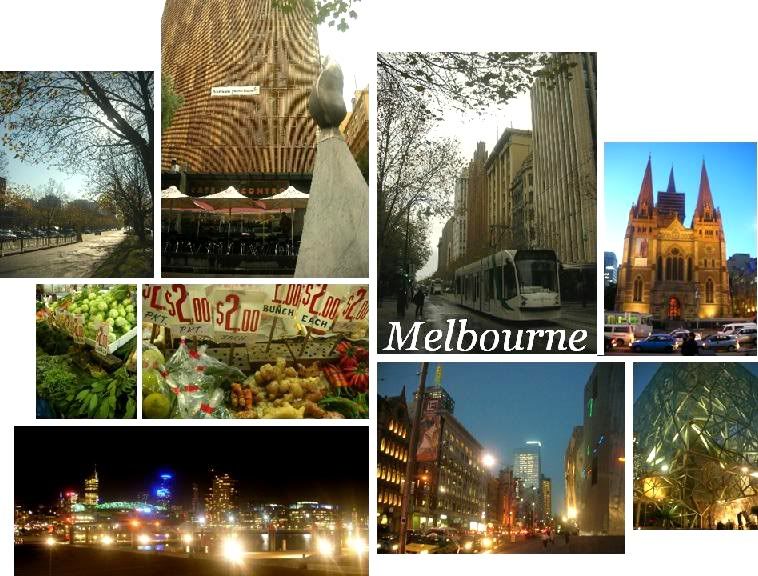 I reached
Melbourne
around 2.45pm and Tracy came to fetch me at the airport. I have not seen her she migrated in March. I spent hours telling her about the road trip, some details more elaborated than others. We had Nando's for dinner. She then fetched me to
Lisa
's house in Doncester East. That night, I had a great sleep on proper warm bed. And that's how I started being lazy.
I guess it was being in the comfort of a home after roughing it out for 2 ½ weeks in and out of hostels and dorms and camping tents. And my wallet was running thin. So I only went about the city for 2 days, where I visited my ex-boss who is currently working around
St. Kilda Street
area and mostly had the most enjoyable 2 nights of cooking for Lisa, Joe the husband and Stephanie the sis-in-law. On one night, I cooked my signature dish - 'Spicy Tuna Mushroom Spaghetti' with fresh mushroom, fresh tomatoes and a few sundried tomatoes. Gosh, that version has to be the most delicious ever. I swear. It must be those sun-dried tomatoes la.
On the 3rd night, I bought some raw ingredients from
Prashan Market
, next to St.Kilda Street and cooked a 'ciplak' version of Assam Laksa as we lacked some other key ingredients. It turned out okay too. Ihad wanted to make another of my specialty - Yam Cake, but we could not find any yam. At
Prashan Market
, I got myself some fresh nougats and tomato pate. The shop owner thought I was still a student. Ha. You have no idea how boosted my ego was. But having said that, I love visiting markets in any western country. The fruits and food always look so fresh and makes me hungry.
On the last night, we had dinner at a Vietnamese restaurant in
BoxHill
. It was so yummy. Thereafter, Lisa and Joe took me for a drive around the city before dropping me at the airport in time to catch my 1.00am flight.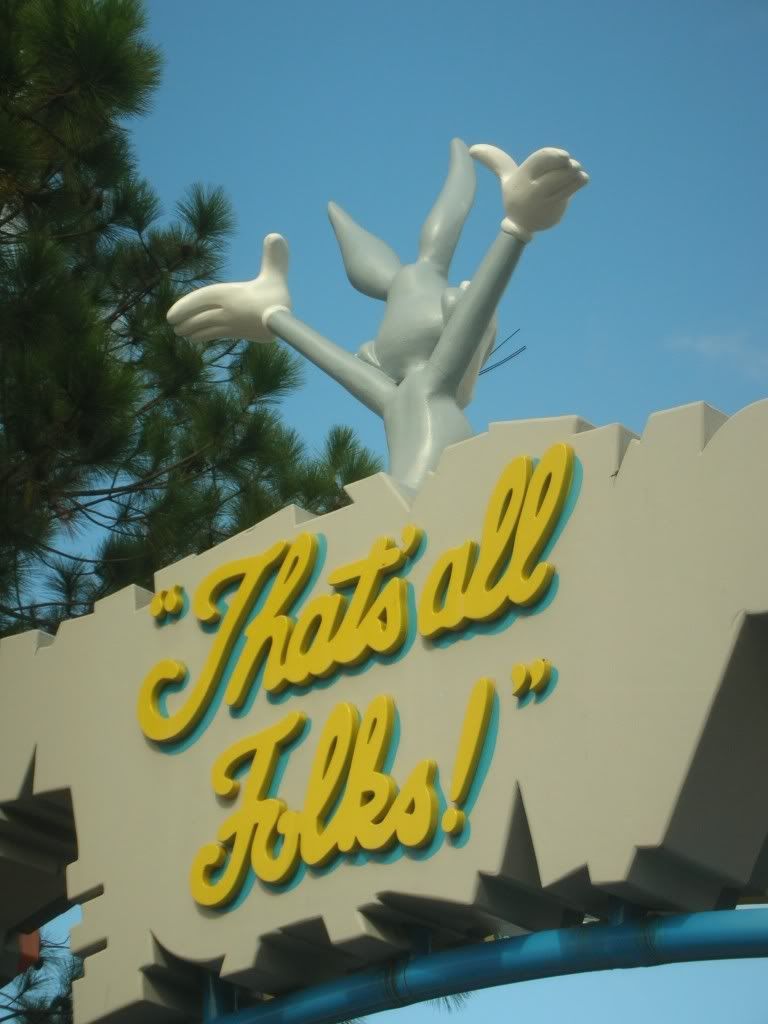 I have chosen Stereophonic's "Dakota" to remember this trip by.
[As per James Blunt's "Goodbye My Lover' for the Indian trip and Nick Drake's "Pink Moon" for my trip to Paris. Soundtracks of my life. Heh.]
Lastly, I will end with Bugs Bunny's - "That's All Folks!" pic. From here onwards, I will be taking a short break to attend
Yvy
's wedding this Saturday, and also to go back to my hometown to sort out some personal errands. Till then, be good.
August 09, 2006 // anjali* pranced on tip-toes all over the keyboard at
12:21 pm
|
ozcapade* [Pt 3a]
Hello. So Friday is finally here and so is the final part of the Oz trip. I thank you all for the high level of tolerance shown in cutting me some slack on this. I've taken the trouble to make the postcards slightly different, somewhat less rigid (i.e. square) and I like the result of this painstaking effort. As said, I enjoyed the outback best. I hope you like them too and that it is worth the wait.
Unfortunately though, I have to split Part 3 into 2 parts as I found it waaay too long.
Day 5 – Adelaide To Parachilna

We waited at the ATA (Adventure Tours Australia) office, situated behind our hostel block, about 10 minutes walk, at 6.30am for the bus. There were about 11 of us from the Melbourne to Adelaide trip who will continue on this 6-day excursion as well; so it was kinda nice to see familiar faces. Nancy (the American Chinese girl) and I had planned to quickly register and park our asses on the front seat, right behind the tour guide. We decided that it is best to be seated in front as the view is better, and also for the slightly deaf like me, I could hear better.
We left slightly after 7.00am. Our tour guide's name is Watto, akin to one of the Star War's alien characters. But no, he does not look like an alien. In fact, I thought he looks uncannily like Thom Yorke; only brawnier and taller, and without the lazy eye. Upon hearing the name, I tried to tell a joke to Nancy by imitating Eri, one of the 2 Japanese girls on the trip. It goes something like this…
Eri: Err harro, wat-to neh is your name-o?
Watto: Watto
Thinking that he had asked her "What?" after failing to comprehend her question, she repeated the question and the cycle goes on and on.
I gave an evil snort, pleased with my own joke, only to be met with Nancy's rolling eyes and WTF expression. So I quickly shut my mouth and moved myself to the passenger seat next to Watto, which provided the best view of all.
About an hour into the trip, Watto asked us to introduce ourselves with the following facts – (i) Name (ii) Age (iii) Profession (iv) First and Most recent kiss (v) Most memorable place of visit (vi) Reason to go Alice Springs. I was second in line after him. Being in the advertising line, I had mastered the "If-You-Can't-Convince-Them-Then-Confuse-Them" trick. So I used that to get away from telling my age and about most my recent kiss. Honestly, I simply cannot tell of my affair with
Keith Urban
, I do not want to be the target of unnecessary envy. And I am not the type to kiss and tell. Heh. So I gave the bluffer's version of my first kiss story – I was 8 and having lusted over
Kurt Russell
, I kissed him on the TV screen. And I also told about the
millionaire Italian gem trader I met in Pushkar
.
Honestly, no one can accuse me of a boring introduction. It may be filled with BS, but definitely not boring. Ha.
We stopped at
Clare Valley
, the favourite wine region of many South Australians, for breakfast. We (the group of 11 from first trip) headed to the only opened deli. The pastry repertoire was quite impressive and I decided to have vegetarian quiche with a hot cup of latte. I must say the Australian coffee is extremely aromatic and delicious. After that, we passed by the town of
Laura
before we stopped at
Melrose
for lunch. I had earlier asked Watto why the towns along this stretch are of female names. He actually took the trouble to find out that the town Laura was named after the local station master's wife. Women power reign here, yay!
As I was still full from the quiche, I decided to skip the sandwich for lunch and take a quick stroll around
Melrose
, situated 265km from Adelaide; population 200. I found the town charming and artistic in its own subtle way. Like the Flinders Explorers metal sculpture and the floral paintings on most of its lamp posts. I visited the Serendipity Art & Craft Gallery nearby which had an exhibition titled "Our Mother's Work" which showcased a lot of handmade needlework like quilts and croquets, old wedding photographs which I am a sucker for, old costumes etc. This is in conjunction with the Heritage Week celebration. At the gallery, I met a friendly old chap who greeted me "
Selamat Makan
" upon knowing I am Malaysian. I think he meant "
Selamat Datang
", but I didn't think it was polite to correct him. He had visited KL and Penang last year.
Nearby the outdoor area where we parked for lunch, there were 3 mobile homes which I found unique. I've never seen anything quite like it. Nice. And somewhat funny. It's really amazing that such a small town as this has so much to offer.
We passed through the
Southern Flinders Ranges
, renowned for its unique ruggedness. I honestly cannot remember if we had passed through
Quorn
, the historic railway township as stated in the itinerary. The first hike on this trip was to view the Aboriginal rock art at
Yaurambulla Caves
, which I found to be just so-so as most of the paintings have been washed away. But it was a nice, short hike.
Around 5ish, we reached
Parachilna
, which has the population of 5 – all of which are the hotel and hostel staff. Funnily enough, there was already a school ready in case any of the staff decided to start a family there. The classroom, according to Christian (one of the German tour mates, and one of my favourite people during the trip), was fully equipped with tables, chairs, blackboard etc.
Parachilna is a favourite place for movie makers. The Prairie Hotel has been featured in many movies like Mad Max. I think it is really beautiful and very cowboy-like. The deco inside the hotel pub and restaurant areas is very homely and full of warmth. Here, they serve all sorts of meat such as kangaroo, emu and camel. They also serve rabbit satay for AUD$2 per stick. They serve satay, can you imagine? I felt at home for a bit.
Apparently, the house next to the hotel belongs to the original Mad Max, whom the movie based the character on. So I made sure I took shots of Mr. Max's front and backyard and his cactus plants. I would gladly show you the pics for AUD$5. Heh.
What excited me most about
Parachilna
was the fact that the dam and railway station at the back of the hostel were featured in the movie 'Rabbit Proof Fence', as you can see below. Nice eh? If you have not seen the movie, you should. It's a heartwarming true story of 3 mixed Aboriginal kids who found their way home from the detention place with the guide of the rabbit proof fence, which is the longest fence in the world at 1837km (1139 miles).
Oh, I forgot. The sunset here is also awesome. It's not as picturesque as
The Twelve Apostles
, but it's definitely unique. We caught the 2.85km long coal train which passes through from
Port Augusta
. Most of us followed Watto's tip to place coins on the lines for the train to squash them flat. In the whole excitement, I had forgotten all about it, but was lucky enough to find one for keeps.
That night, I had my first bite of kangaroo meat for dinner. It was the best tasting meat I have ever tasted! If you think Australian beef is yummy, this is ten times yummier. I shall refrain myself from elaborating on this, lest I drool all over the keyboard. I still dream about it on some cold nights. Yum.
Day 6 – Flinders Ranges & Wilpena Pound

The next morning, we arrived at
Wilpena Pound
to climb Mt. Ohlssen-Bagge. The hike took about 6 hours. As I mentioned before, while I enjoy hiking as an outdoor activity, I seriously dread the ascending bit. So is it any wonder that I was the last one to reach the peak? Not really. The view from the peak was quite breathtaking. I told Watto that I had told Jen if the view had been disappointing, I would have thrown him down. At some parts on the hike down, I was walking next to the Germans; namely Christian, Noab and Stefan. Having my eyes closed, I can almost imagine being taken hostage to a detention camp by a group of Nazis. Think of movie 'Life Is Beautiful'. Haa.

After the hamburger lunch, we took another short 2.5 hr hike to
Arkaroo Rock
to see the Aboriginal cave paintings. I was completely drained out by this time and for once, I was whining. So when Watto asked if we have any questions, I quickly asked if this was the last hike. "For today, it is," he snorted his reply. Not a brilliant question, I agree, but definitely relevant in proportion to my energy level.
We stayed the night at
Rawnsley Park
sheep station. Upon reaching our respective dorms and picking my bed, I quickly took a shower. Unashamedly I tell you I did not bathe at Parachilna coz I was too lazy to. After that, I headed to the dining area and got acquainted with the 2 French girls – Miss Ingrid and Anna. I shared with them the places of interests in Thailand and Hong Kong as they were heading there in the next month.
After that, Watto asked if I know how to cook rice. Without thinking, I told him I was good at it and that it would only take 30 minutes. When the answers left my mouth, I realized that I have only cooked rice for 1 pax all this while and with the help of a rice cooker. Damn. I'm screwed. So in fear of getting scolded, I struggled to cook the rice for 25 pax, in a giant pot over the stove. Even though the weather was cold, I think my forehead was drenched with sweat, fearing the rice will be uncooked and hard and inedible. Most of all, I feared having the hard rice being thrown to my face. Anyway, the rice turned out slightly uncooked
[shy also!]
but everyone swallowed their meals like hungry crocodiles. I think it was Watto's Green Chicken Curry and Beef Stew that saved the day. I secretly told myself to never volunteer to cook rice for the rest of the trip. Anyway, at the end of the meal, Christian and his wife, Mrs. Ingrid complimented that the rice tasted good. I think they were just being nice.
That night, after a short session heating ourselves at the campfire, I felt pooped and decided to call it a night at around 9.00pm. I woke half frozen at around 12.30am and couldn't sleep after that. It was freezing cold as there was no heater in the room. And even though my bladder was full, I was too scared to run to the bathroom, situated 100m away, for fear of snakes. I finally dragged myself out of bed at 4.30am to empty my bladder and thereafter, headed to the kitchen to toast my hands on the toaster. This has to be the worst night of all. I was lucky I didn't get frost bite on my toes!
Day 7 – Rawnsley Park to Coober Pedy
The journey to
Coober Pedy
, the findings were awesome. After passing through
Port Augusta
, we could see bits of
Spencer Gulf
, which will be the last time we will see any water coastline along the road trip. Hereafter, it's land and desert all the way to
Alice Springs
.
We had lunch at a park in
Woomera
, a quiet government town with a very interesting history. Woomera was used to launch top-secret experimental British rockets and conduct tests in an abortive European project to send a satellite into orbit during the 50s – 60s. So it was not a surprise when we chanced upon the
Missile Park
, which showcases all the remnants of the said rocket tests and satellite launches. It's very interesting, if you ask me.
After which, we took a short stroll to
Lake Hart
, a salt lake where they shoot the rockets over. So we were not allowed to walk too far onto the lake. The view was awesome. I loved every shot taken here. The combination of the khaki-ish ground amidst the brilliant blue sky and white clouds was awesome. On the bottom right shot, you can see how big the lake is judging by how small the people are in proportion. Amazing!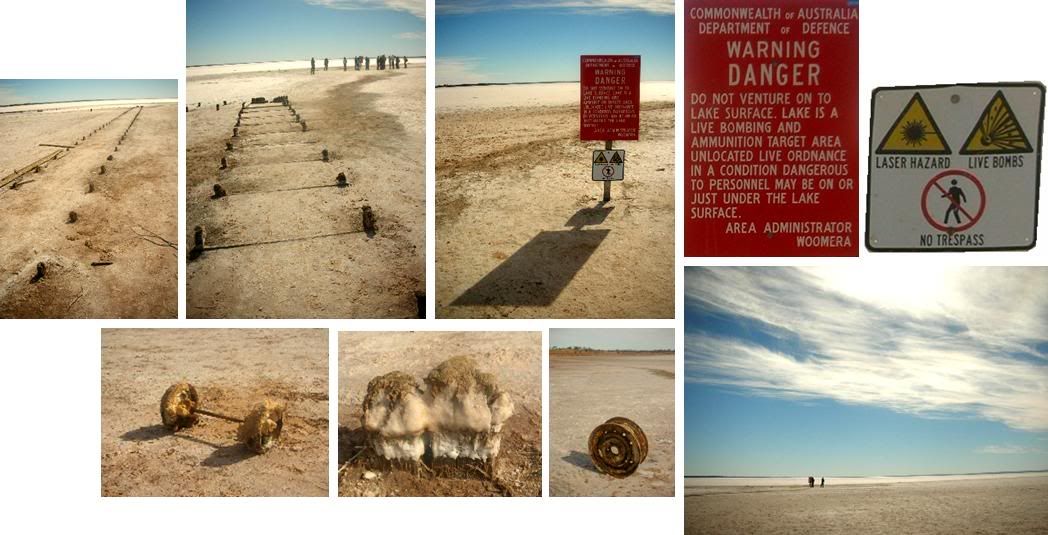 After Lake Hart, it was all desert till we reached
Coober Pedy
, the opal capital of Australia. This place is a melting pot, for a population of 3000, but of 47 nationalities. How amazing is that?
Excerpt from Lonely Planet:
The name 'Coober Pedy' is from an Aboriginal language and is said to mean 'whiteman's hole in the ground'. This aptly describes the place, as about half the population lives in dugouts to shelter from the extreme climate: daytime summer temperature can soar over 50°C and the winter nights are freezing cold.
We visited the church, with an underground altar. I liked the stained glass cross at the entrance. Don't you think it's gorgeous? Then, we visited the
Umoona Opal Mine & Museum
where we were shown a documentary on opal and opal mining. At the galleria, I bought an opal fridge magnet to remember this place by. It's by far the most expensive one – AUD$12 (approx RM35).
Coober Pedy has been described as the 'end of the world', due to it's flat landscape and cones of opal mines which befits the landscape of most sci-fi movies. A lot of movies were shot here, like 'Max Max III' and also 'Pitch Black' starring Vin Diesel. At the bottom right of the postcard is the spacecraft featured in the said movie. I can almost see
Yvy
drooling in excitement reading this…
That night, we had dinner at an Italian pizza place, highly recommended by Watto. We had like 6 types of pizzas. All yummy. Thereafter we headed to the local pub cum disco at the 4-star hotel. I didn't stay too long there as I was sluggish from lack of sleep the night before. We slept in dugout dorms, which was truly an experience. Tomorrow, we leave at 5.30am.
(To be continued)
August 04, 2006 // anjali* pranced on tip-toes all over the keyboard at
10:19 am
|