just a peck*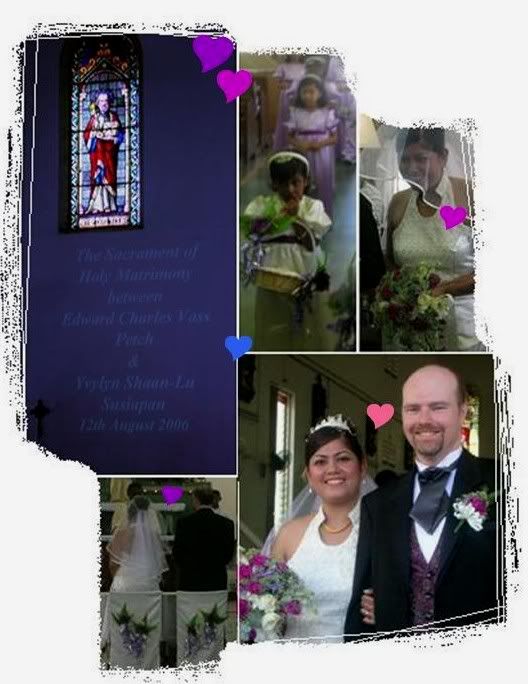 If you think the wedding of the year was yesterday, think again. It happened on 12 August 2006 la. In the industrial town of Kulim, in my home state of Kedah. Where two soul mates merged to one in holy matrimony – one from an under-developed town and one from down under. Heh.
Though I had to drive 3.5 hours to be where
Yvy
is, I think it was worth it. And the long drive allowed me time to think and ponder over some crucial life details. Prior to the long drive, I finally got myself a CD player in the car
[Yay!],
so I was well entertained along the way. I had loads of crooners hitching the ride with me, in the likes of
Benjamin Costello
,
Damien Rice
,
Thom Yorke
,
Cat Power
,
Nick Drake
,
Death Cab For Cutie
,
Josh Rouse
,
Ben Harper
and
Pete Teo
. Along the way, I finally saw some blue Malaysian skies, but not as blue as the Oz skies I had come to love.
The wedding was simple and most lovely. I learnt from Yvy's friends from Kluang that her mom sewed her wedding gown as well as those for the flower girls. And also her sexy bareback olive green sari dress, which she got to show off her fairy tattoos. Awesome is the word.
The dinner was quite fun, they had a live band playing the oldies, old couples went up dancing the cha-cha and some tuned up the old hips with some Chubby Checker's twisting. Some young blokes also went up to show off some odd moves, but all were done in the name of fun.
I sat at the same table as her hometown friends from Kluang. So I learnt new things about Yvy from people closest to her and made new friends. That night, her two friends, Geraldine and Nick bunked in with me and entertained me with their twosome philharmonic orchestra of sorts. Luckily I was dead tired, so I slept through like a baby. The next morning, I had a good chat with Nick who is doing his medical practical in Moscow. Nice guy.
We all checked out around 11.00am. I returned home to Sungai Petani, the town famous for various wrong reasons – the RM39K town clocks questioned by the ACAs, the hospital baby snatching cases, rape case at the Cinta Sayang golf course, and also the place where Datuk K married the first wife. Bleh. It was to be a short trip home, but I managed to eat my favourite chicken rice, special pasembur and tapau the mee rebus for dinner. My aunt cooked her signature dish – perut ikan (translation: fish stomach) and gave me a whole pot to bring home. Yum.
Anyway, last Sunday, Ted and Yvy came down to KL to sort out some nonsense tail-ends for their registration. We were to celebrate their 1st week wedding anniversary! So I met up with them along with Wendy, an old friend of Yvy's. Ted wanted to play pool (or was it snooker?) so everyone got roped in. Yvy referred it as my 'virgin' pool game, which turned out quite all right considering I hit home some balls. Me quite good with the stick. Heh.
During the game, I asked Ted what's with the peck on the cheek after they were announced as husband and wife. Honestly, that was like an anti-climax. I was expecting some wicked lips chomping from him, but nooooo, all we got was a simple pecking. If I had blinked, I would have missed it! For a moment, I wondered if she married an Ah Beng instead. Just a peck! Aiyo. Who would have thought! Yvy, seriously la woman…
But I damn forgiving. They compensated the hot kissing bit during the dinner tho.
Ted & Yvy, this siao char boh wishes you both to be surrounded with endless love, good sex
[Bondi Beach?]
, good communication sampai ke anak cucu cicit tot mot mat salleh. God Bless.
August 22, 2006 // anjali* pranced on tip-toes all over the keyboard at
10:24 am
|