to the peak, i go*
I will be on my second attempt to climb Mount Kinabalu this Sunday, and to reach the peak on Monday morning. My 2 weeks old fever has subsided and so has the phlegm that has caused me to sound husky like
Kathleen Turner
a Jalan Alor transvestite.
My last few days preparation would include 1 hour of stepper and 1/2 hour of dumb bells. And if I'm not lazy, I'll do 50 sit-ups in the hope of cultivating some abs. All these done with Gwen Stefani in mind. Heh.
So wish me luck.
Hi Ho, Hi Ho, off to the peak I go.
Oh, Happy Merdeka Day!
Majulah sukan untuk negara. Hi Ho.
August 23, 2005 // anjali* pranced on tip-toes all over the keyboard at
8:36 am
|
freebies galore*
Freebies.
Hm...the word sends my otherwise tame hormones raging like horny dogs on rabies. Yes, I shamelessly admit on ethernet that I am a sucker when it comes to getting freebies, but not the same way as those aunties described by
Simon
. No lah. Far from it. I got a bit more class. I repeat - "A bit more" only. Heh.
Let me explain.
I am a sucker for
good
freebies only. Especially those given away as winnings in radio contests. And I've won quite a few good ones already. Let's see...there was the Equatorial Penang 3D/2N stay from MixFm, the
William Hung concert
from Red104.9FM and some shopping vouchers. Just two weeks ago, I won a pair of RM120 tickets to
Wild Zebra,
also from Red104.9FM. That was awesome.
Some may say I was lucky. But I believe it was more of God's grace and blessings. See, I usually pray first before I call in or send my sms. A simple prayer like "God, please, please, pretty please let me win. Let me be the 5th caller through la" (or 1st, or 9th...it depends on the mechanics). So far the prayer always work.
And sometimes the freebies came simply as perks from the right contacts. Like the
Disagree
concert in Hard Rock Cafe on 6 Aug. I got 2 free tickets from one of the band members' wife, who knew I was a fan of the band and err, the hubby too. Heh. That concert was really cool and I really enjoyed myself, eventhough I only knew 3 songs and also the fact that both
Mei
and I were a bitsy out of place amid the screaming and jumping Malay punk teens. But who cares - we're out to enjoy ourselves.
And there's also the radio cruisers...I had partipated and gotten myself loads of goodies like Force of Nature pendants,
Rustic Living for Urbanites CD
, other CDs, t-shirts, magazines, Ambi Pur hampers, Ikea and Coffee Bean vouchers and loads more. After all, the stuffs are good and the questions are practically peanuts easy leh.
If you have never tried it, you should. It's worth the experience.
And my next challenge? To go see
Oprah via the Desperate Housewives contest
on Astro. This is my ultimate dream. To meet her in the flesh. And to be one of the glam-looking screaming audience. I love her to death. Sometimes, I will get up at 5.00am just to catch a show. And I try to not miss the Primetime show. And if a holiday falls on a weekday, I will watch her show 3 times - 5.00am, 9.00am and 1.00pm. Heh. So I really, really, really, REALLY wanna win this.
Do wish me luck and keep me in your prayers!
Woo!
August 13, 2005 // anjali* pranced on tip-toes all over the keyboard at
5:38 pm
|
lawak lima sen*
Was having high fever and respiratory problems yesterday. It also didn't help that I only had 3 hours of sleep the night before.
The doctor explained that I was highly stressed as well. And the haze would compound my breathing problems especially the wheezing. I might as well have swallowed a whistle.
He advised, "I would advise you to wear a mask from tonight onwards. You're staying on the 10th floor and you don't use air-con, so you're breathing in bad air. And tomorrow, when you go outdoor, wear a mask as well. Drink plenty of water and have a long rest tonight. Tuck in early."
I objected on the mask bit. "But doctor, I'm very vain. I'd rather suffer than to walk around looking like this..."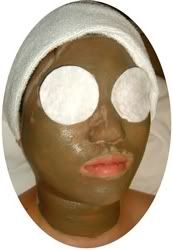 Heh.
August 10, 2005 // anjali* pranced on tip-toes all over the keyboard at
12:53 pm
|
lost in tranquility*
Day: Saturday.
Date: 18 June 2005.
That's the day when I got lost in Gunung Irau, somewhere within the neighbouring postcode to Cameron Highlands. Honestly, it's really no big drama; and I am never much of a melodrama queen. There's already too many around, and I don't see the need to add to the statistics.
At the most, I was lost for only about an hour. I was in the last descending team of six. No doubt all of us were dog-tired but we had to hurry before darkness falls. It was already in the 5.00pm hour, so that meant we have 2 more hours to dusk. And it was also then I decided to take a pee in the wild. When I arose, no one was in sight. So I thought if I moved a little faster, I could catch up. When I felt like my legs were failing me, I prayed for renewed strength. I went faster and faster and yet, I didn't see the team. See, the trail is like no other; you go up and down throughout, so there's no way of telling where you are. We've been told to follow the white paper trail. It was only when I saw the signboard which read "0.95 to G.Irau; 1.65km to G.Berinchang" for the 3rd time
[note: first time heading to the peak, second time on our way down]
, did I realized I had gone back up towards the peak!
"Crap!", I thought.
Time was already 6.00pm. Damn.
"Think, Anj, think," I told myself.
Plan A - to run all the way down again. Aiyo. Not very juicy.
Plan B - to go up the peak and camp with the Malay group who were camping there. I could descend with them the next morning. This one makes more sense. It's a shorter distance and the trail slightly plateau and thus, easier.
On the other side of the trail, the team realized I had gone missing and the leader, TQ and his sidekick, Terry came looking for me right away. They yelled out my name the minute after I read the sign.
[See, God's perfect timing!]
. It took another half hour before I met up with them. All in all, the supposedly 6-hour hike doubled to 12 hours!
I won't go into the yawning details of the rescue. All that's been done and repeated to death; in various conversations and weblogs. But what I'd like to share is my feeling of serenity throughout the whole hike.
There were 2 key moments to share:
i) The Heavenly Mist
Overall, Gunung Irau is like no other. It's mossy and if you let your imagination run wild, like I did, you can almost see the moss coming alive and reenact some of the jungle scenes from Lord of the Rings. For a moment, I really thought I saw one of the tree moved...And I kinda wished it would. Anyway, no such luck.
Halfway to the peak, I was left on my own for about 3 hours. How did that happened? Well, I was too slow for the first two teams and in a way, was better off than CJ, the other girl who was with another experience hiker, KC in the last team. So I left them be and moved at my own pace. Sometimes, I think the hermit in me takes over - the dire need for some "me" time.
The scenery was heavenly. Especially when accompanied by the mist. There was one specific area which resembles a mossy tunnel, where there was a slight clearance of leaves among the leaves amid the mossy trees.
Hello! My name is Paul Moss!

As I looked up at the bright stream of escaped sunlight, the mist blew down on me. It was like a breath of God's peace, his love and his strong presence blowing upon me. It was then I imagined the scene of Jesus, after he was baptized by John the Baptist.
Matthew 3:16 When He had been baptized, Jesus came up immediately from the water; and behold, the heavens were opened to Him, and He saw the spirit of God descending like a dove and alighted upon Him.

Beautiful!
ii) When we are weak, God is strong

By the time, TQ and Terry found me, it took another half an hour before we reunited with the rest of the other 3 girls in the team. They were told by TQ to stay put. By then, it was already dark and that made the hike extremely challenging. Everyone's faces were portraits of weariness and yet the spirits were lifted. There was only one goal to be fulfilled - to return safely to the base.
I silently prayed for a) God's strength upon all our weary bones, b) good temperature - not too cold, to be just nice, c) His protection, d) His guidance to lead us safely back, e) good lighting and f) His Holy presence.
All prayers were answered. There was a full moon above us, and despite the ordeal, we had most fun. We shared whatever food and water supply available - an apple, some Siamese oranges, some mints. And we laughed about how we have to drink our own pee should anyone go thirsty. All in all, we felt safe.
For me, this was the second best part of the hike. God is great! And awesome!
Tones remarked how impressed he was with us 4 girls - and how scared he was that one of us was going to break down and cry and thus, create the domino effect of unnecessary accusations, heated dispute and ill-feelings. But we showed none of that. Instead, we demonstrated that it was a case of mind over matter.
I told him the next day, "What's the good in crying? Cry or not, we still have to go through it. So why waste the energy?"
When we reached the base, we were cheered and applauded by the rest of the team who had waited patiently for our safe return. We celebrated with true Malaysian style - by having a grand dinner. And I paid for the team, that's the least I could do.
The next morning, we all laughed and joked about the whole experience. And for some, we are still talking about it.
Like I just did.
August 04, 2005 // anjali* pranced on tip-toes all over the keyboard at
6:35 am
|
for the sake of my descendants*
While having steamboat dinner last Saturday, I candidly told my 84 year old uncle that I wanted to have Smokie fixed. That idea was met with a violent objection.
"You cannot do that! If not, all your descendants will become
pondan
!"
Wah liau. I mean, I seriously don't believe in things like that. Especially being a Christian and all, I am not supposed to believe things like this. Not anymore anyway. Yet, at the back of my mind, at some hideous dark corner, I can't dismiss what he said. And believe me, I tried.
I mean, aiyo, the thought of having my male descendants walking the streets of Sultan Ismail or Bukit Bintang is some scary shit. I can't help but to feel a teeny-weeny bit scared to even wanna contest that. Though I must say at times I do envy their one-glance captivating beauty - sometimes in comparison, I must admit I do feel inferior being an 'actual' woman myself. I mean, have you seen them? They are really gorgeous beings, man! So voluptuous at the right places some more. And their make-up skills, wah liau, you should check out how they apply their mascara and eye shadow under the dim street lights - faster than Superman can say "I'm done?"
[Huh? "I'm done???"]

But I digress...
Anyway, Smokie won't get fixed. Not because I'm scared for my descendants' sexuality, but I seriously can't find it in my heart to castrate my
hamsem
. Not when the term "Pondan. Pondan. Pondan." races ceaselessly on my head...
pondan = tranvestite
hamsem = handsome
August 01, 2005 // anjali* pranced on tip-toes all over the keyboard at
11:33 pm
|