nothing like home*
Yesterday, we helped out at a shoot of a local tv station's weekly segment. The location - a datuk's villa up on a hill overlooking Damansara and KL city skyline. The size of the mansion was unbelievable, considering it was actually 4 houses under 1 roof, each with a separate entrance. The hall has 3 chandeliers, countless gold colored or plated household and decorative items. And then there's the Olympic size swimming pool and can you believe this, a helipad! In summary, it was filled with L-U-X-U-R-Y.
Then I went back to my own small apartment. Where the only small hint of luxury is my new L-shaped sofa. After the shower, I slipped into my old pyjama pants and RM3 pagoda tee and thereafter laid on the sofa with a good book in hand and a mug of hot Milo kosong.
Yeah Yeah Yeahs
were crooning in the background. Thereafter, Smokey came and laid sideways on my left.
It was then it hit me. Even without all those luxuries, I would not swap anything. I am already in my own heaven with Angel Smokey on earth. I'm blessed.
Have a great weekend, y'all.
September 22, 2006 // anjali* pranced on tip-toes all over the keyboard at
8:06 pm
|
a plan gone awry*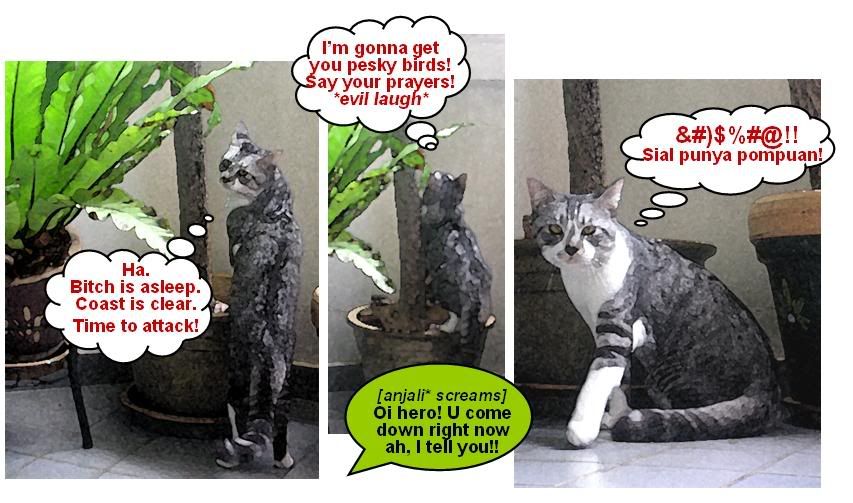 September 05, 2006 // anjali* pranced on tip-toes all over the keyboard at
11:38 am
|
6 random facts*
Consuela
, this is for you, babe.
This is another meme, which I am supposed to write 6 random facts about myself.
Only 6??? Ha. Here goes.
I am like a cat; I am very scared of water but I do try to bathe at least once a day.
I can't swim and I have a phobia of drowning.
When I was 25, [which was last year! Ha!] I realized I have 2 left feet – to my horror, I could not follow Paula Abdul's Cardio Dance steps, even after it was played on super slow motion. But I think it's Paula's fault mostly, her instructions were as confusing as her comments on American Idol. Bleh.
I am a caffeine addict - I drink at least 3 cups of coffee daily.
I forced my mum to send me for Jawi tuition from a Quran teacher when I was 9, after getting "F" scores for 2 months, and I hated having a red mark on my report card. Oh, after the tuition, I scored 'A' all the way. But I can't remember anything beyond alif, ba, ta now. Sigh.
In 2003, when I was on holiday in Pulau Manukan, Sabah, I met an old Norwegian chap from Oslo who lives next to Morten Harket's parents and had wanted to introduce me to him. I was stupid, I said no, when my heart said yes. Sigh.
September 04, 2006 // anjali* pranced on tip-toes all over the keyboard at
12:29 pm
|