oz-capade* [part 1]
Hey you. As promised, here is the first part of my 21-days travelogue in Australia.
Itinerary of trip: 3D3N Gold Coast – 3D3N Sydney – 1D1N Melbourne – 10D9N Adelaide to Alice Springs Adventure Trip – 1N Alice Springs – 4D3N Melbourne.
Breakdown:
Part 1
– Week 1; covering Gold Coast, Sydney and Melbourne.
Part 2
– 4 days road trip from Melbourne to Adelaide.
Part 3
– 6 days road trip from Adelaide to Alice Springs and Melbourne.
If you think the Moomoo Vista was painstakingly verbose, you will soon discover that its definition can be stretched. Much, much further. While it's partly sharing my adventure, I seriously am doing all this for my own benefit, so that I can read and reminisce them with hysterical laughter when I am old and haggard, left with only one tooth and a gigantic wart at the tip of my nose, adorning a high black tip hat, with only good memories to clench on while sipping bullshit potions. On weekends, I bake and leave sweet lollies trail to entice the young ones…
Initially, I wanted to tag the song "Down Under" by Men at Work to this post, but good taste precedes this cliché and I decided against it. Actually, honest to goodness, I have no freaking idea on how to tag it. Heh. But we shall stick to the first excuse to make me look good and keep my ego in check. Agree? Good.
I had mentioned earlier that this trip was a blessing as it was partially sponsored. And two weeks prior to the trip, I was introduced to a printer who used to print Lonely Planet books, and he gave me a free copy on Australia. The book proved to be most useful throughout the trip.
It's been almost a month since I returned and not a day goes by without me waking up hoping and wishing I had the super power to turn back the clock to the first day of my road trip. Somewhat like Groundhog Day, but with a cycle that lasts for 10 days. I tremendously enjoyed the outback (except for those irritating flies), versus the cities.
As starters, below are 7 shots of me at various venues. I didn't realise vanity has possessed me, but I think the shots are cool nonetheless. They were taken in the following order: Sydney, Great Ocean Road, Parachilna, Mt Ohlssen-Bagge, a park near the Missile Park in Woomera, Lake Hart (a salt lake also at Woomera) and Yulara, overlooking Mt Connor (aka the bluffer Ayer's Rock). Upon placing the shots in a row, I discovered that my hips tend to park on its right when I stand still, as though the gravity pull is dominant on that side. Or maybe it's was the bad hip replacement job…

GOLD COAST
The only 2 things I liked about Gold Coast were Movie World and Harbour Town.
Movie World
was fun because I finally get to touch the BatMobile. Batman went AWOL throughout the trip or maybe coz it's still daylight and he has to hibernate. Dunno. Don't care. And I met and posed next to many famous characters such as Frankenstein's monster, Marilyn Monroe, Addams Family, Shrek, Police Academy team, Tasmanian Devil, Zorro, Flash Gordon and many more. The rides were extremely fun especially Superman's Escapade and Lethal Weapon. I came out from each ride discovering my hair could actually defy gravity!
In anticipation to "Superman Returns" the movie, I got myself a Superman dog tag. Since young, I've always been captivated by Superman. And no, it has nothing to do with the red tights. I think it could be the square jaw.
Harbour Town
was the only time I went shopping frenzy in Australia. I bought myself 1 Nike hiking shoes, 2 pairs of boots and 3 Nine West handbags!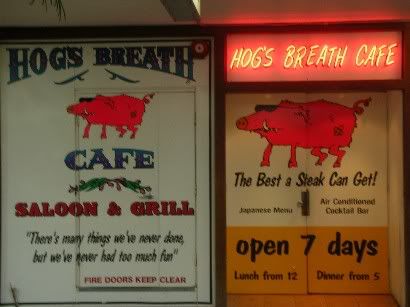 On the second night, on
Yvy
's recommendation, I had steak at Hog's Breath Café, an Australian local steak chain. It cost AUD$25.00 but it was yummy and worth the price, especially when someone else paid for it. Heh. But we couldn't finish due to its gigantic portion. Next time, I know better – to order the kiddie meal instead! Thereafter, I parked myself on a bench outside the main street at Surfer's Paradise to watch a 2-piece teenage band perform while licking my 2 scoops of Copenhagen's ice-cream. Yum. Outside of Hard Rock Café, I took a shot of Crowded House's star on the sidewalk. Nice. Also John "You're The Voice" Farnham's.
The next morning, I visited the weekend Carrara Market, which turned out to be a bore. But I managed to get myself a set of 3 miracle dirt-trapping cleaning cloths [I am, unassumingly, very domesticated.], Jennifer Weiner's "Good In Bed" book for only AUD$3.00 and placed new battery on my watch. There, I nearly got cheated by this old Chinese woman, but she soon realised it is my face that's pasted next to the word "cunning" and "sly" in the dictionary; not hers, so she admitted defeat. C'mon, even the Indian traders shivered at my presence. To paraphrase Phua Chu Kang – "Want to cheat me of my money, never die before leh…Don't play play."
SYDNEY
I reached Sydney at late Sunday morning and had to wait over an hour for the free shuttle bus to take me to my hostel – XBase Backpackers at Kent Street. That perk was offered with every 3-nights stay, and which was the reason I chose to stay there. Me is cheap.
This shot was taken from the plane and I love it lots. It gave me the impression of heaven and earth separated by a thin line of clouds.
As soon as I checked in and tidied up a bit, I headed to Queen Victoria Building to meet up with Lynn, an ex-client turned friend. She treated me to sandwich and coffee at one of the deli, over some catching up and girlie yaks. Then we headed to The Market at The Rocks, which is a weekend flea market aiming at the tourists (like me!) with knick-knacks galore. Most of the stuff was quite pricey like the cats and rooster made from some tree bark and the hand painted Ned Kelly masks. I managed to get some decent souvenirs of Sydney here though.

Thereafter my mission was to witness the 2 icons of Sydney – the Harbour Bridge and Opera House. To finally see them in their full majestic presence, the feeling was astounding. Akin to having a dream finally fulfilled after a long wait. See, I was supposed to visit Sydney back in 1998 on a client sponsored trip but my jackass of an ex-boss decided to revoke it a week prior because I had thrown in the towel. I even had the flight ticket in hand already! And I was supposed to go with this cute colleague I had lusted over the longest time! We were supposed to have a week together! Ass! Anyway, no point crying over spilt milk…I was finally there!
That night, I met up with Jag at Darling Harbour for dinner. We had Indian food. Jag was an ex-colleague, from one of my first agencies, turned great pal. He migrated to Sydney 5 years ago. He and Keepz, a Chinaman who is now happily married in Thailand, used to wait along Jalan Damansara for me to drive past and they would closely trailed my car from behind. My duty was to deliver newspaper materials to the media owners every morning. I had just passed my driving license and it was no fun driving the MD's car. So they both will laugh their asses off every time the engine died whenever I stopped at traffic lights. I used to call them the "CB Boys" - one is Chinese and the other a Bai. Get it?
For me, nothing beats catching up with old friends. Especially great guy friends, coz they are my key sources to understand the complicated male psyche. I hold them close, especially those who saw me through various chapters of my life, and likewise, me theirs. These are friends you wanna grow old with. Geographical distance matters not, coz they are always close in your heart. Their friendship – Priceless.
Dinner lasted till about midnight. Jag had to fly to Canberra the next morning for a week-long assignment there. That was also the reason why I did not bunk in with him.
The next morning, I walked along Sydney Cove and Circular Quay, sipping coffee facing the Opera House and being trigger happy. In the afternoon, I went for my
Bridge Climb
. The climb lasted 3.5 hours. My session started at 4.05pm; so I saw Sydney changed from dusk to bright illuminating night lights. The climb was not as hard as I anticipated. In fact it was really fun. This is definitely one of the highlights of my life. My climb instructor was Pete, a mid-forties Robin Williams look-alike with equal funny bones in him. As I was the Slone Ranger in the group of 12, I tagged behind Pete and I had fun chatting with him. And you can trust me to ask stupid questions like "What's the yearly suicide rate on the bridge?" etc.
Here's copy from the fridge magnet which best illustrates the experience:
Bridge Climb Sydney – Ascend 134 metres above sea level in 252.5 metres horizontal distance, with no barriers, no sense of time, no going back, just onward, just upward, the ferries the size of matchboxes, the Opera House shrinking away across the harbour. 1,337 stairs, 1 ½ football fields above the water, and a breathtaking view of Sydney, surrounding suburbs and all the way to the mountains. My heart pounds, my legs shake, I feel every breath…and I climbed it!

After the climb, I met up with Pete and we had pancakes for dinner at The Rocks. Conversation was so superb; we extended it to the park nearby for another 2 hours. Mostly I shared with him about some testimonies on Jesus's great blessings in my life. At the end of the night, he teasingly proposed. Twice. Though I did not take it seriously, I felt nice. I think he was really uplifted with the testimonies.
The next day, I joined a day tour to the Blue Mountains. Though the weather wasn't very accommodating, mostly cloudy and gloomy, we managed to see the Three Sisters. The Katoomba Scenic Railway ride was fun with the 250m vertical drop. Apparently, at 52°, it's the steepest incline railway in the whole world! The view was captivating. The tour guide was Jeff, a Jerry Seinfeld look-alike and sound-alike. On the journey, he asked some trivia questions and I managed to answer two – (i) What does QANTAS stands for (Answer: Queensland And Northern Territory Aerial Services) and (ii) Name one Australian Female Singer (I answered Kylie Minogue.) I think he was quite impressed and rewarded me 2 candies.
2 key tips when you travel in a tour group is to make sure the tour guide (i) knows of your existence (ii) remembers your name. So in the event should you get lost, you will be missed, though not sorely, but at least you can be certain they will come and find you. Make sense?
So on this trip, Jeff tagged me as "Miss Malaysia" which is okay with me as well. It's not everyday you can pretend to be a beauty queen representing your country…
We stopped at a small town called Leura for lunch. I opted out from the tour lunch which cost AUD$15 and decided to have lunch on my own. I had fruit salad and a slice of beef lasagna, which was the best I've ever tasted. While munching away, I met a male husky who has David Bowie's eyes, meaning he owns one brown and one blue eye. So I named him David Husky. Isn't he just gorgeous? The blueness of his eye is so clear; I wanted to snorkel in it! Heh.
The tour included the ferry ride back to the city. So that experience was wonderful. The ferry docked next to Luna Park and that's where I took the night shot of the Harbour Bridge. I thought it turned out very well.
MELBOURNE
The next morning, I flew to Melbourne – Avalon airport. I reached XBase Backpackers at St. Kilda around 4.00pm. After checking in, I texted
Metria
to confirm our dinner date that night. I teased her if she was gonna wear a red rose, and she replied she will adorn herself in a purple sari. Ha. We agreed to meet around 6ish at Xbase entrance.
In between, I took a slow stroll around St. Kilda area and I stumbled upon the Palais Theatre. Foreigner was playing that night. I checked out the ticket price and found the AUD$86 and AUD$126 pricing too steep. And I was not such a fan anyway and I think I only know 2 of their songs. I also found out that Beth Orton performed there on April 17 as part of her Comfort Of Strangers tour. Damn! I would have loved to watch her sing. Damn!
Anyway, I finally met Metria. We had Nando's. I really like her. There was no awkward feeling and conversation flowed freely. Like old
wine
friends. She wowed me with her fairy tale romance story with Mr D. The hour passed swiftly and she had to leave. We bid our goodbyes. After that, I hung around Palais Theatre to just hear the concert. I reclined against the wall closest to the stage for a good 40 minutes and then decided to bugger off before I froze myself.
So I walked back to the hostel and checked out the live performance at the adjacent bar. The singer hooked me with the cover of Stereophonics's "Dakota'. At 11.30pm, I went to bed with great anticipation of my road trip the next day.
Trivia: Why has David Bowie got odd looking eyes?
He has a condition called aniscoria, which is the medical term for unequal pupils. In 1962, aged 14, he got punched in the eye by his school friend George Underwood, during an argument over a girl named Carol Goldsmith. George's knuckle caught David's eye and dislodged something. David was admitted to Farnborough Hospital, where it was found that the sphincter muscles in his left eye were damaged and he underwent two eye operations. He has an enlarged pupil that remains permanently open, giving the effect of different coloured eyes.

June 28, 2006 // anjali* pranced on tip-toes all over the keyboard at
12:45 pm
|
an oz-thentic souvenir*
Before
anyone
throw me another death threat, let me assure you the Oz travel post should be ready by late next week. In the mean time, before you tag me as a scrooge, here's a souvenir for all you pretty boys and girls.
I've tried it and I must say it's crap tasting.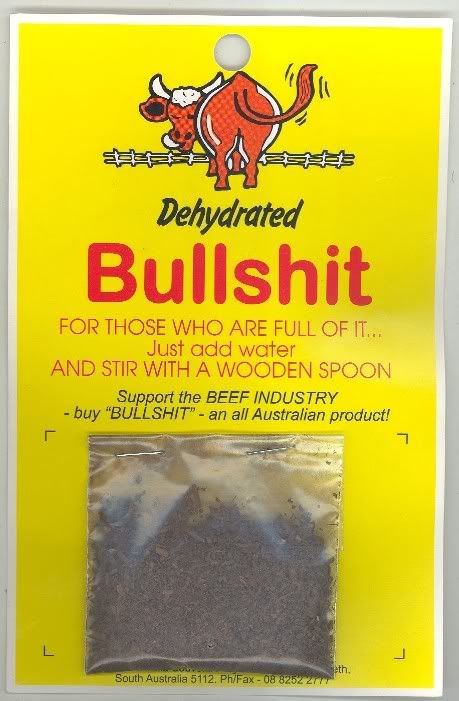 June 16, 2006 // anjali* pranced on tip-toes all over the keyboard at
7:00 pm
|
so what if i am fat?*
Last Saturday, I decided to finish the last 3 sessions at a slimming centre. Now, before you go shoot me pointlessly in the dark over this decision, allow me to explain. I had signed up for the 10-sessions package for RM288 back in 2003, when I was obviously fleshier.
Back then, passers-by on the street would raise a high-five and endearingly call me 'Michelle' coz I was 20g short to be mistaken as a Michelin mascot. My flesh hung loose around the mid-section area and cool air surrounded me when I walk in the hot sun, as the waving wings I call my triceps synchronized its motions with my marching legs. And don't get me started on those thunder thighs. And my orange peels. In a nutshell, a sight to behold I was not. Grotesque would be a better adjective. So I succumbed to the advertisement and chose the easy way out to shed those insecurities…
Did the sessions work? Definitely not. In fact, after 7 sessions, I piled up on those pounds. The 2 main contributing factors were (i) self-denial that I've earned the ticket to chomp more fattening food (ii) false idea that I don't need to exercise. After I knocked some senses into my own head that exercise and eating right was the way to go about it, I decided to cease the session and put this shameful episode behind me.
As always, the past decided to play catch up and pay an uninvited visit right after I returned from Australia. It came in the form of a phone call, to remind me that I still have 3 more sessions to fulfil. Typical me of being prudent with money after every holiday, I decided not to waste good money and thus agreed to spend an hour of the lazy weekend afternoon at the mercy of some fat-electrocuting machine.
How naïve can I be? I became conscious to that fact the minute I entered the centre. Plastic smiles greeted me like a prodigal daughter, asking how I have been without any form of eye contact…and they flash illuminating "You're Fat!" signs across their foreheads.
Quickly I was ushered into a room and was asked to strip down to my undergarments, got my weight taken along with my BMI (Body Mass Index) and fat percentage. The 30-min electrocution session passed swiftly. After which, I was measured at various parts of the thighs, arms and waist and thereafter, the nutritionist entered the room for a
criticizing
consultation session.
She informed me that I have 31% body
lard
fat and looked at me like a plump hog ready for the slaughter house. And as I weigh 59.5 kg at the height of 163cm, my BMI index is at 22.4, which is at the tail end of the normal weight index of 18.0 – 22.9. "While you lost inches compared to 2003, you are still considered as fat. You are only 0.5 point away from being overweight."
I disputed with the argument that I had just returned from a 10-day adventure trip which included daily 3-5 hours of rigorous walking and hiking and thus, I had definitely lost inches even though I gain 3kg, which I assumed, is the weight of solid lean muscles.
"Ya, but you are still fat", was all she could offer me.
"No, I am not fat! I know the definition of fat. Look here, I seriously don't care about the weight. I am happy with how I look and I think my BMI is fine."
"Ya, but you are still fat", she parroted the same answer in fear I had missed it the first time.
"Ya, but I don't care!"
"You don't care that you are fat?"
"But I am not fat!"
"Yes, you are!"
"I don't care what you say. I am not fat. End of conversation."
"Anyway, do you want to come back next Saturday for another session?"
I gave it a short thought and told her no. I seriously will not stomach any more of this ridiculous censure. Ever.
June 13, 2006 // anjali* pranced on tip-toes all over the keyboard at
7:32 pm
|