hanoi - in search of the pain-in-the-arse ice cream and other stories in between*
Some of you may be aware of it, and maybe some don't - I am of the weird breed that do not like to work on my birthday, so that I can be my hermit self, take time to reflect on my life, past, present and future, which usually takes about 5 minutes. This year it took longer - 8 full minutes! Don't play play. Ha.
Anyway, I decided that I wanted to do something different this year. I wanted to be in a different country, which would include having the immigration stamp bearing the date on my passport. And the chosen place was Hanoi. This plan nearly went awry as I missed my 6.30am flight, coz I overslept and woke up at 7.05 am instead. But after slapping myself silly, I drove to KL Sentral and bought another ticket for the evening flight. Luckily for me, Air Asia flies twice to Hanoi everyday! Phew!
I reached Hanoi at 7.25pm local time (8.25pm Malaysian time) and by the time I won a high octave argument with the taxi driver and finally checked in the right hotel, it was already 9.20pm. The driver tried to pull a scam on me by taking me to a different hotel. Little did he know that I only have 2 extreme levels in my voice - (i) super whispering low and (ii) super screaming high. In my offense for defense, I chose the latter mode and insisted that he sent me to the right hotel or I will not pay him a single cent! He shrivelled and obediently obliged.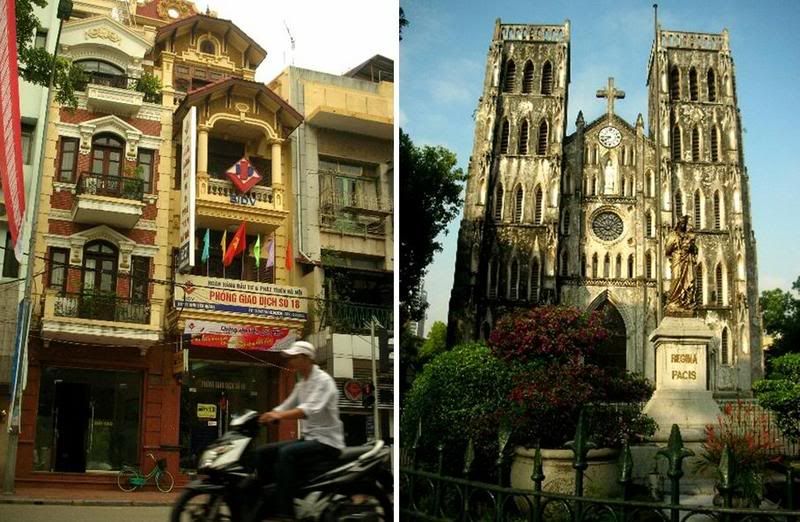 I woke up the next day to the spiritually calming sound of the church bells of St. Joseph Cathedral in the heart of Old Quarters, Hanoi. That was my first stop before breakfast. It is located 2 lots away from my hotel. The church's neo-gothic stature was built similar (well almost) to that of Notre Dame de Paris. It was really awe-inspiring to see; the French influence on the olden architecture amid the new ones, which are narrow in width and stacked vertically. Both equally appealing.
After a quick breakfast of Pho
[pronounce as "fur"]
, the infamous beef noodles, I decided to spend the day by doing the Old Quarter Walking Tour, guidance from The Lonely Planet - Vietnam. The starting point was Ngoc San Temple, situated in the middle of the Hoàn Kiem Lake.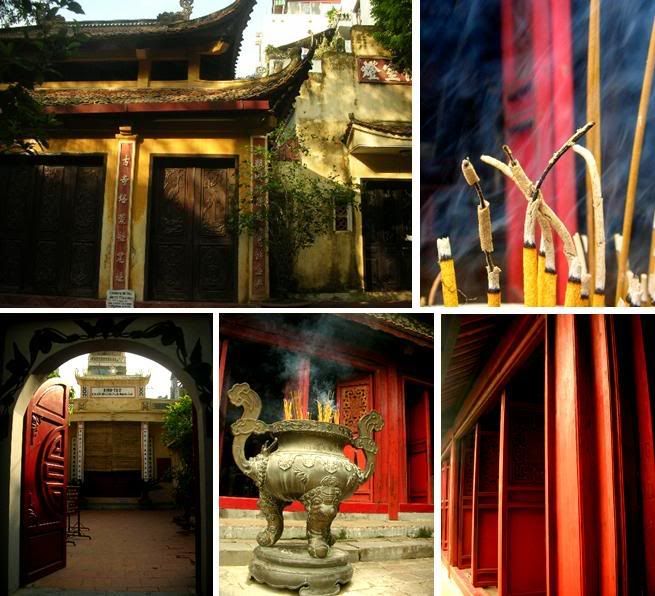 The walking tour was very scenic. Each turn brought me to different specialised streets - at one turn you will encounter a whole street selling nothing but shoes, moving on to another street specialising in inticate handcarved gravestones, to jewelleries, to straw mats, to skillful blacksmiths pounding away on metal, to herb sellers, to tin box makers, to mirror shops to leather goods etc. Every turn was a wonderful and surprising treat to all the senses.
And I love the fact that the place is so safe and mostly peaceful. Besides the occasional invites by the Cyclo riders, no one haggled me to buy anything. I was left to walk in peace, in my own slow pace. I succumbed twice to the strong brew of the local coffee and sat with the locals on the low chairs, resting my tired feet while enjoying a bit of people watching and also the motorcycle traffic. There's load of motorbikes here, and bicycles too.
As I called on different bikers to get around the longer routes, my sick mind reminded me that I am just like a town "biker". Haha. Get the joke? "Biker" in place of "bicycle"? Oh, never mind.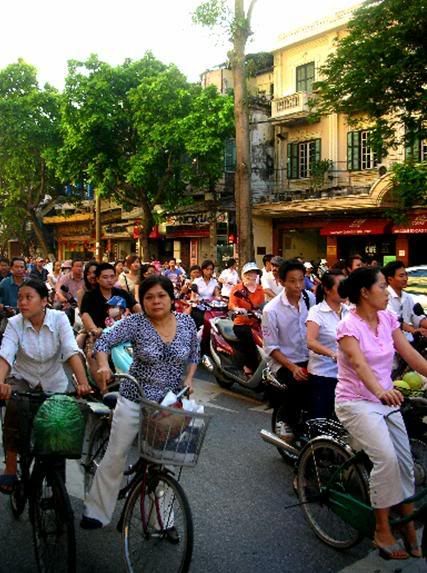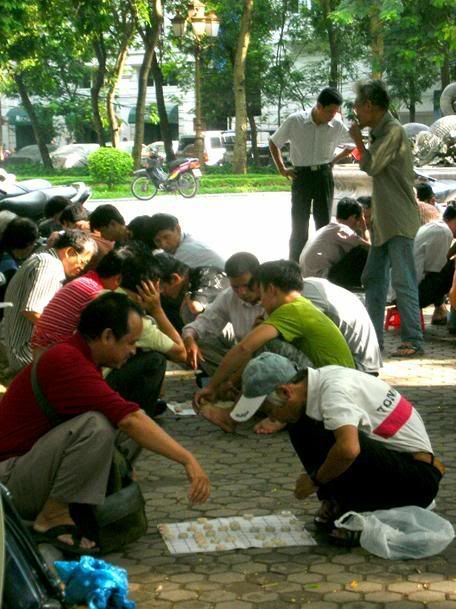 At the end of the tour, I decided to take a cyclo ride to the other side of the lake, in search of the so-called celebrated Fanny Ice Cream. What was ironic was the fact that it took me 1.5 hours to look for it. The cyclo guy gave up after going round in 3 circles. So I continued the search and asked nearly 15 locals before realising that I was at the wrong street after all. The shop is at Pho
Le
Thai To
[Pho = Road]
while I have been walking in circles at Pho
Ly
Thai To instead. Honestly, it was a frustrating journey.
But at Pho Ly Thai To, I stopped at the park to watch the local men squat around to play chess. It's really amazing to see how dedicated they were to the game. At the other side of the park, there were also old men and ladies playing badminton together. Really nice.

Well, I finally found my Fanny Ice Cream Shop and decided to buy the one with the caramel. It costs me VND45,000 (approx USD2.80). Honestly, I thought it was kinda overated. I moved on to another ice cream shop, which apparently is a favourite among the locals, located 2 streets away, approx 10 minutes walk. A cone costs VDN4,000 (USD0.25) and I had two - rice and coconut flavours! The taste - heavenly beyond words!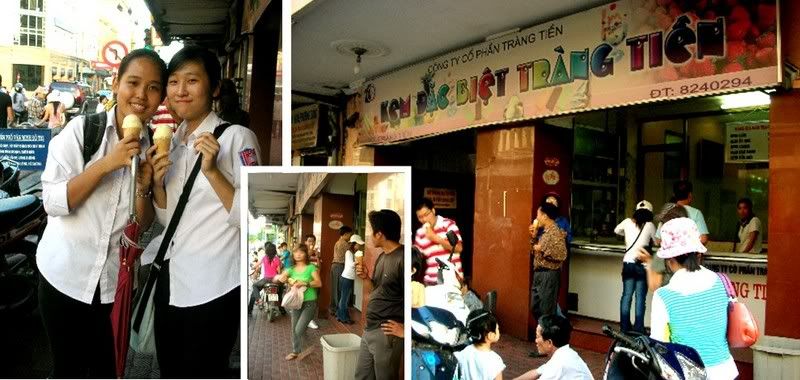 After the desserts, I decided to have dinner - cha ca
[pronounce as "cha ka" and not like the dance]
According to the Lonely Planet book, is apparently one of Hanoi's food specialties, perhaps best thought of as sumptuous little fish burgers. I thought it was lovely. The fish fillets sautéed with the spring and bombay onions, eaten together with the local rice noodles sprinkled with fried peanuts and the chilli dips. Sedap sekali. The meal costs a whopping VND70,000 (USD4.70) but it was worth it.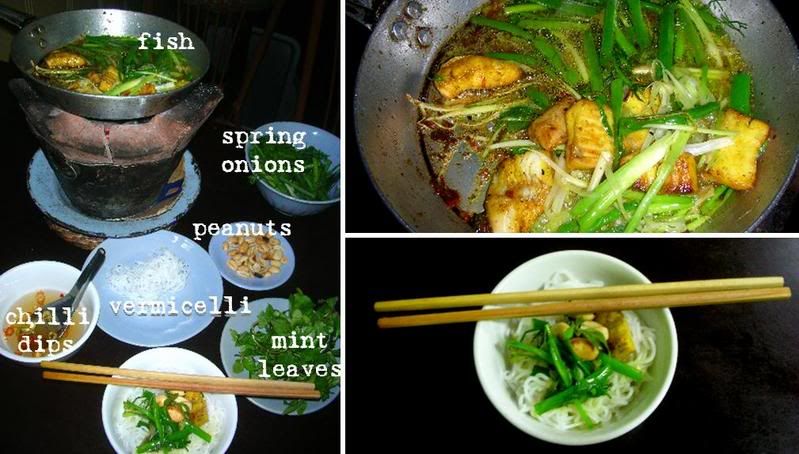 After the meal, I walked around looking for some souvenirs and made friends with a local DVD seller. He convinced me to get the Woody Allen Movies Collection (all 44 movies in 1 DVD for only USD10.), Six Feet Under - Season 1- 5 (for USD10), Grey's Anatomy Season 1- 3 collection (for USD5) and 3 other movie DVD for USD1 each. The movie titles were '
Thank You For Smoking
', '
After The Wedding
' and 'Garden de Buffles". I came home to find that the Woody Allen collection and Smoking DVD were faulty and Grey's Anatomy so-called Season 1-3 only contained 2 episodes!!! I am keeping those DVD and will throw them in his face when I revisit Hanoi again. Soon. Cheh!
...to continue
October 16, 2007 // anjali* pranced on tip-toes all over the keyboard at
8:20 pm
|