wot's in a name?*
[PARENTAL ADVISORY. EXPLICIT COPY AHEAD]

This is ACP Pappu Singh.
He is the apple of Sorain's eyes. He's a bit sickly, which is why he looked somewhat scrawny. But still a cute heartbreaker, he is.
Honestly I found the name extremely interesting. Especially for a tomcat. So I asked Sorain how she came up with the name. She explains…
Well he thinks he's quite a bandit. He would attack and pounce on everything. So we wanted to call him Gabbar Singh (a legendary dacoit from an Amitabh Bacchan movie called "Sholay" - the most sucessful Indian movie of all time), but then we saw that since he was a bit stupid and was never able to stalk his targets successfully - he would always land short of the unsuspecting victim...a ball of thread mostly and then have to walk across the rest of the distance...so we called him Pappu Singh instead. Pappu is a common nickname in small towns for slightly stupid personality less men.





ACP stands for Aaichi Puchi which is an obscenity in Marathi, the language of Maharashtra, which means "mothers' pussy"...that was the only name he responded well to, bright as he is...





ACP in India also stands for Assistant Commissioner of Police...a very high post in the Indian Police Services...so people get fooled into thinking he's an ACP Saheb.




I don't know about you, but I think it is freaking BRILLIANT!
March 28, 2006 // anjali* pranced on tip-toes all over the keyboard at
7:07 pm
|
…and it ended with a click*
The phone rang incessantly and broke my deep sleep. I garbled a husky "llo".
"Hey dear, did I wake you?"
"Ya. You did. What time is it?" I asked.
"It's 3.40 in the morning."
"Gosh! Why are you calling me at this hour?"
"Well, I can't sleep. I thought maybe you could sweet talk me to sleep."
"Oh man…I am really tired, G. Can't you just go watch Astro or something? Or drink some cough mixture?"
"Pleeeeeese anj*…just for awhile."
Sigh. "Okay, what do you want to talk about?'
"Whatcha wearing now, babe?"
"Aiyo. Please la. Don't make me sick with such questions! Next topic, please!"
"Hey, you all geared up for your Singapore trip?"
"Ha. Yes I am! I can't wait to see Damien live! Can't believe this is actually happening!"
"What if I asked you not to go? You know I have not been feeling too good about myself lately. Would you do that for me, baby?"
"Sorry? Can you please repeat what you just said??"
"I said don't go to Singapore. Stay here with me. Make a choice!"
"I really don't believe I'm hearing this. Are you asking me to choose between you and Damien Rice?"
"Yes, I am."
"Please don't do this, G. I don't think you want to hear what I have to say."
"No, I want to make that choice NOW. So tell me!"
"Please la. I really am not keen to do this. I don't want to say something I am going to regret later…so please. "
"Tell me! Tell me! Tell me! I am a man. I can take whatever you have to say."
"Don't spoil it, G. Let's talk tomorrow, k? I am really, really tired. And I have an early meeting tomorrow. And you are starting to irritate me. And test my patience."
"No, anj*. Make that choice, NOW!'
"Okay, if you must. You might as well have taken a knife now and stab it to your heart, coz it would definitely be less painful than hearing what I have to say. Let me paint this clearly for you once and for all. You want me to choose between you and Damien Rice? I would choose Mr. Rice without a blink. This is something I've been hoping to experience for a long time now and I am not about to throw it away for you, someone whom I have known for only a month! While we are on the subject of choosing, allow me to elaborate. If I have to choose between you and Smokey, I would choose Smokey. And if you ask me to choose between life with and life without you, I would choose the latter. What about choosing between a man and a big baby? I would choose a man or not at all. Are you clear on my choices now???"
"Did anyone tell you that you are really brutal?"
"Hey, don't say I didn't warn you!"
"All I wanted to do was just to talk to you…"
"You called that talking? That's not talking – it's emotional blackmail! Look, I am really tired and I am even more tired of this dead-end conversation. If you really need someone to talk to, why don't you just look into the mirror and talk to yourself?"
"Haha. That's funny."
"Am glad you still have your sense of humour. Whatever that suits you la. I am gonna end this conversation here, k?"
"K. You put down the phone first la. I want to hear your phone click"
"Whatever." Click.
Almost immediately the phone rang again.
"Why did you put down the phone for? I haven't finished talking…"
"But I thought you ask me to put down the phone???"
"Ya, but you're supposed to ask me to put down the phone first too…"
"You are pissing me off. Listen to me closely and I will only say this once – Good night. Good bye. Good riddance. "
Click.
Smokey turned to look at me and gave a disgusted meow.
[Translation: Idiot!]

My sentiment, exactly.
// anjali* pranced on tip-toes all over the keyboard at
1:09 pm
|
would you come?*
This thought has been toying on my mind for the longest time now. Not as long as
it would take to make a baby, but long enough...
As I had professed from the very beginning, I am a hermit. Not necessarily an ostensible introvert, but I could be…if I am left with seriously bad company, which would make me switch off and dwell with my own amusement as Ms. Hyde. Otherwise, among wicked good company, I can be a really entertaining Dr. Jekyll.

Anyway, as I was saying before I interrupted myself, I had a thought. I was wondering if I extend an invitation to tea for 6 at my place on a lazy Saturday afternoon…would you be interested to take it up.

Of course, a hermit would have some compulsory hermit rules. They are:
(i) You have commented on anjalispeaks* before.
(ii) You must own a blog. [So I could stalk your blog for some vital details.]
(iii) You are not allowed to bring any digital camera or take pics with your mobile phone or any electronic device during the meet. This is to protect the privacy of fellow bloggers who do not want to reveal their convict faces, especially mine.
(iv) Thereafter, you are not to post about the meet.

So tell me…would you come?
March 21, 2006 // anjali* pranced on tip-toes all over the keyboard at
11:54 am
|
prison bar win*

This pencil creative won a bronze under Direct Marketing in the recent
Adfest
. Leeds, my good friend, is the one responsible for the creative work, which was created for
Amnesty Malaysia
. This is the same Leeds who created my anjalispeaks*
banner
.
So peeps, please join me to congratulate her on her recent win.
Hey Leeds, I knew you were cut out to be a winner! That's why I am your No.1 fan.
Teh tarik on you, babe. :)
March 20, 2006 // anjali* pranced on tip-toes all over the keyboard at
12:11 pm
|
an eskimo's dream of damien*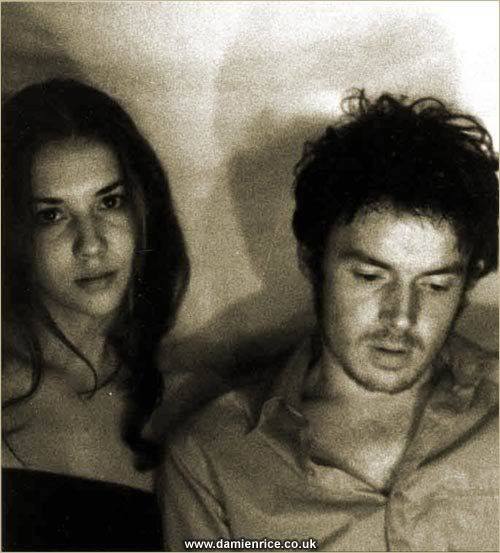 It's funny how things fall into place sometimes. And I can only assume it's God's hands at work.
Just last week, I was reading some Malaysian guy's post about meeting up with Damien Rice after his concert in London and I was thinking to myself, "Bugger. Action la." Thereafter, I daydreamt how great it would be if I could do the same thing as well. But then I also thought most probably he won't be coming to this part of the world...
See, I am a fan of Damien. In fact, I am a member of his
fan site
.
[There is no stalk site, so this will do. Heh.]

Anyway yesterday, I found out through
Mei
that he will be in
Singapore
on 30 March for a one night Asian concert. So guess what? Yours truly will be there! Online bookings open tomorrow at 9.00am and there's only 600 tickets available. So tomorrow, I will be stalking the Sistic Ticketing website at 8.55am so that I can book my tickets . Wish me luck!
On the concert night, I shall wear a sheer top. I heard Mr. Rice likes
older chests
. Ha.
And I hope he brings Lisa Hannigan along. She is so cool! Woo!
March 16, 2006 // anjali* pranced on tip-toes all over the keyboard at
1:22 pm
|
a meow-velous year & 100 reasons why i love u*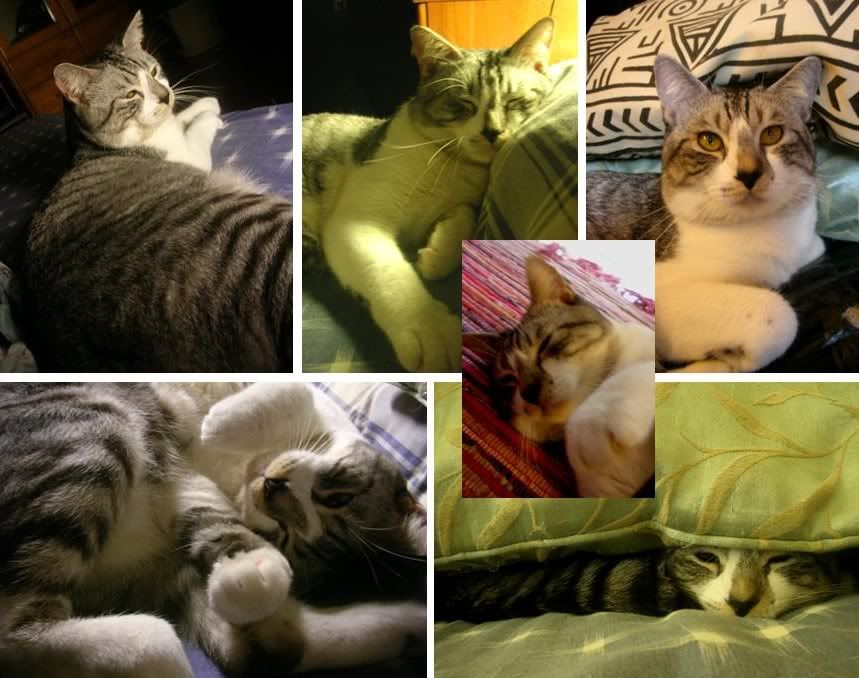 Time flies when you're having fun. This is certainly the case for me and Smokey - it has been a good year since I brought him home; after having promised to love, cherish and pamper him will all the luxury I could possibly give to a tomcat. In return, he took care of me as well; mentally, spiritually and physically. He had changed me in ways I never thought possible.
On this anniversary, I would like to place down 100 reasons why I love this monkey so.
1. I love the way you, upon hearing me awoke, jump on the bed to greet me "Good Morning" followed by a kitty kiss.
2. I love it when you whine me to sleep every night.
3. I love the way you stalk me every minute I'm at home.
4. I love when you share the prawns from the prawn mee on weekends.
5. I love it when you lie down with me when I am sick.
6. I love it when you sneak a nasty silent fart sometimes when I sleep.
7. I love it when you wag your tail at my face at times.
8. I love you even when you rudely 'MmEeeoowWed' Ally to go home at 1.30am because you thought it was way past my bedtime.
9. I love the way you hide under the big pillow while playing Peek-A-Boo.
10. I love the smell of your lovely fur.
11. I love your handsome face.
12. I love it when everyone else thinks that you are handsome too.
13. I love your cheeky tricks which always end up with you hopping into bed, as though to trick me to sleep. Again.
14. I love the way you sleep like a human; with your face on the pillow.
15. I love the way you will lie inside the toilet sink when I do my morning business deposits.
16. I love it when you rest your pretty head on my thigh when I read a book.
17. I love it when you use my palm as your pillow sometimes.
18. I love your masculine 5kg body.
19. I love it the time you did that one-loop somersault, followed by the cutest prancing on your hind legs to the bedroom when I decided to go to sleep one late night.
20. I love it when you greet me home every night.
21. I love it when you do your pitiful face when I have to leave for work in the morning.
22. I love it that I can use you as the excuse to leave early from a bad date.
23. I love it when you lie next to me when I do my floor exercises.
24. I love it when you try to smother me by sleeping on the top pillow sometimes.
25. I love the smell of your smelly mouth.
26. I love the fact that you made me behave like a proud mummy when I share stories and pictures of you with practically everyone I meet.
27. I love that I say grace to God for bringing you to my life every night.
45. I love it even if I lose 3 minutes of my life everytime I clean up your poo.
50. I love the fact that you tolerate my mushy nonsense like "Ooh, you handsome boy" or "I love you, baby" or "I thank God for you, sweet baby" or "What did I do to deserve you, my baby".
55. I love the way you hate me brushing your fur every morning.
58. I love that because of you, I end up wearing cat fur on all my clothes.
60. I love it when you bite me when you thought I wasn't paying attention to you.
61. I love it that you respond every time I call your name.
62. I love the way you proved your warrior skills by killing the house lizards and how proudly you presented the kill. Everytime.
79. I love it when you growl inside the house upon the visit of the pair of hummingbirds on the bourgainvilla tree in the morning.
99. I love the fact that you guard the room door every night.
100. I love the fact that you complete me.
[And Tom Cruise shouts- Oi, that's my line la!!!]
All in all, I wanna say this – I love you, my Smokey baby. More than you will ever know.
You are truly God-sent.
Meow.
March 13, 2006 // anjali* pranced on tip-toes all over the keyboard at
1:15 pm
|
soundtracks of my life*
I guess Simon (
Neophyte
, not Cowell) was right about me being a music lover. Music has influenced me since I learnt how to breathe, I think. Though I am hopeless at playing any music instrument except maybe the male organ
[Ha. Bad joke! Bad joke!]
, I appreciate its greatness and deep influence over my life. And it still is an important aspect of my life, day in day out.
So when Mr. Neophyte tagged me on this meme on evil vengence mission, I decided to turn it around for good. Honestly I think it's a good meme, though it's not as easy as it looks. Here goes...
1. One song… from your early childhood:
Sunday Morning – Daniel Boone
[ This song is the most chirpiest song I can think of during my pre-school years. Yea, me is 70's child and am proud of it. It made the school day bearable and that Sundays are beautiful. After all, it is Sabbath day.]
2. One song… you are associating with your first big love:
Doa Buat Kekasih – Rahim Sarip & Khatijah Ibrahim
[Because my first big love was a Malay and that was like the hottest Malay love song back then. During camping trips then, I would pull a victim for a duet of this song as my performance. Either that or it was 'Right Here Waiting' by Richard Marx.]

3. One song… which reminds you to one of your holidays:

Goodbye My Lover – James Blunt
[I've explained this on Moomoo Vista Pt 2. I had heard this playing while I was in Landmark (a giant bookstore in Chennai) and was mesmerized with it. I went to the information counter and asked for the song title. It's definitely the song to play and cry your gut out when you're feeling hollow. Sounds familiar, my dear Ir? Heh.]

4. One song… you like, but you have got problems to confess:
The Sign - Ace Of Base
[Ya ya…the lyrics makes no sense but you must agree it is contagious. Another few of such songs are 'Everytime' by Britney and 'Rock Me Amadeus' by Falco. I care not to elaborate.]
5. One song… which accompanied you, while you were lovesick:
Kau Ilhamku - Manbai
6. One song… you listened to most often in your life:
With Or Without You – U2
[Actually this and 'Every Breath You Take' by Sting remain as my All-Time Fave Songs. They are classics la.]
7. One song… which is your most favourite instrumental:
Theme of Superman – John Williams
[Actually I love most of John's works, especially all the 70's and early 80's soundtracks like E.T, Encounters of the Third Kind, Indiana Jones, Jaws and Poltergeist.]
8. One song… which represents one of your most favourite bands:

Sit Down – James
[I love UK bands, especially bands from Manchester. James is the only band which I own the collection of all their albums. Their style change from album to album and I love them so. This song makes me feel as though Jesus is talking to me especially the end bit…

Oh those who feel the breath of sadness, sit down next to me
Those who find they're touch by madness, sit down next to me
Those who find themselves ridiculous, sit down next to me
In love, in fear, in hate, in tears (X3)
Oh sit down, sit down, sit down, sit down next to me…]

9. One song… in which you recognizes yourself or through which you feel somehow understood:
Girls Just Wanna Have Fun – Cyndi Lauper
[Don't ask!]
10. One song… which reminds you to a certain occasion (and the occasion):

Do They Know It's Christmas – Band Aid
[It's my favourite Christmas song! Even though it's been 9 years I've embraced Christianity, I am miserable when it comes to the Carols.]
11. One song… you like and which belongs to the Hip Hop / Rap genre:

Where Is The Love? – Black Eyed Pea
[Oh, oh…can I add 'Ice Ice Baby' by Vanilla Ice?]
12. One song… which is the best for you to relax:
God Will Make A Way - Don Moen
[Or this - 'Anchorage' by Michelle Shocked. This song actually made me wanna visit Anchorage one fine day. I really can imagine myself settling down and lead a slow pace lifestyle there.]
13. One song… which symbolizes a great time in your life:
Caravan Of Love – The Housemartins
[This one is definitely another classic. This is the same people that also make up Beautiful South and Fat Boys Slim.]
14. One song… which is your favourite song at the moment:
Sorry - Madonna
[This one brings me back to my disco dancing days. When my hip bone was still strong. Ha.]

15. One song… which you would dedicate to your best friend:

Time After Time – Eva Cassidy
[This is a remake of Cindy Lauper's classic which is really brilliant. So sad that Eva had to die at the tender age of 33 due to cancer. Wasted.]

16. One song… which you got the feeling that no one besides you like it:
Me Myself I - Joan Armatrading
[This is the best song for a hermit like me.]
17. One song… you like because of its lyrics:

Hijau – Zainal Abidin
18. One song… you like very much and which is neither German nor English:
Vande Mataram – AR Rahman
19. One song… which helps you to work off:
Wonderwall – Ryan Adams
[This is a wonderful cover of Oasis' classic. Ryan's version is more emo.]
20. One song… which should be played on your funeral:
I Started A Joke – Bee Gees
and a bonus.
21. One song...which you would like to play when you lose your virginity
.
[Your backside, y'mean??]
Tonight's The Night - Rod Stewart
I am tagging these music lover people:
Priya
,
BawangMerah
&
Tim
.
And please do let me know about it. I want to read! I want to read!
[Read another similar post- looney tunes*]
March 10, 2006 // anjali* pranced on tip-toes all over the keyboard at
6:04 pm
|
idola*
This may be a bit delayed, but what the heck…
Yay!
American Idol 5
is here! Shameleesly I tell you that I have been religiously following this season's show since the very first audition show.
After having recovered from the trauma of last year's big disappointment at the finals, I swallowed my own entire grunt and puke about never watching the show again. It was not a sweet tasting swig but it's all done. I am definitely all geared up for another round of idol worshipping.
What's so great about American Idol, you ask? Honestly, nothing much. But for me, I liked it so for many personal reasons. The main one being my energy level shoots up during each show. I just love to workout while being serenaded by these finalists, especially on Thursday nights. Haa. I will do my cardio on the stepper followed by the weights and then the abs workout on my new
AB-KING Pro
. I can betcha that by the final live telecast, I will be a lean, mean horny hag machine. It's gonna be bye-bye
Boon Cit
, hello Ram Ping!
I will have abs that will set even
Kelly Dorji
drooling at my feet. We will end up being the vainest couple in the whole of Mumbai. We will walk the beach; me in my bikini and him in his Speedo trunk, and we will show off our washboard abs. And then we will open a launderette. Get the pun?
Anyway, like a mental and forgetful old hag, again I had digressed. Where was I? Oh yes, American Idol 5.
Another reason why my excitement is greater this year is I am utterly keen to see who can top
Bo
's acapella performance. Truthfully, I was prepared to be disappointed again this year while keeping my fingers crossed that the American voters would have learnt from past mistakes and hence, do the right thing this year.
Like everyone else, this year I have my fave lots and they, in no particular preferential order, are:


ACE YOUNG

I normally don't go for those beautiful looking hunks, but gosh, this one can sing la. Okay okay, holding true to my principal of bad love songs, I will minus 10 points off him for singing Daniel Bedingfield's 'If You're Not The One" last week. And to top off an obvious bad song choice, he sang it off-key some more. Aiyo. But you must agree with me that he crooned a melting rendition of Georgie Porgie's 'Father Figure' though. Mr Ace, you can ask me "Who's Your Daddy?" anytime. Anytime, dude. Anytime.
[Okay la, we got the point!]
ELLIOT YAMIN

I agree with Simon Cowell that his confidence has grown and though he may not win in the looks department, he is one of the better singers. He reminds me of one of the Amish brothers alongside Harrison Ford in the movie 'Witness'. That's kinda unique. I would love to see him grow and excel in the upcoming shows.
TAYLOR HICKS

This guy is really a living Mr. Brightside. I have a soft spot for guys who can carry their grey hair well. He's got such a sunshine personality that oozes out from your tv screen. And he plays great harmonica. I like him. A lot. I just hope he picks his songs well. This man's sure got soul, but he's not a soldier…
KELLY PICKLER

This country bumpkin kinda reminds me of Carrie Underwood, only cuter and more lovable. Only she can call the Calamari the blur-sotong
[bimbo octopus]
way and be forgiven for her ignorance. You would have done rounds of bitch-slapping if it was Brenna. Gosh! I can't stand that baboon. I am glad she and her ugly big ass is out of my sight! Anyway, I do predict Kelly being in the finals this year. Not for her vocal talent, but for her strong likeability factor.
MANDISA HUNDLEY
Ooh, this woman is powerful. She can bring down the stage, and I am not referring to her vital statistics. I liked the way she confronted Simon so graciously, which in turn made him apologized for his tactlessness. You go, sista! I pray that she gets to the finals, against my own prediction.
And last but not least, my favourite Idol this year has to be…
CHRIS DAUGHTRY

From the first time I set my eyes on him, I knew he had high potential. And I love the character that he represents – a doting husband to his wife and a loving father to two of her children. How often do you find a man who will wed a woman with 2 kids, and love them as his own? Not many, right? He regarded his wife as his lucky charm and his hero. His personal goals in life were (i) to have a successful marriage and be a good father and (ii) to have a long-lasting career in music. And this one wins my vote – when asked who he will thank first if he wins, he answered "God, then my wife, and so on and so on." What a wonderful man! And a greater singer! Honestly, I think he's even better than Bo. If I could go to watch the finals, I will do a Sinead for him! Heh.
Did you notice his elongated curvy-S sideburn last week? Ooh, that was so cool. Almost like
Prince
's.
And if my prediction is right, it will surely be like dejavu if Kelly and Chris go to the final. The rocker against the country bumpkin. Only the diff this year will be smarter voters. I hope.
Oh Chris, I pray that you win this year.
You so deserved it!
You the dawg!
Woof!
March 08, 2006 // anjali* pranced on tip-toes all over the keyboard at
10:49 am
|