meow in da house*
Despite the mental block, I am glad to announce that I have a new male in my life. Since Sunday evening.
For me, it was undoubtedly love at first sight. For him, sheer torture filled with angst. It took me a good second to immediately decide I wanted him to move in with me. Talk about being aggresive. And he did, reluctantly. Actually, he had no choice. Haa. He was a stray, and had to be given away.
For the past 2 nights, we have been spending many hours together. The first night, in my mere effort to cajole him, I placed him on my tummy while lying on the sofa. And stroked him softly. He immediately placed his tiny head right smack on the valley of my bosoms and stayed there for a good 20 minutes. "Typical male!", I thought. I guess the testosterone instinct works the same, irregardless within a four legger or two. Sigh.
That same night, he scratched a deep 2 cm gash into my left ring finger as I tried to pull him out from hiding in my broken store cabinet. As well as endless scratches on my hands and legs. Long and short alike.
This morning, I woke to find him at the edge of the kitchen window, sitting still in fear. "Have I driven you to suicidal point so soon???" I asked, as I pulled him in. He gave a skimpy "Meow" as if to say 'Yes". And how he managed to swipe the window open is beyond my thinking ability. I would not forgive myself if anything happen to him. See, I stay on the 10th floor. He would still have a deficit of 1-life if he had fallen. Aiyo, I dare not imagine.
I have been given a week for him to get use to having me as his mistress. Ha. Failing which, I have to return him.
And with that, I am proud to present to you, the new love of my life - Smokey.
Doesn't he remind you of a Siberian white tiger?
Wish me luck :-)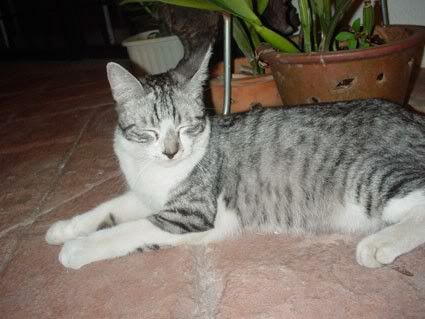 March 29, 2005 // anjali* pranced on tip-toes all over the keyboard at
8:16 am
|
knock*

March 23, 2005 // anjali* pranced on tip-toes all over the keyboard at
12:32 am
|