moomoo vista* [part 1]
Honestly, I do not know how to do this - to write this travelogue on India. Not to say there was anyone twisting my typing fingers with any rules to begin with. But I really want to capture the reminiscence with just the right amount of my twisted humor, laced with enough pictures, and a pinch of Indian melodrama.
Thus, I've decided to kickstart by showing my precious shots of the locals. When I visit another country, I find the most important factor that warms my cold amphibian heart is the people, especially the locals and sometimes the tourists. And I had hoped to capture that warmth via some ala "National Geographic" shots.
[*ahem* kononnya.]
And I did took the trouble to art direct them, with whatever remnant graphic design skills I still possess, to get the best possible angle as well as to capture the moment artistically. Trying to be artsy-fartsy lah.
These shots were taken with my new digital camera, the Nikon CoolpixSi. See, I have also taken lots of shots from another friend's camera, especially of the Jodhpur Fort, coz my battery suffered lots of premature deaths in the heat of being trigger happy. And I have yet to collect those shots from my traveling mate. Maybe this Friday.
So here goes...
Shot 1 – Jaisalmer Boys

This shot is my favorite. I had been watching the boy on the right as I walked the busy dusty road outside the Jaisalmer Fort. He seemed slightly deformed, yet he oozed out so much inner joy with his ever smiling face and that drew my attention. Then the other boy on the left called out to me, "Photo. Photo. Take me." I had to oblige and upon seeing me focusing on the first boy, he quickly went towards him and both of them gave their best pose. And I decided on B/W to give it more character. I can look at this shot for hours and still feel warm inside. And no, I am not peeing in my pants.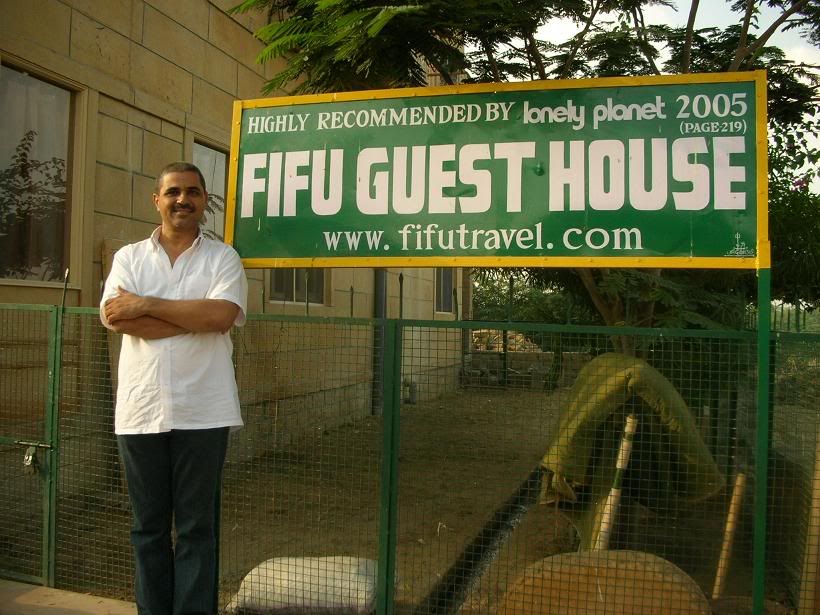 Shot 2 – Jaisalmer Fort
Since a lot of the shots were from Jaisalmer, here's one of the Jaisalmer Fort at dawn. It's about 6.15am and I had woke early to get my first sunrise shot from the rooftop restaurant at Fifu Guest House, where we stayed for 2 nights.
Shot 3 – Fifu & His Guest House
That's Fifu, the courteous owner of the guest house. Indians are similar to the Thais when it comes to their names. Almost everyone has 2 names. First is their birth registered names which apparently is more difficult to pronounce. Second is their pet name which is used more frequently by friends, business partners and acquaintances to address them i.e. Fifu, which carries no significant meaning.
I also had a chat with Fifu's thirteen year old son. His pet name is Chiku, after the fruit because his parents felt his face is shaped similarly. Yep, isn't it interesting that we Malaysians call the fruit by the same name as well? The Indian cikus, however, are as big as tennis balls!
In Jaisalmer, I met a man called Fifu
Who has a son by the name of Chiku
Whose guest house serves vegetarian, but no tofu
And that almost drove me cuckoo
Wanna hear a joke? I broke a 20-year old boy's heart on one of my stays in India? At my menopausal age, I find it almost endearing when one of my travelmates told me of his confession the previous night. Apparently he had fallen hopeless in love with me, with my smile, from my twenty minutes chat with him in the restaurant kitchen. In actual fact, I was perpetually perspiring while hopelessly flipping the burnt chapatis. Somehow that seemed sweet and I admit that it awkwardly boosted my ego and also made me cringed all at the same time. The everlasting non-blinking stares with those deep-set eyes and that unibrow and then the additional attention to all my whims and fancy, and the extra bananas on my pancake were fine. I could almost handle all of that. But when he held my left
jingling triceps
and requested for a private afternoon chat, I immediately felt my personal space being violated and that just freaked me out. I sniffed a potential bunny boiler and was glad to leave the next morning.
It's even more mind boggling that in my 17 days in India, 4 of the native men wanted to follow me home to Malaysia, 1 wanted to marry me and 1 asked me to stay to learn some skills on blue pottery. Ha, if only I am that lucky here in this homeland. And it doesn't help when the rest of the 3 travelmates openly announced that my main mission to India was to look for a husband. Aiyo. It must be my fair skin that has swooned them over.
But I digress.
Shots 4 - 6 - Jaisalmer Lady / Rekha & Priya / Headgirl
The lady and the three girls are also from Jaisalmer Fort. I had asked their permission for a quick snap and they shyly agreed. I met the two girls from Shot 5 again, Rekha (left) and Priyanka (right), at a restaurant cum internet café during lunch. I had to download all my shots and burn them into a CD. Rekha politely asked for the soft copy of the shot. Apparently the internet café and restaurant owner is Rekha's uncle. When I asked her if she like the shot, she wiggled her head and said, "Yes, very much. Thank you."
I had earlier been confused with that same head gesture at work with an Indian from India colleague, whereby I was explaining my presentation slides and she wiggled her head at every slide. After awhile, feeling something amiss, I stopped my presentation and asked her if she had any issue with my strategy. She reciprocated by nodding her head and said "No, no, no." Then she explained that the wiggling means "Yes" and nodding means "No." Therefore, in a way, I was somewhat prepared for this trip.
Shot 7 & 8 – Jaisalmer Scoot Musketeers
These boys are also from the Jaisalmer Fort. The hiding shy boy was playing hero gesturing for me to take his photo when I was 30 metres away. And then he turned shy on me when I came near. But I think the candid shots came out great nonetheless. The three of them will definitely grow up to be heartthrobs.
Shot 9 - Balcony Man
I thought it interesting to shoot this guy who's standing on the first floor door which has no balcony. And no, he is not committing suicide. And he was all too happy to pose for moi. Wear sarong some more. Nice, eh?
Shot 10 - Washing Tits

This is one shot taken without permission. I thought I could entice you male readers to read further with some boob shot. Consider this as midsection break. I understand this is one subject that size does matter, but age may not, right? So here's some natural eye candy.
Hee. Seriously, I like the lighting on this and it's also a common color combination of violet and the bright green among the Indian women. I like!
Shot 11 & 12 – Agra Followers

These shots have been cropped from one single snap. It was taken hurriedly, on our way to Agra, amidst the long line of some Hare Krishna barefooted followers. These ladies were seated at the back of a truck which was taking a u-turn. Upon knowing that I had taken the shot, the lady in the orangey head scarf yelled out nastily at me with some "I'll twist your eyeballs" hand gestures. I was lucky she didn't jump down and demand photo money. Trust me; they are capable of doing that. As the famous phrase goes, "Nothing comes free." Except maybe JLo's love, which doesn't cost a thing. And the flipside of that would be the handful number of ex-husbands...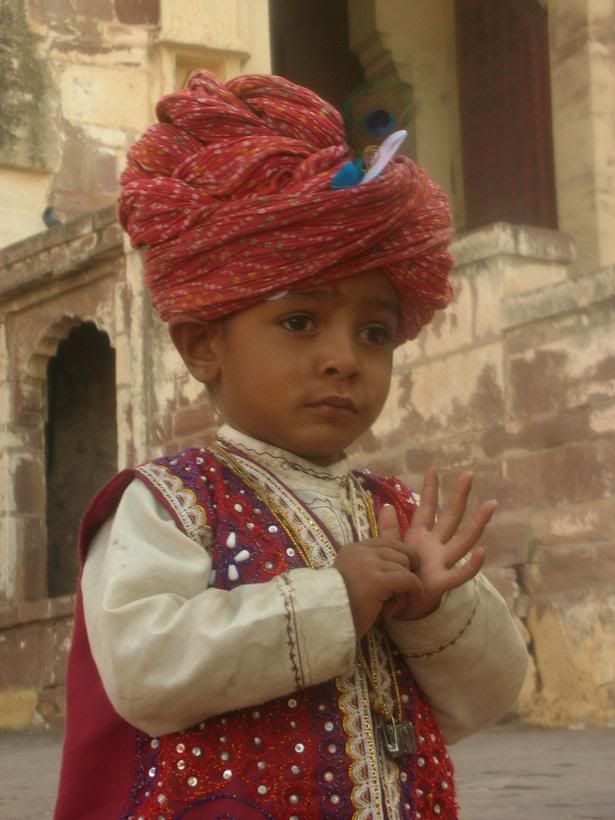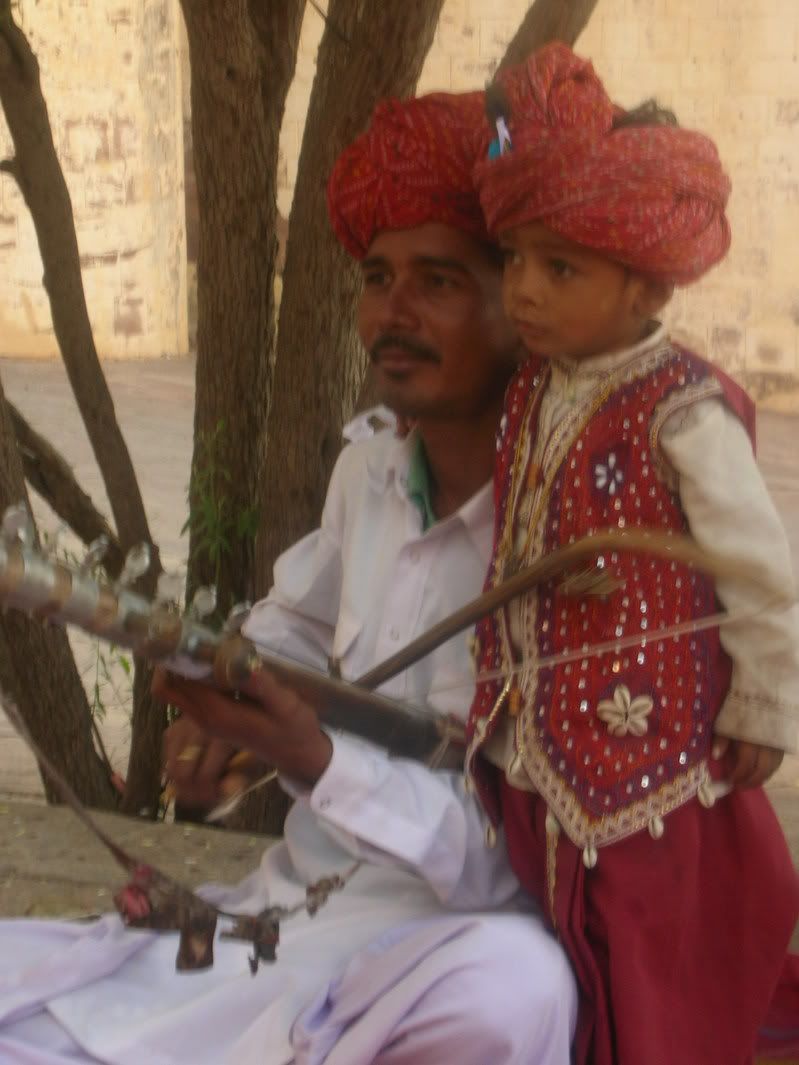 Shot 13 & 14 - Jaisalmer Family
This is another heartbreaker in the making. This boy is was part of a father-mother-child entertaining team in the Jodhpur Fort, which I personally voted as the Best Fort in Rajasthan. Being only three years old, he danced masterfully to his father's tune.
Shot 15 – Lady in Red
I really like the contrast of this shot. The striking red sari against the brown tarnished walls of the Jodhpur Fort is simply gorgeous, if I may say so myself. This lady is the mother to Shot 13 child. She was on the way to refill some water.
Shot 16 – Jodhpur Fort

That's of the Jodhpur Fort. I purpose took it behind the creepy looking tree. Otherwise, it is a fort of grandeur presence. Breathtaking. It appeared in the recent Indian Mastercard TV Commercial. More stories on this fort in the next post.
Shot 17 – Weeeeeee!!!

Now, it's time to entice the women folks. The men in India have only one rule when it comes to peeing – This wall is as good as any. And there are also public urinals along the building walls in India. But I didn't get the chance to capture the Delhi men peeing, so here's one from Chennai. I really like this shot a lot. I like the green hues of the walls as the backdrop, which has the right flowy water colour effect.
[Pun not intended.]
Very artistic, despite the subject. Many may think of me as a pervert, but I'd like to consider it art. Hah.
Shot 18 - Karnitaka Musicians

These are the musicians in the Karnimata Temple; or more famously known as the "Rat Temple" which was featured in Discovery as well as The Amazing Race. It's nice to know that the sexy, gorgeous, slurpy Phil Keoghan has walked on that same grubby ground moons before me. *wipe drool*
Shot 19 – Haveli Traders
A candid shot of two painting traders outside a haveli [mansion] in Jaisalmer. I like the framing, the lighting and the candidness of the two guys on this shot.
Shot 20 – Cow Parking

Last but not least, here's the pic of the "Kings of The Roads" – the cows! They literally park their bony arse anywhere on the road and all the vehicles; be it the bicycle, rickshaw, toot-toot, scooter, motorbike, car, bus, lorry, truck and any wheeled transportation will have to wiggle and squirm around them. This mentality seemed ubiquitous among the Indian cows; be it in New Delhi, Jaipur, Jodhpur, Udaipur and even Chennai. Hence the rightful name.
Hope you had enjoyed the short tour.
November 21, 2005 // anjali* pranced on tip-toes all over the keyboard at
1:32 pm
|