on hold*
Hey you,
I have been hit by a spate of bad luck. Firstly, my radiator overheated on the black Monday morning, and then on the same night, my laptop was stolen from my car. All my Oz Adelaide to Alice Springs travel pictures are left to just memories in my head. Same goes with my picture taken with Damien Rice. MY Damien Rice. Not to mention some precious emails kept in the archive. Sigh. So yes, I am damn pissed with myself. So until I pull myself together and get myself a new laptop, I have to keep all posts on hold. Keep me in your prayers.
Love,
Anjali*
March 28, 2007 // anjali* pranced on tip-toes all over the keyboard at
6:57 pm
|
2*
It was about this time back in 2005 when I received an email about one
manja
stray tomcat. The long and short of it - I responded and brought Smokey home. I
wrote
about that too. How time flies, it's been two glorious years and I love this bugger to bits. Have I ever told you he is able to call out my real name? I kid you not. He is so brilliant that I am thinking of enrolling him into Harvard.
Now you can wish us 'Happy Anniversary'. Heh.
March 22, 2007 // anjali* pranced on tip-toes all over the keyboard at
12:54 am
|
i see televisions, everywhere*
Mr. Teo
seems to be on a roll with the production of his music videos. First it was "
Lost In America
" which premiered on 8TV's Quickie last 25 Feb. And now, there's another one for the song 'Carnival Hall". Despite calling himself an uber superstitious Chinaman, the duration taken to produce those videos contradicts that claim. First one took 4 months, and the second only 4 days. Hm.
So have a look at the new vid. It is directed by Kamal Sabran, under the
Nokia 'You Make It Reel'
contest sponsorship. I think it's cool. And super fun. The old tellys made it even more ice-cool.
I like it. A lot lot. Hope you do too.
March 13, 2007 // anjali* pranced on tip-toes all over the keyboard at
11:57 am
|
theWRITEtherapy*
Over the weekend, I helped a friend to set up a new template for her equally new blog. She is an ex-journalist who decided to venture into the
boring
world of banking last year. Since then, she has been itching to write. Hence the blog. So, please kindly go and check out her blog
here
and don't forget to drop a note to say Hi.
// anjali* pranced on tip-toes all over the keyboard at
10:09 am
|
score*
Got my results for the
English exam
I took last month. Am elated! So, don't play play wei...coz as of now, my England is officially confirmed as powderful. Chuckle.
March 07, 2007 // anjali* pranced on tip-toes all over the keyboard at
10:59 am
|
leave my country [pt 2]*
After 3 ½ days in Siem Riep, we left for
Phnom Penh
by bus on the morning of Feb 18. The journey took about 6 hours, but it somehow felt shorter. Maybe I was too engrossed with the book '
First They Killed My Father'
by Luong Ung, which was about the author, who survived the Khmer Rouge ordeal when she was 5 years old. It was very compelling. I had bought it from one of the many book peddlers, for USD$2 along with the Lonely Planet Cambodia for USD$4. Books are among the few things that are reasonably priced in this country.
When we reached the bus stop, we went down to grab our backpacks. It was there I stood behind to this perfect looking hunk, who has crossed my path a couple of times when we were at the Angkor temples. Though I have never liked Keanu Reeves coz I think he looks like a girl, this hunk represents the macho Keanu [if this even makes any sense!] He's got the perfect height of 6ft 2in, slightly golden-tanned skin with equally golden rusty blonde hair to match, super sharp features and a perfectly chiseled toned body. If I had died from dehydration then, you can bet your last dollar that it was not because of the El-Nino temperature. Heh. But unfortunately, he's with an equally gorgeous lady companion. I can't help looking them and go, "Gosh, what a perfect life-sized Ken and Barbie pair." When he talks to her, it seems as though nothing and no one else matters in the world. Lovely. What a rare breed indeed.
Anyway, I digressed.
So there I was, standing behind Ken waiting for my turn to pick up my backpack. When he bowed to pick his, I could not help but to be awed by the sight of his perfectly toned cheeks of the behind. I hastily pulled up my wet tongue from dirt road before anyone noticed. And then I foamed at the mouth. There seemed to be a strong magnetic force from his butt to my right hand, coz I really felt the strong urge to grab his beefy right cheek. I thought - just one quick tight squeeze before I scurry for safety. Then it dawned upon me that his legs are as long as a mile, and with one easy mighty leap, he might catch up and beat me to a pulp. On the other hand, he may end up enjoying it. Me squeezing his butt, I mean, and not beating the daylights out of me. But as usual, I was too chicken to find out if he shares the same fetish. Another unsolved mystery it shall remain. Instead I closed my eyes, grabbed my own wobbly cheek and imagined it was his. I also made a mental note to take a cold shower. Sigh.
After checking into the hotel, we went to the
Royal Palace
but decided to visit it the next day as we only had 1 hour to closing time. So we took a stroll around. In comparison, I liked the capital Phnom Penh better, even though it was somewhat dirtier. But the colonial buildings were gorgeous and you don't get harassed that much.
As some said the Angkor monk shots were somewhat 'artificial', here are some candid shots – two monks walking near the Royal Palace walls, a monk taking a rest in some building and two monk robes being hung to dry.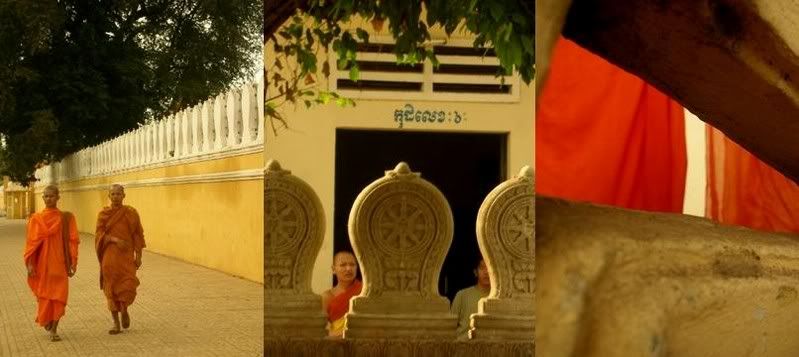 We walked along the
Sisowath Quay
, which faces the
Tonle Sap River
. Along the whole stretch of the quay, there were a lot of people there – some strolling with their families, lots of peddlers, lots of kids swimming in the malodorous river, adults looking at them etc. It was about an hour to sunset so we sat around as well.
It was also here when one silly insect bit me on the inner thigh, and for the first time in my life, I had the excuse to behave like a typical man – I scratched my crotch area. In public. Everyone was looking at me, but the pain and the dire need to scratch took precedence over pride. Over what the Chinese and Malay call 'water face'. I scratched away till the pain subsided and let out a quiet sigh of relief. And I must say, it felt kinda nice. Ha.
As it was Chinese New Year, there were lots of water lilies being sold as offerings to the Buddha. I like how they fold the fully bloomed lilies so that they resemble lily buds. The combination of the red and white lilies is pretty. Some traders were also selling birds, as the act releasing birds to freedom is akin to releasing good luck to oneself. Unknown to most, these birds were apparently trained to return to the cage.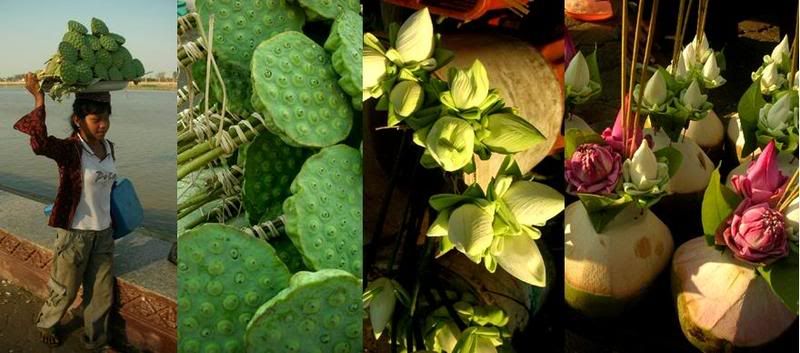 On the
Tonle Sap River
, there were also a lot of boats of all sizes. We decided not to take the boat cruise as there was nothing much to see along the river. They don't come cheap either.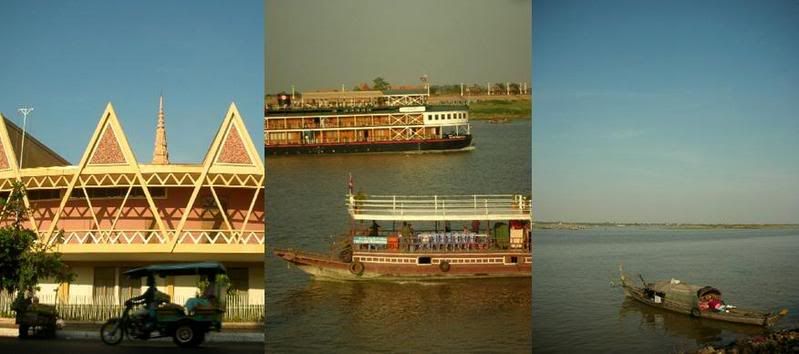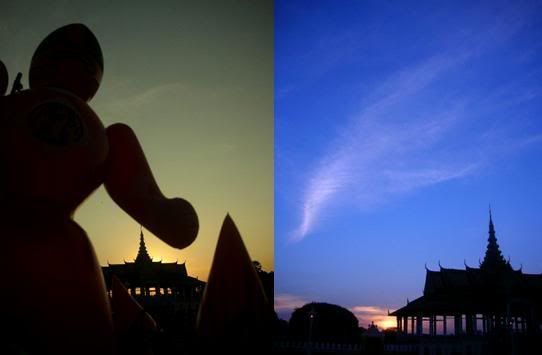 After much wait, the sun finally set. These two are my favourites – the left one was shot in tribute to my current favourite show 'Heroes' starring the adorable Adrian Pasdar, though I liked him better as a lawyer in 'Judging Amy', versus his politician role in the aforementioned show. And the cottony-like cloud on the right shot is really cool too. The building you see is the
National Museum.

The next day, we went to
Royal Palace
. When we were there, some Australian embassy people were having some formal event at the main court. I thought it as a good sign, as they were also at Angkor when we were there too. Damn good sign, if you ask me. But that's a different topic all together.
The architecture of the Royal Palace and its surroundings is very Thai, except for one building called 'Pavilion Napoleon III' which was very French. Below is the shot I loved most.
There's different kind of nice blooms around the palace. The one in the middle is the most gorgeous and the most unusual. I purposely took the angle so that it looked as though Buddha is wearing a flower.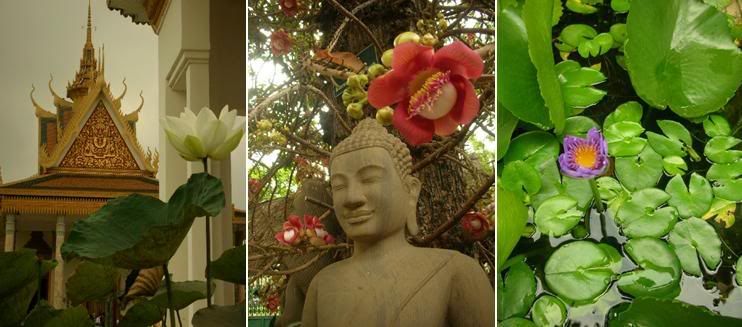 Next we went to the
Choeung Ek Genocidal Center
which is referred to as 'Hell On Earth In 20th Century'.
Excerpt of history from the Center's admission ticket:
Choeung Ek Genocidal Center is an unique and special place which reflects the most barbarious and cruel crime committed by the Ultra Communist Khmer Rouge Regime (UCKRR) during 1975 – 1979. Here, about 20,000 people including 8 foreigners were executed and murdered. Obviously, 129 mass graves and about 8,000 human skulls at the site bear testimony to this unspeakable crime. In order to remember the spirits of victims at the site and as well as over 3 million victims throughout the country, a Memorial Charnel was built in the center in 1988.

Row 1 [L to R] – the Memorial House, the approximately 8000 unearthed skulled placed inside the Memorial House and one of the many mass graves surrounding the area.
Row 2 [L to R] – this tree is the most unusual, where the branches coiled as though it has mangled itself as it witnessed the brutal killings; there were still clothes strewn beside the unearthed mass graves and two molars on the ground.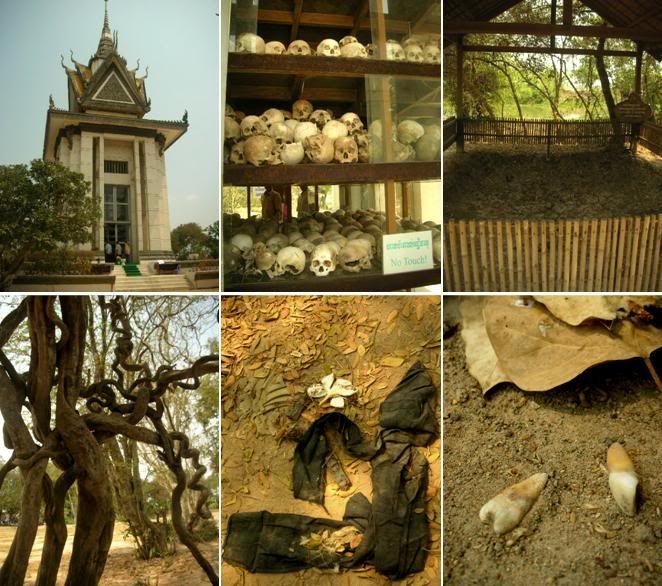 Thereafter, we went to the
Tuol Sleng Genocide Museum
. This place was initially a high school when it as taken over by UCKRR and turned into a prison known as Security Prison 21 (S21). It became the largest centre of detention and torture in the country. Between 1975 – 1978, about 17,000 people were held here before being taken to extermination camp in Choeung Ek.
When you reach this place, you cannot help but to feel downcast and depressed. Here at Tuol Sleng, you bear witness to photos of the callousness mentioned – victims found burnt of the metal beds, the prison cells, the torment modus operandi, and thousands upon thousands of mug shots of the victims. I managed to cajole myself to go through all the buildings except for the prison cell block. Upon reaching the entrance, my hairs stood on ends and I could not bring myself to go in. It's nonsensical how such brutality could have happened. Such strong hatred brewed from one man to his own nationality. It's lunacy, that's what it is.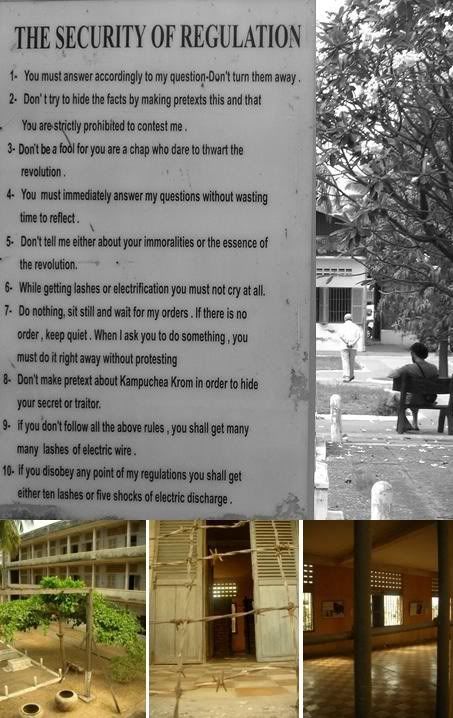 I will end this post with this picture, which I named 'HOPE'. Even though futile darkness may consume one's past (as illustrated by the dark border and also the torture tools on the floor), there is always hope for a brighter and better future. (as depicted by the light from the outside and the growing tree.)
May the victims' spirits rest in peace.
March 02, 2007 // anjali* pranced on tip-toes all over the keyboard at
9:25 am
|