halong bay - you jump, i save you*
Hey you. This is part 2 of the Hanoi travelogue.
Prior to the trip, I had asked a few friends who have been to Hanoi and
Halong Bay
was always mentioned as a "must-see". And I have also seen it on the Discovery Travel & Living shows. So while I was doing the Walking Tour at Old Quarters, I booked a
2D1N tour
, to occupy my 2nd and 3rd (and last) day in Hanoi. The cost - USD131 (including the Single Supplementary of USD30). Honestly the trip was worth every cent as we were served 4 main meals
[lunch & dinner of first day and breakfast & lunch on the second.]
Every meal has soup, crab, prawns, squids, fish, 2 dishes of vegetables and dessert.
There are only 5 cabins in the junk; which means it can only occupy maximum of 10 visitors. Which was great, for a hermit like me. My fellow junk boarders were majority Australians, with the exception of another Korean girl and me. I made friends quite easily with all of them, except for the Korean girl and her boyfriend, Matt. They instantly irked me with their PDA
[Public Display of Affection]
overload, which continued throughout the 3.5 hour bus ride to Halong City.

This is my hurried landscape shot of Halong Bay, which will give you a good impression of the overall view which is really beautiful. My immediate thought was that it looked like "
12 Apostles
X1000". Honestly, I think any picture taken doesn't do the place justice.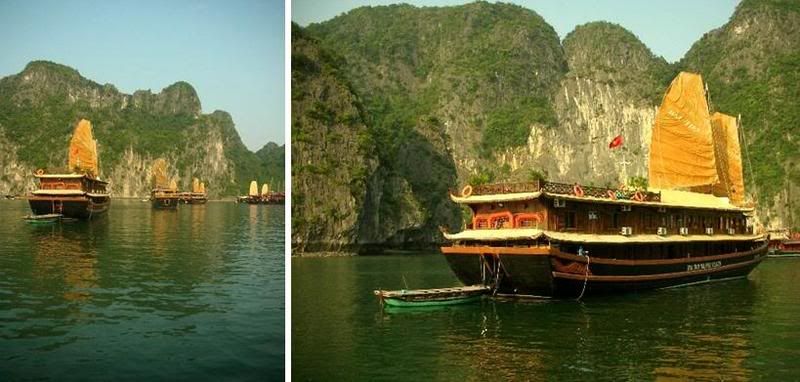 You can see lots of other junks around you at the bay.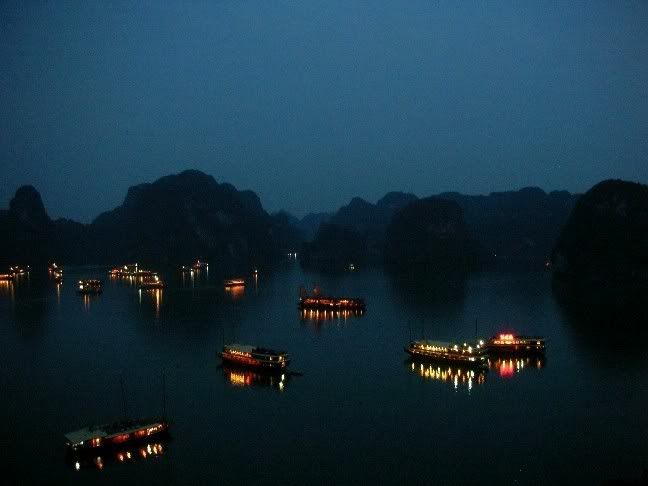 In the evening, we stopped by one of the islands and I climbed the mountain, I think there were about 300 steps in total. This shot was taken from the mountain top. Halong Bay at dusk. Nice eh?
That night, while I was talking the night away with Bianca, our junk softly collided with another stationary one. But there was no damage and certainly no casualties. In my silly excitement, I told her this is a bit like Titanic. Aiyo,
choi
! Heh. Just hours earlier, I told her and Ffion that I wanted to replicate the "I'm the king of the world" scene, but my Leonardo was missing in action.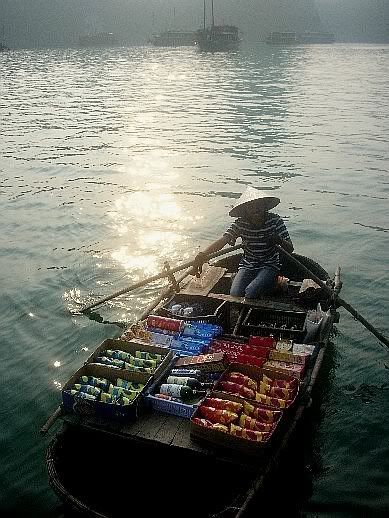 The next morning, we were greeted by this lady on a sampan. She sells foodstuff like junk food, mineral water, wine and cigarettes at competitive prices.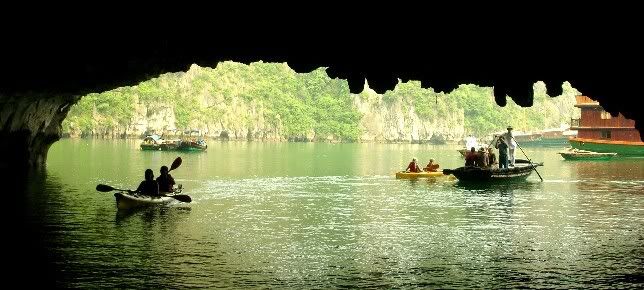 Thereafter, we took a smaller boat to visit one of the lagoons. Again, the view was simply fantastic. For those who took the 3-day trip, they get to do kayaking as well. After that, it was basically free and easy. Most of my travel mates decided to do some swimming, and jumping down from the upper deck for extra thrills and fun.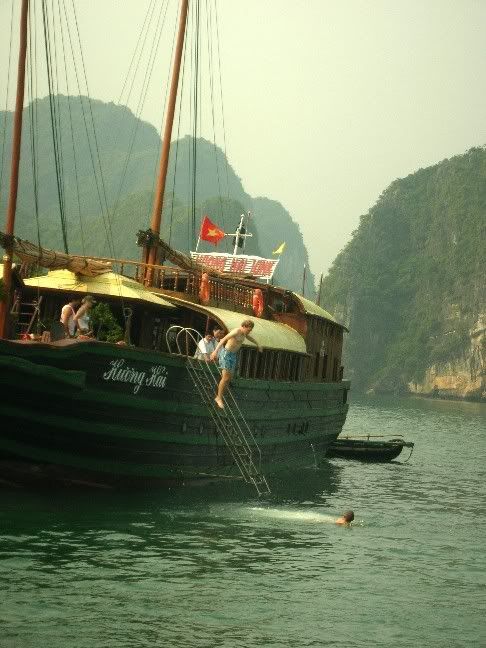 That was when the PDA couple made all of us rolled our eyes. Matt, the guy, had already jumped into the water but the Korean girl, standing at the corner of the upper deck, was being hesitant. And the conversation went like this...
Matt: Come on baby, jump down! It's fun.
K-Girl: I'm scared...
Matt: Awww...no need to worry, it is safe.
K-Girl: I'm scared...
Matt: Come on baby. You jump, I save you!
Well, she jumped. Finally. If she hadn't, I would have gladly pushed her down. Hehe.
"You jump, I save you!" - that's the revised (not necessarily improved) Titanic script for you, boys and girls. Watch out for it! Coming soon at the cinemas near you.
The best irony to this was that on my way to the airport that night, my taxi driver sang a broken duet with Celine Dion. The song "My Heart Will Go On".
October 27, 2007 // anjali* pranced on tip-toes all over the keyboard at
8:24 am
|