ozcapade* [Pt 3b]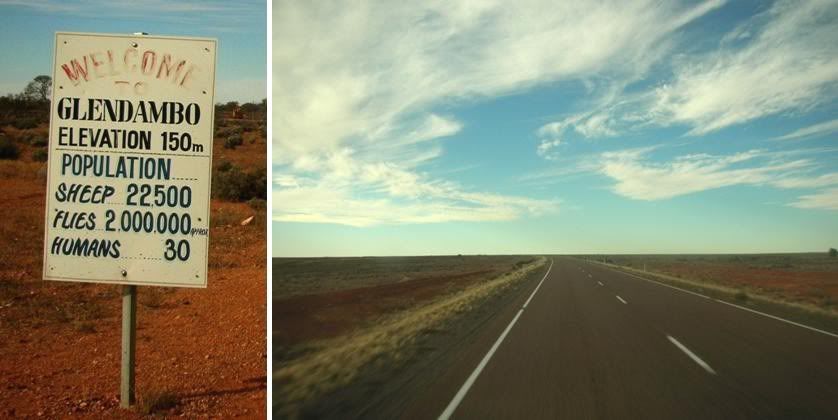 I had actually missed out these 2 shots earlier. I find the
Glendambo
sign hilarious. Don't you think? Anyway, there were not that many flies as stated as it was drawing close to winter. Summer is the peak season, apparently.
Glendambo
is a service centre on the
Stuart Highway
and was the last fuel stop we made before heading to Coober Pedy. As said earlier, the road leading to
Coober Pedy
is all desert, whereby when you get bored, you can play a road trip game called 'Spot The Tree'. The landscape is so flat; it could easily be the new benchmark to some unfortunate women's chests.
*evil laugh*
Day 8 – Coober Pedy to Uluru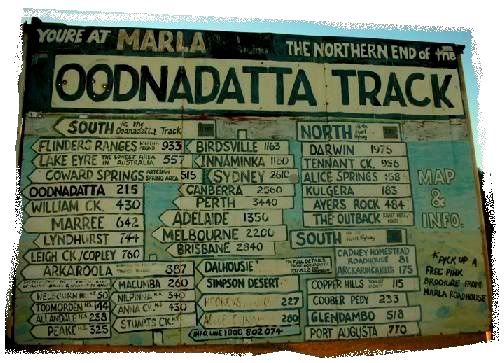 We stopped for breakfast at
Marla
which is situated at the northern end of the
Oodnadatta Track
; it's 160km away from the Northern Territory border, population 150. It replaced Oodnadatta as the official regional centre when the Ghan railway line was re-routed in 1980. I had wanted to buy 2 of the Marla fridge magnets, which bears the same signage design as per the shot, but reduced it to 1 upon realizing that it costs AUD$5 each. The old man at the counter was so kind; he gave me, the tourist on tight budget, a free cuppa of coffee with the purchase. When I asked if he was sure about the freebie, he said "Oh sure, love, it's only sugar, coffee and water." Such a sweet man. And I like how the elderly, both the men and women, always refer to me as "love". Nice.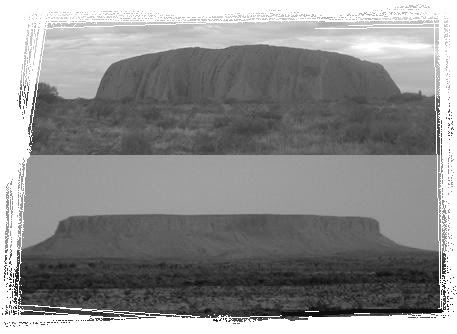 We then stopped at
Curtain Springs Station
to fuel up and to empty our bladders. Prior to that, on the road, Christian and I were grinning like doped pigs upon seeing
Mt.Connor
, which we mistaken for
Uluru
. See if you can spot the diff. You could? Liar! Pants on fire! Anyway, Christian seemed happy seeing the camels in front of the station, stating that he had finally met his long lost Australian relatives. Haa.
We reached the
Uluru-Kata Tjuta National Park
, at around 4ish. We visited the Cultural Centre, where we shown various documentaries on the Anangu (local Aboriginal traditional owners) version to the origin of Ayer's Rock's formation. From the cultural centre, you can see the Ayer's Rock, which is the world's biggest monolith, from a distance. Honestly, from this point forth, I was uplifted spiritually. I was high with excitement that I am finally seeing this mother of a rock. It has always been on my list of places to visit before I die.
At around 5.30pm, we headed to the designated viewing area to witness the sunset. It was slightly disappointing as the sun was not very strong, so we didn't get that infamous vermillion/orangey color formation. But we had loads of fun goofing around; taking various group pictures i.e. Asian, Brit, German, Men, and Women teams. Watto prepared some assorted biscuit bites with 3 delicious dips. And there was also champagne to celebrate the moment. I thought for once I shall not be a party pooper and decided to take a drink, but after 2 sips, I felt like throwing up and decided to give the balance of the drink to Justin, a young Brit bloke. Drinking and smoking just do not get along with my system.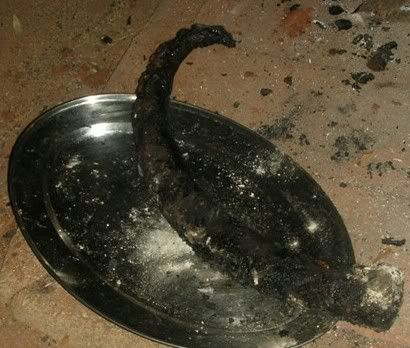 That night we stayed at the
Ayer's Rock Resort
. For dinner, we had Watto's special beer bread with 2 different types of chicken stew. I helped to make the coleslaw. And thereafter, the rest of the team had BBQ kangaroo's tail, which costs AUD$7.50. Even though I yearned to taste kangaroo meat again, I decided against it as I was 22nd in line to take a bite off the tail, and honestly, I don't fancy tasting other people's saliva. Bleh.
Also, we were asked to make a decision whether to climb
Uluru
or to take the base walk instead. Though climbing is not prohibited, the Anangu people prefer if you respect their wish not to do so, as the rock is sacred to them. Honestly, I was torn in between, so I made a small prayer leaving the decision to God instead.
That night was the first of 2 nights of camp out; each to sleep in his/her swag (a canvas-covered bed roll used in the outback). Fearing to go through another freezing night after the bad night at Rawnsley Park, I decided to sleep inside the tent. At around 4.00am, I woke to the sounds of pitter-patters around me. It had rained. You can't imagine how glad I was to be inside the tent. And it also meant, God had made the choice obvious - I was to do the base walk as the climb is closed due to the rain.
Day 9 – Uluru to Kata Tjuta & Kings Canyon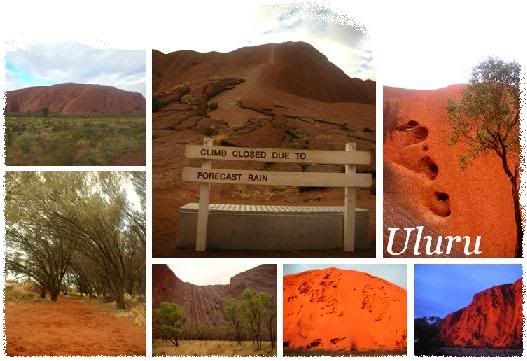 We left the camp at around 6.00am to Uluru again for the base walk. The rain has stopped but the air was still damp and the temperature was cold. The 9.4km base walk took about 2.5 hours. Surprisingly I didn't feel tired at all. Along the walk, you could see various parts of the rock which was awesome. At one point, the sun was so strong; we managed to capture the majestic orangey color formation on the rock. That was spellbounding. Another awesome moment was when we caught a small rainbow next to the rock. Brilliant. In my heart, I thanked God all the way for this magnificent moment, which is due to the said drizzle. Apparently, this is the first rain in a long, long time.

After the walk, near to our bus, I witnessed these 2 birds doing some sort of 'synchronized wings-flap'. They alternate the flapping of their wings from left to right to wade off the rain. So cute. And what was also noteworthy was at that moment, I heard "Duelling Banjos" by Eric Weissberg & Steve Mandel being played, by Watto on the bus. I have not heard the song for a long time! I've always liked the sound of banjo, which is why I like
Travis
. So in a way, I was not surprised when he started playing Travis' songs after that. Nice.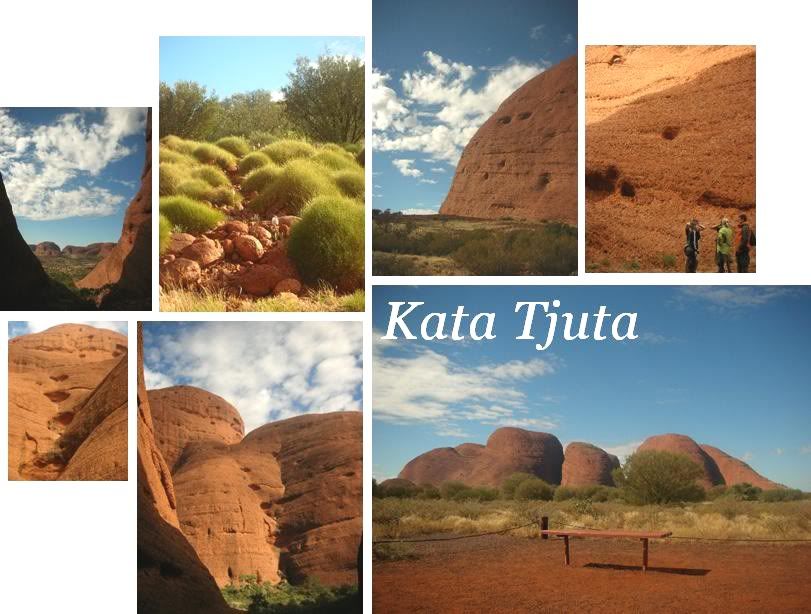 After lunch we headed to
Kata Tjuta (The Olgas).
To the Anangu people, Kata Tjuta means 'many heads'. Apparently there are 36 of them 'heads' in total. At a certain angle, the place resembles Homer Simpson sleeping on his back, with his hands above his tummy. Look at the bottom right shot and tell me if you see that uncanny resemblance. Head on the left, legs on right. Can you see it?
We walked through
The Valley Of The Wind
, which was breathtaking. The walk took about 3.5 hours, but it was well worth it. Honestly, I like this better than the Uluru base walk. The scenery was much more splendid.
On the top row, 2nd shot from the left, is the shot of those dome-like bushes, which look so cushiony comfortable. According to Watto, if you ever sit on any one of them, you're likely to spend the next 2 weeks plucking those damn thorns from your ass. Sounds like a good place to push your enemy to, eh?
On the short walk back to our bus, Bertie was insisting Eri to reveal her age. I lied and told him she is 31 years old and he decided I was lying. I defended by saying that we Asians always look at least 12-15 years younger, and that I was actually 45 years of age. He asked for my secret to staying youthful, which I replied "I drink virgin blood once a month!". Of course he didn't believe me, and was persistent to know the secret. "Do you smoke?", he asked. I replied no. "Do you drink?" and I replied no. "Damn! That's where I went wrong!" and started cursing in murmurs. That was funny.
After the walk, we drove to
Kings Canyon's Resort
to stay at the campsite. This was the last night on the road trip, which made me kinda sad. Time really flies when you're having fun.
Dinner was great, especially the Honey & Soy Chicken. This Watto chap is a damn good cook, I must say. After my return, I tried the same recipe and it turned out just as wonderful.
Day 10 – Kings Canyon To Alice Springs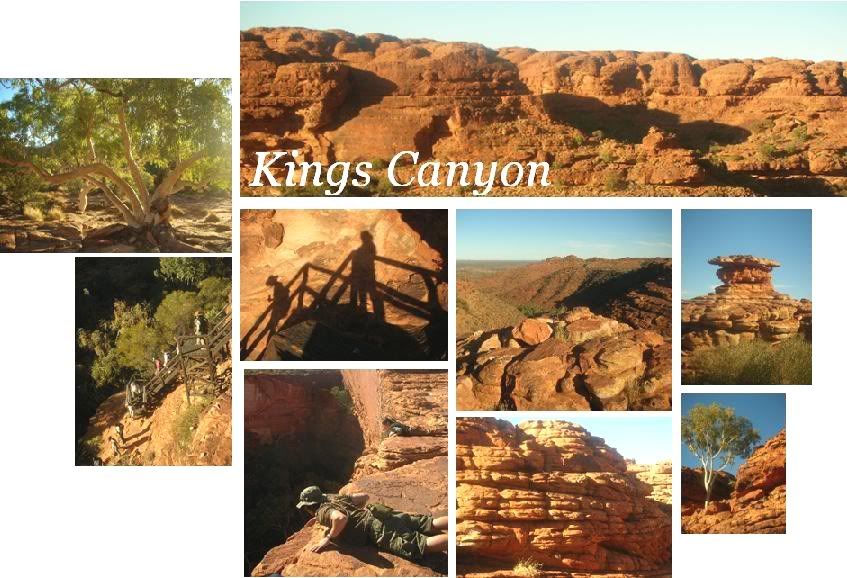 The next morning, we were treated to a sumptuous breakfast of chicken sausages instead of the usual peanut butter and jam or cereals. We left about 7.30pm to climb
Kings Canyon
, which is located at the
Watarrka National Park
.
The initial staircase climb was called the "Heart Attack Climb" as it was very steep and scary. This climb took approximately 1 hour. After that terrifying stage, it was all hunky dory. The view at the canyon was both scary and magnificent. You have to crawl slowly on your tummy to the edge for the view of the canyon walls which soars over 100m high.
Along the way, we were also shown the 'sexiest' tree in Australia – a ghost oak tree – which gives off natural SPF properties from the white powder from its bark. This tree is also unique as it is also the natural habitat for 2 pigmy koalas! You have to go and see these koalas yourself; they are out of this world! Each of them is only 5cm tall! Awesome!
Towards the end, we walked through a narrow gorge to find the waterhole at the
Garden of Eden
. There, Nancy and I decided to take our shoes off and dip our legs onto the cool water. Bertie decided to take a swim!
There are lots of movies being taken at Kings Canyon; the famous one being 'The Adventures of Priscilla, Queen of the Desert'. I have yet to watch the movie, so I can't elaborate. And I doubt if I can get hold of it now. In case you're interested, it stars Hugo Weaving.
After a heavy lunch, we headed towards
Alice Springs
, our final destination. The drive took about 5 hours. It was on this journey I learnt from Watto that in Australian English, 'dawn' is referred to as 'sparrow's fart'. Chuckle.
We reached
Alice Springs
at around 6.30pm. Nancy and the 2 Japanese girls (Eri and Seiko) decided to join me in staying at Annie's Place. We were all supposed to meet at the Melankas Restaurant cum Disco for dinner at 7.30pm. I had kangaroo BBQ, of course! All I can afford to say is that it was delicious beyond words. I shall stop here while I have some form of control over my drooling.
1/2 Day - ALICE SPRINGS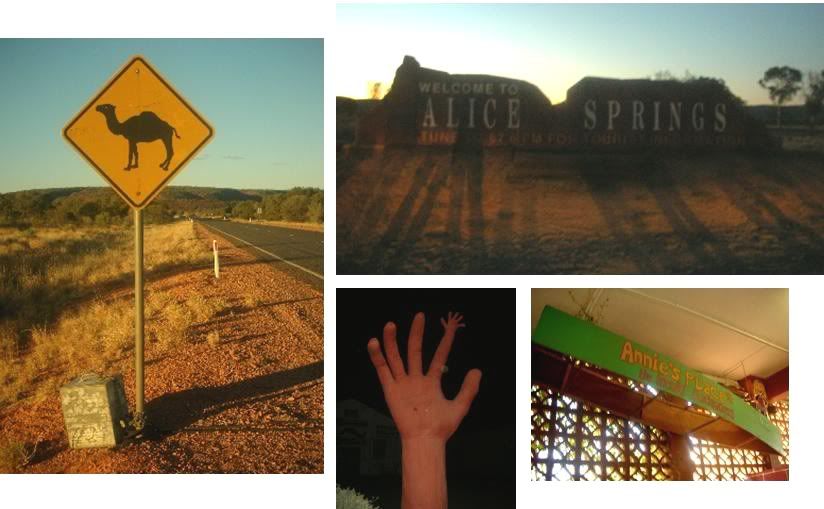 Excerpt from Lonely Planet on the origin of Alice Springs:
The Alice, as it is usually known, started life as a repeater station built in 1871 on the Overland Telegraph Line between Adelaide and Darwin. The station was built near a permanent waterhole in the bed of the normally dry Todd River. The river was named after Charles Todd, Superintendent of Telegraphs back in Adelaide, and the waterhole was named after Alice, his wife.
What else can I tell you about
Alice Springs
? Not much actually. I did not allocate time to stay longer as I had to catch an 11.00am flight to Melbourne. The night before, Nancy and I took a quick stroll to
Todd Street
, the main shopping street. It's somewhat like Adelaide, I guess, neither too big nor too small. Population - 28K.
In Alice, there are also lots of festivals. But one which I would love to come back and witness is the
ASSA ABLOY Henley-on-Todd Regatta,
which happens on every September. It's an unusual boat race. Watto aptly described it akin to the Flintstones' style of boat racing – whereby all the boats are without bottoms (see the bottom right pix) and are powered by feet! And the Todd River has to be dry. It was recorded in the Guinness World Book of Records as being the only regatta ever cancelled because the river was flooded. Amazing, huh?
3D4N Melbourne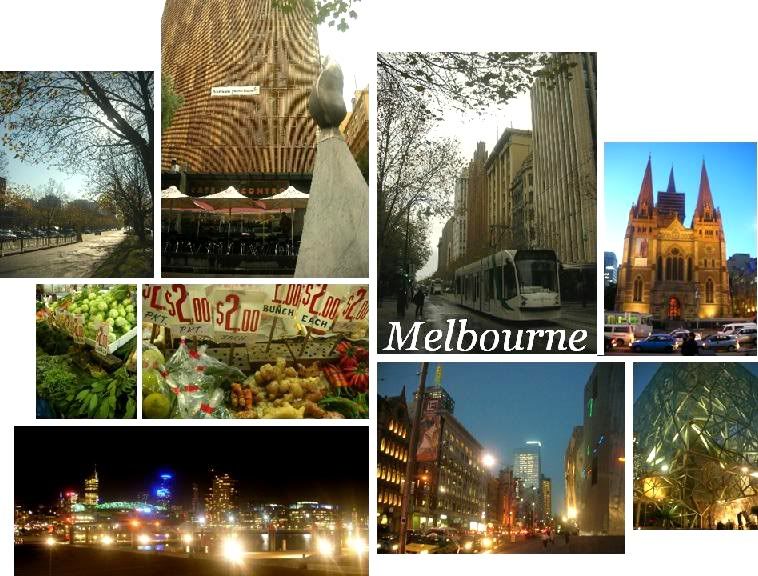 I reached
Melbourne
around 2.45pm and Tracy came to fetch me at the airport. I have not seen her she migrated in March. I spent hours telling her about the road trip, some details more elaborated than others. We had Nando's for dinner. She then fetched me to
Lisa
's house in Doncester East. That night, I had a great sleep on proper warm bed. And that's how I started being lazy.
I guess it was being in the comfort of a home after roughing it out for 2 ½ weeks in and out of hostels and dorms and camping tents. And my wallet was running thin. So I only went about the city for 2 days, where I visited my ex-boss who is currently working around
St. Kilda Street
area and mostly had the most enjoyable 2 nights of cooking for Lisa, Joe the husband and Stephanie the sis-in-law. On one night, I cooked my signature dish - 'Spicy Tuna Mushroom Spaghetti' with fresh mushroom, fresh tomatoes and a few sundried tomatoes. Gosh, that version has to be the most delicious ever. I swear. It must be those sun-dried tomatoes la.
On the 3rd night, I bought some raw ingredients from
Prashan Market
, next to St.Kilda Street and cooked a 'ciplak' version of Assam Laksa as we lacked some other key ingredients. It turned out okay too. Ihad wanted to make another of my specialty - Yam Cake, but we could not find any yam. At
Prashan Market
, I got myself some fresh nougats and tomato pate. The shop owner thought I was still a student. Ha. You have no idea how boosted my ego was. But having said that, I love visiting markets in any western country. The fruits and food always look so fresh and makes me hungry.
On the last night, we had dinner at a Vietnamese restaurant in
BoxHill
. It was so yummy. Thereafter, Lisa and Joe took me for a drive around the city before dropping me at the airport in time to catch my 1.00am flight.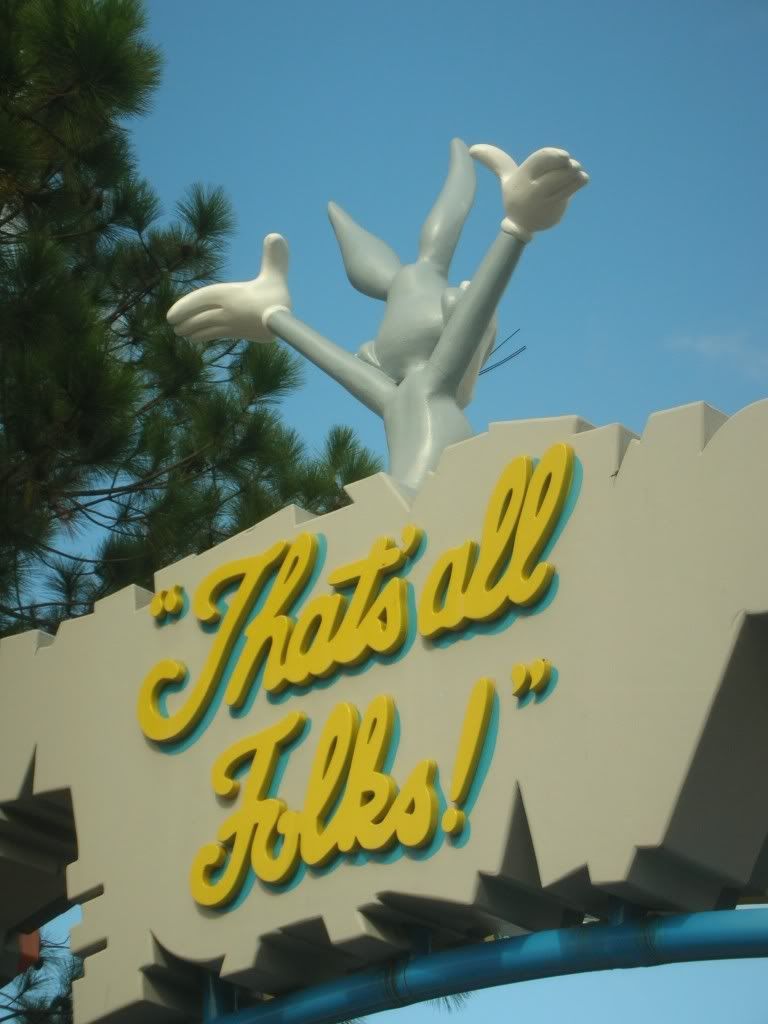 I have chosen Stereophonic's "Dakota" to remember this trip by.
[As per James Blunt's "Goodbye My Lover' for the Indian trip and Nick Drake's "Pink Moon" for my trip to Paris. Soundtracks of my life. Heh.]
Lastly, I will end with Bugs Bunny's - "That's All Folks!" pic. From here onwards, I will be taking a short break to attend
Yvy
's wedding this Saturday, and also to go back to my hometown to sort out some personal errands. Till then, be good.
August 09, 2006 // anjali* pranced on tip-toes all over the keyboard at
12:21 pm
|