heaven knows i'm miserable now*
Sometime in June last year, I wrote the para below in one of my posts:
One of my favourite bands during my teens was The Smiths, with frontman Morrissey. I still remember the first time I saw him on Top Of The Pops – he had a short tree branch hanging out from his right jeans pocket, and he was swinging around in lame circles singing 'The Boy With The Thorn In His Side'. That particular geek-twirl totally sworn me over. Even as I write this, I can still remember that bop vividly. As though it was engraved on my memory bank.
Well, here is the video of the said song where you can see Morrissey doing that lame dance, minus the tree branch.
But anyway, it is THIS song that connects to me so well when I get disappointed with human beings in general. Tonight, this song becomes me. Somehow.
October 30, 2007 // anjali* pranced on tip-toes all over the keyboard at
10:34 pm
|
halong bay - you jump, i save you*
Hey you. This is part 2 of the Hanoi travelogue.
Prior to the trip, I had asked a few friends who have been to Hanoi and
Halong Bay
was always mentioned as a "must-see". And I have also seen it on the Discovery Travel & Living shows. So while I was doing the Walking Tour at Old Quarters, I booked a
2D1N tour
, to occupy my 2nd and 3rd (and last) day in Hanoi. The cost - USD131 (including the Single Supplementary of USD30). Honestly the trip was worth every cent as we were served 4 main meals
[lunch & dinner of first day and breakfast & lunch on the second.]
Every meal has soup, crab, prawns, squids, fish, 2 dishes of vegetables and dessert.
There are only 5 cabins in the junk; which means it can only occupy maximum of 10 visitors. Which was great, for a hermit like me. My fellow junk boarders were majority Australians, with the exception of another Korean girl and me. I made friends quite easily with all of them, except for the Korean girl and her boyfriend, Matt. They instantly irked me with their PDA
[Public Display of Affection]
overload, which continued throughout the 3.5 hour bus ride to Halong City.

This is my hurried landscape shot of Halong Bay, which will give you a good impression of the overall view which is really beautiful. My immediate thought was that it looked like "
12 Apostles
X1000". Honestly, I think any picture taken doesn't do the place justice.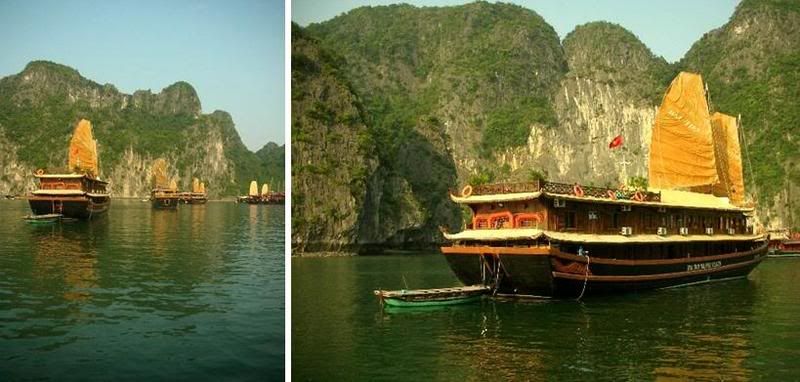 You can see lots of other junks around you at the bay.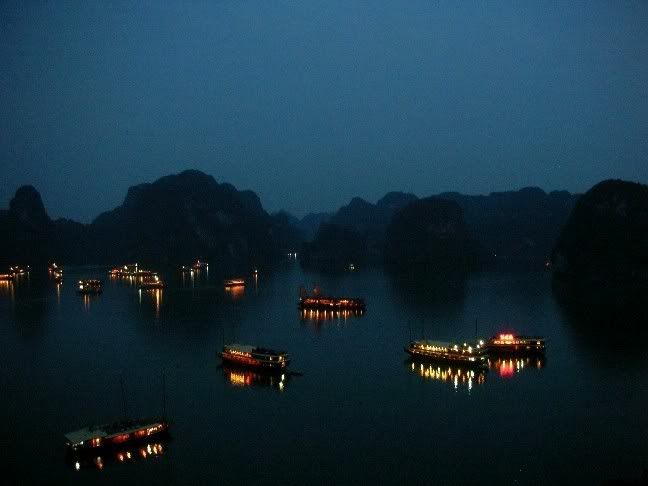 In the evening, we stopped by one of the islands and I climbed the mountain, I think there were about 300 steps in total. This shot was taken from the mountain top. Halong Bay at dusk. Nice eh?
That night, while I was talking the night away with Bianca, our junk softly collided with another stationary one. But there was no damage and certainly no casualties. In my silly excitement, I told her this is a bit like Titanic. Aiyo,
choi
! Heh. Just hours earlier, I told her and Ffion that I wanted to replicate the "I'm the king of the world" scene, but my Leonardo was missing in action.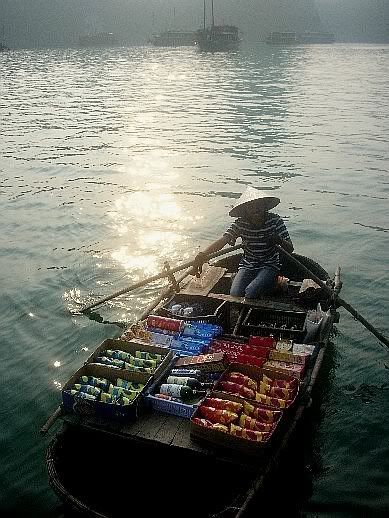 The next morning, we were greeted by this lady on a sampan. She sells foodstuff like junk food, mineral water, wine and cigarettes at competitive prices.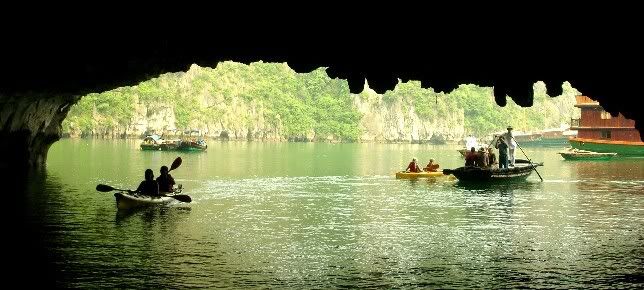 Thereafter, we took a smaller boat to visit one of the lagoons. Again, the view was simply fantastic. For those who took the 3-day trip, they get to do kayaking as well. After that, it was basically free and easy. Most of my travel mates decided to do some swimming, and jumping down from the upper deck for extra thrills and fun.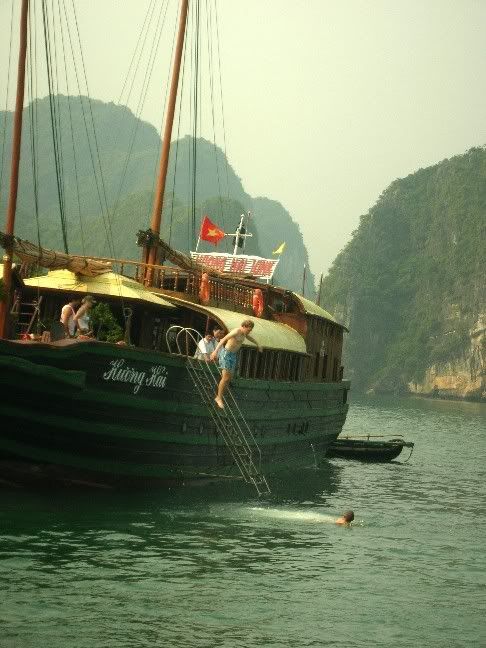 That was when the PDA couple made all of us rolled our eyes. Matt, the guy, had already jumped into the water but the Korean girl, standing at the corner of the upper deck, was being hesitant. And the conversation went like this...
Matt: Come on baby, jump down! It's fun.
K-Girl: I'm scared...
Matt: Awww...no need to worry, it is safe.
K-Girl: I'm scared...
Matt: Come on baby. You jump, I save you!
Well, she jumped. Finally. If she hadn't, I would have gladly pushed her down. Hehe.
"You jump, I save you!" - that's the revised (not necessarily improved) Titanic script for you, boys and girls. Watch out for it! Coming soon at the cinemas near you.
The best irony to this was that on my way to the airport that night, my taxi driver sang a broken duet with Celine Dion. The song "My Heart Will Go On".
October 27, 2007 // anjali* pranced on tip-toes all over the keyboard at
8:24 am
|
desiderata*
Yesterday was my mum's 6th death anniversary. Somehow, I am always hit by a sudden pang of despair and loneliness on this said day. It could just be psychological, with a bit of emo involved...I don't know. So for the past few days, my heart and head are in a state of chaos. Then a friend from afar sent me
Max Ehrmann's Desiderata
. Enjoy! I hope it gives you the same sense of hope as it did me.
Go placidly amid the noise and haste,
and remember what peace there may be in silence.
As far as possible without surrender,
be on good terms with all persons.
Speak your truth quietly and clearly;
and listen to others,
even the dull and the ignorant;
they too have their story.

Avoid loud and aggressive persons,
they are vexations to the spirit.
If you compare yourself with others,
you may become vain and bitter;
for always there will be greater and lesser persons than yourself.
Enjoy your achievements as well as your plans.

Keep interested in your own career, however humble;
it is a real possession in the changing fortunes of time.
Exercise caution in your business affairs;
for the world is full of trickery.
But let this not blind you to what virtue there is;
many persons strive for high ideals;
and everywhere life is full of heroism.

Be yourself.
Especially, do not feign affection.
Neither be cynical about love;
for in the face of all aridity and disenchantment
it is as perennial as the grass.

Take kindly the counsel of the years,
gracefully surrendering the things of youth.
Nurture strength of spirit to shield you in sudden misfortune.
But do not distress yourself with dark imaginings.
Many fears are born of fatigue and loneliness.
Beyond a wholesome discipline,
be gentle with yourself.

You are a child of the universe,
no less than the trees and the stars;
you have a right to be here.
And whether or not it is clear to you,
no doubt the universe is unfolding as it should.

Therefore be at peace with God,
whatever you conceive Him to be,
and whatever your labors and aspirations,
in the noisy confusion of life keep peace with your soul.

With all its sham, drudgery, and broken dreams,
it is still a beautiful world.
Be cheerful.
Strive to be happy.

P/S Thanks, Ash! :-)
October 23, 2007 // anjali* pranced on tip-toes all over the keyboard at
6:48 am
|
hanoi on my mind*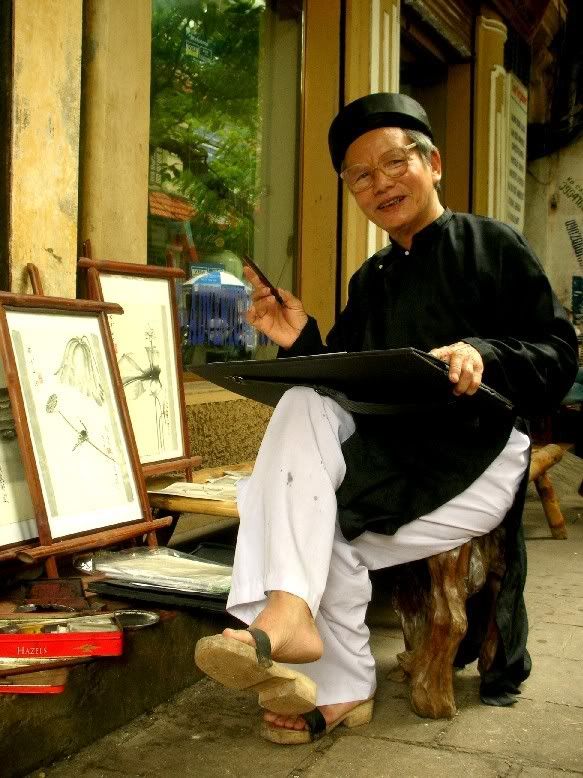 This has to be my favourite shot taken from the recent trip. This uncle is a street artist, seating on his low wooden stool painting away as the world passes him by. I watched him from afar for a bit, before deciding to inch closer to admire his work. He turned and gave the most sincere smile I have seen in a long, long time. It warmed my heart.
After a short chat, I asked if I could take a shot of him. He replied, "Ok. But wait!" and quickly stood up to wear the traditional hat and also the traditional black shirt, sat down and gave this pose. Awesome.
October 18, 2007 // anjali* pranced on tip-toes all over the keyboard at
8:42 am
|
hanoi - in search of the pain-in-the-arse ice cream and other stories in between*
Some of you may be aware of it, and maybe some don't - I am of the weird breed that do not like to work on my birthday, so that I can be my hermit self, take time to reflect on my life, past, present and future, which usually takes about 5 minutes. This year it took longer - 8 full minutes! Don't play play. Ha.
Anyway, I decided that I wanted to do something different this year. I wanted to be in a different country, which would include having the immigration stamp bearing the date on my passport. And the chosen place was Hanoi. This plan nearly went awry as I missed my 6.30am flight, coz I overslept and woke up at 7.05 am instead. But after slapping myself silly, I drove to KL Sentral and bought another ticket for the evening flight. Luckily for me, Air Asia flies twice to Hanoi everyday! Phew!
I reached Hanoi at 7.25pm local time (8.25pm Malaysian time) and by the time I won a high octave argument with the taxi driver and finally checked in the right hotel, it was already 9.20pm. The driver tried to pull a scam on me by taking me to a different hotel. Little did he know that I only have 2 extreme levels in my voice - (i) super whispering low and (ii) super screaming high. In my offense for defense, I chose the latter mode and insisted that he sent me to the right hotel or I will not pay him a single cent! He shrivelled and obediently obliged.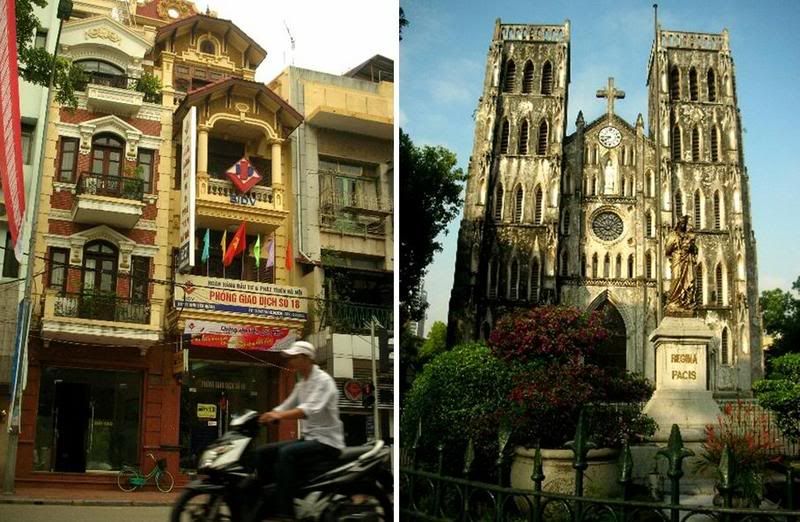 I woke up the next day to the spiritually calming sound of the church bells of St. Joseph Cathedral in the heart of Old Quarters, Hanoi. That was my first stop before breakfast. It is located 2 lots away from my hotel. The church's neo-gothic stature was built similar (well almost) to that of Notre Dame de Paris. It was really awe-inspiring to see; the French influence on the olden architecture amid the new ones, which are narrow in width and stacked vertically. Both equally appealing.
After a quick breakfast of Pho
[pronounce as "fur"]
, the infamous beef noodles, I decided to spend the day by doing the Old Quarter Walking Tour, guidance from The Lonely Planet - Vietnam. The starting point was Ngoc San Temple, situated in the middle of the Hoàn Kiem Lake.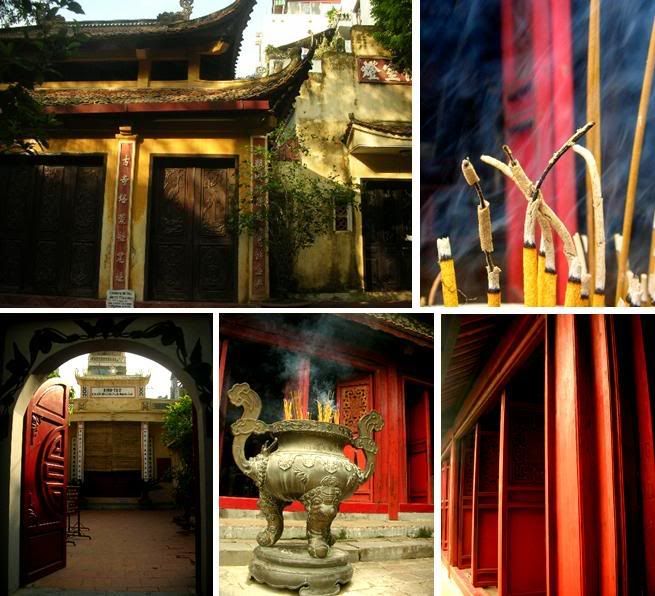 The walking tour was very scenic. Each turn brought me to different specialised streets - at one turn you will encounter a whole street selling nothing but shoes, moving on to another street specialising in inticate handcarved gravestones, to jewelleries, to straw mats, to skillful blacksmiths pounding away on metal, to herb sellers, to tin box makers, to mirror shops to leather goods etc. Every turn was a wonderful and surprising treat to all the senses.
And I love the fact that the place is so safe and mostly peaceful. Besides the occasional invites by the Cyclo riders, no one haggled me to buy anything. I was left to walk in peace, in my own slow pace. I succumbed twice to the strong brew of the local coffee and sat with the locals on the low chairs, resting my tired feet while enjoying a bit of people watching and also the motorcycle traffic. There's load of motorbikes here, and bicycles too.
As I called on different bikers to get around the longer routes, my sick mind reminded me that I am just like a town "biker". Haha. Get the joke? "Biker" in place of "bicycle"? Oh, never mind.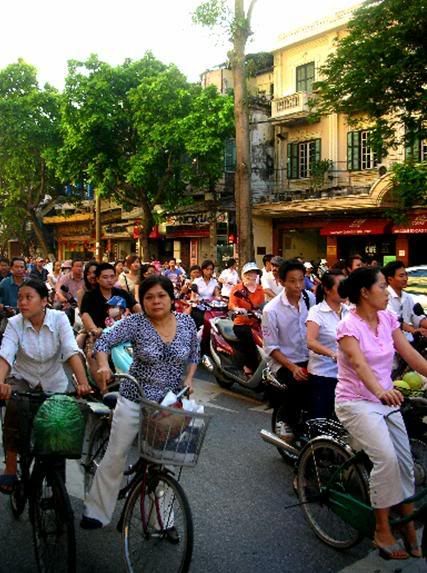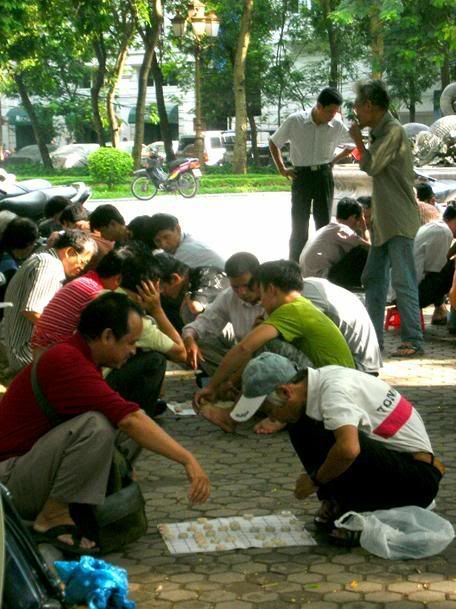 At the end of the tour, I decided to take a cyclo ride to the other side of the lake, in search of the so-called celebrated Fanny Ice Cream. What was ironic was the fact that it took me 1.5 hours to look for it. The cyclo guy gave up after going round in 3 circles. So I continued the search and asked nearly 15 locals before realising that I was at the wrong street after all. The shop is at Pho
Le
Thai To
[Pho = Road]
while I have been walking in circles at Pho
Ly
Thai To instead. Honestly, it was a frustrating journey.
But at Pho Ly Thai To, I stopped at the park to watch the local men squat around to play chess. It's really amazing to see how dedicated they were to the game. At the other side of the park, there were also old men and ladies playing badminton together. Really nice.

Well, I finally found my Fanny Ice Cream Shop and decided to buy the one with the caramel. It costs me VND45,000 (approx USD2.80). Honestly, I thought it was kinda overated. I moved on to another ice cream shop, which apparently is a favourite among the locals, located 2 streets away, approx 10 minutes walk. A cone costs VDN4,000 (USD0.25) and I had two - rice and coconut flavours! The taste - heavenly beyond words!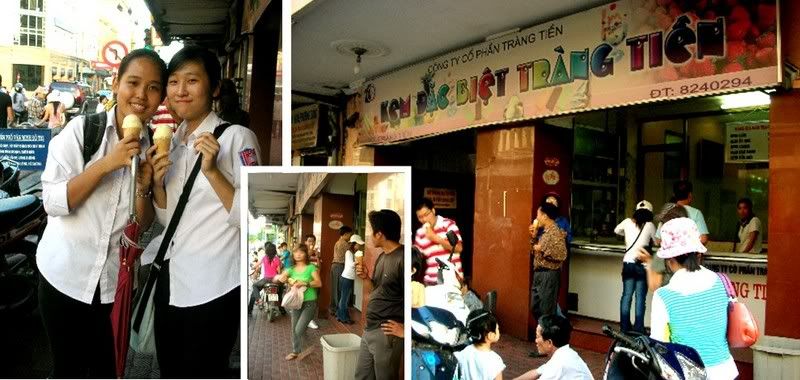 After the desserts, I decided to have dinner - cha ca
[pronounce as "cha ka" and not like the dance]
According to the Lonely Planet book, is apparently one of Hanoi's food specialties, perhaps best thought of as sumptuous little fish burgers. I thought it was lovely. The fish fillets sautéed with the spring and bombay onions, eaten together with the local rice noodles sprinkled with fried peanuts and the chilli dips. Sedap sekali. The meal costs a whopping VND70,000 (USD4.70) but it was worth it.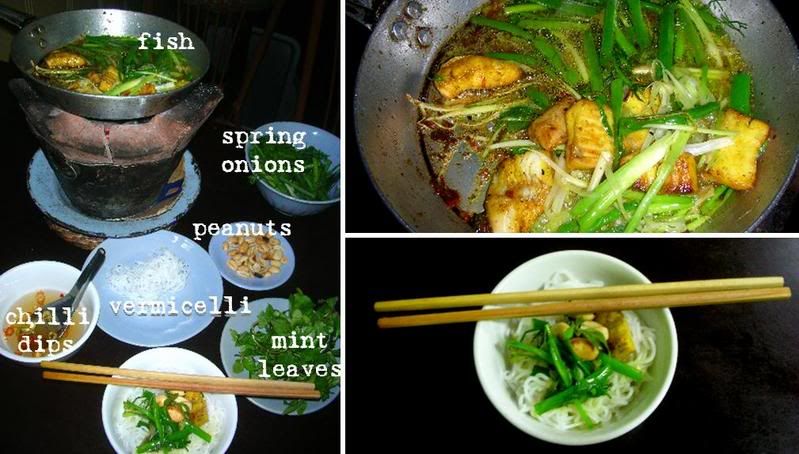 After the meal, I walked around looking for some souvenirs and made friends with a local DVD seller. He convinced me to get the Woody Allen Movies Collection (all 44 movies in 1 DVD for only USD10.), Six Feet Under - Season 1- 5 (for USD10), Grey's Anatomy Season 1- 3 collection (for USD5) and 3 other movie DVD for USD1 each. The movie titles were '
Thank You For Smoking
', '
After The Wedding
' and 'Garden de Buffles". I came home to find that the Woody Allen collection and Smoking DVD were faulty and Grey's Anatomy so-called Season 1-3 only contained 2 episodes!!! I am keeping those DVD and will throw them in his face when I revisit Hanoi again. Soon. Cheh!
...to continue
October 16, 2007 // anjali* pranced on tip-toes all over the keyboard at
8:20 pm
|
mad about mads*
I spent my afternoon today watching "
After The Wedding
" on DVD. I bought it in Hanoi for USD1, which I thought was a steal. It came highly recommended by the video shop guy, who revealed in a whisper, that he has 2 price tags for his DVDs - (i) Asian price and (ii) White price. The latter is priced double to the former.
Anyway, this movie was nominated for Best Foreign Language Film in the 2006 Academy Awards. It is also here that I found a new hearthrob in Danish actor,
Mads Mikkelsen
. Aiyo, holy mother of all masalas, this one is sizzling HOT! With minimal googling, I found out that he also played the villain,
Le Chiffre
in Casino Royale. Oooh, I gotta go watch that one now!
I have a slight weakness for villains - they are always so yummy looking! So much of character in their faces - the scars, the diamante, the tattoos and whatever nasty looking marks on their faces - such a turn on. Yum. Meanwhile, I'm gonna go get me some Danish pastry for lunch tomorrow.
October 14, 2007 // anjali* pranced on tip-toes all over the keyboard at
9:03 pm
|
my desktop*
Sweet
Consuela
tagged me on this when I was in Hanoi. Sorry I took awhile to do this, babe. The picture shown was shot by a friend, who is a French photographer. He lives his life like a dream - kayaking to the ends of the earth and then take beautiful breathtaking pictures.
I won't tag anyone in particular. But if you feel you are up for it, go ahead and do this tag. Cheers.
October 10, 2007 // anjali* pranced on tip-toes all over the keyboard at
11:48 pm
|