ozcapade* [Pt 3a]
Hello. So Friday is finally here and so is the final part of the Oz trip. I thank you all for the high level of tolerance shown in cutting me some slack on this. I've taken the trouble to make the postcards slightly different, somewhat less rigid (i.e. square) and I like the result of this painstaking effort. As said, I enjoyed the outback best. I hope you like them too and that it is worth the wait.
Unfortunately though, I have to split Part 3 into 2 parts as I found it waaay too long.
Day 5 – Adelaide To Parachilna

We waited at the ATA (Adventure Tours Australia) office, situated behind our hostel block, about 10 minutes walk, at 6.30am for the bus. There were about 11 of us from the Melbourne to Adelaide trip who will continue on this 6-day excursion as well; so it was kinda nice to see familiar faces. Nancy (the American Chinese girl) and I had planned to quickly register and park our asses on the front seat, right behind the tour guide. We decided that it is best to be seated in front as the view is better, and also for the slightly deaf like me, I could hear better.
We left slightly after 7.00am. Our tour guide's name is Watto, akin to one of the Star War's alien characters. But no, he does not look like an alien. In fact, I thought he looks uncannily like Thom Yorke; only brawnier and taller, and without the lazy eye. Upon hearing the name, I tried to tell a joke to Nancy by imitating Eri, one of the 2 Japanese girls on the trip. It goes something like this…
Eri: Err harro, wat-to neh is your name-o?
Watto: Watto
Thinking that he had asked her "What?" after failing to comprehend her question, she repeated the question and the cycle goes on and on.
I gave an evil snort, pleased with my own joke, only to be met with Nancy's rolling eyes and WTF expression. So I quickly shut my mouth and moved myself to the passenger seat next to Watto, which provided the best view of all.
About an hour into the trip, Watto asked us to introduce ourselves with the following facts – (i) Name (ii) Age (iii) Profession (iv) First and Most recent kiss (v) Most memorable place of visit (vi) Reason to go Alice Springs. I was second in line after him. Being in the advertising line, I had mastered the "If-You-Can't-Convince-Them-Then-Confuse-Them" trick. So I used that to get away from telling my age and about most my recent kiss. Honestly, I simply cannot tell of my affair with
Keith Urban
, I do not want to be the target of unnecessary envy. And I am not the type to kiss and tell. Heh. So I gave the bluffer's version of my first kiss story – I was 8 and having lusted over
Kurt Russell
, I kissed him on the TV screen. And I also told about the
millionaire Italian gem trader I met in Pushkar
.
Honestly, no one can accuse me of a boring introduction. It may be filled with BS, but definitely not boring. Ha.
We stopped at
Clare Valley
, the favourite wine region of many South Australians, for breakfast. We (the group of 11 from first trip) headed to the only opened deli. The pastry repertoire was quite impressive and I decided to have vegetarian quiche with a hot cup of latte. I must say the Australian coffee is extremely aromatic and delicious. After that, we passed by the town of
Laura
before we stopped at
Melrose
for lunch. I had earlier asked Watto why the towns along this stretch are of female names. He actually took the trouble to find out that the town Laura was named after the local station master's wife. Women power reign here, yay!
As I was still full from the quiche, I decided to skip the sandwich for lunch and take a quick stroll around
Melrose
, situated 265km from Adelaide; population 200. I found the town charming and artistic in its own subtle way. Like the Flinders Explorers metal sculpture and the floral paintings on most of its lamp posts. I visited the Serendipity Art & Craft Gallery nearby which had an exhibition titled "Our Mother's Work" which showcased a lot of handmade needlework like quilts and croquets, old wedding photographs which I am a sucker for, old costumes etc. This is in conjunction with the Heritage Week celebration. At the gallery, I met a friendly old chap who greeted me "
Selamat Makan
" upon knowing I am Malaysian. I think he meant "
Selamat Datang
", but I didn't think it was polite to correct him. He had visited KL and Penang last year.
Nearby the outdoor area where we parked for lunch, there were 3 mobile homes which I found unique. I've never seen anything quite like it. Nice. And somewhat funny. It's really amazing that such a small town as this has so much to offer.
We passed through the
Southern Flinders Ranges
, renowned for its unique ruggedness. I honestly cannot remember if we had passed through
Quorn
, the historic railway township as stated in the itinerary. The first hike on this trip was to view the Aboriginal rock art at
Yaurambulla Caves
, which I found to be just so-so as most of the paintings have been washed away. But it was a nice, short hike.
Around 5ish, we reached
Parachilna
, which has the population of 5 – all of which are the hotel and hostel staff. Funnily enough, there was already a school ready in case any of the staff decided to start a family there. The classroom, according to Christian (one of the German tour mates, and one of my favourite people during the trip), was fully equipped with tables, chairs, blackboard etc.
Parachilna is a favourite place for movie makers. The Prairie Hotel has been featured in many movies like Mad Max. I think it is really beautiful and very cowboy-like. The deco inside the hotel pub and restaurant areas is very homely and full of warmth. Here, they serve all sorts of meat such as kangaroo, emu and camel. They also serve rabbit satay for AUD$2 per stick. They serve satay, can you imagine? I felt at home for a bit.
Apparently, the house next to the hotel belongs to the original Mad Max, whom the movie based the character on. So I made sure I took shots of Mr. Max's front and backyard and his cactus plants. I would gladly show you the pics for AUD$5. Heh.
What excited me most about
Parachilna
was the fact that the dam and railway station at the back of the hostel were featured in the movie 'Rabbit Proof Fence', as you can see below. Nice eh? If you have not seen the movie, you should. It's a heartwarming true story of 3 mixed Aboriginal kids who found their way home from the detention place with the guide of the rabbit proof fence, which is the longest fence in the world at 1837km (1139 miles).
Oh, I forgot. The sunset here is also awesome. It's not as picturesque as
The Twelve Apostles
, but it's definitely unique. We caught the 2.85km long coal train which passes through from
Port Augusta
. Most of us followed Watto's tip to place coins on the lines for the train to squash them flat. In the whole excitement, I had forgotten all about it, but was lucky enough to find one for keeps.
That night, I had my first bite of kangaroo meat for dinner. It was the best tasting meat I have ever tasted! If you think Australian beef is yummy, this is ten times yummier. I shall refrain myself from elaborating on this, lest I drool all over the keyboard. I still dream about it on some cold nights. Yum.
Day 6 – Flinders Ranges & Wilpena Pound

The next morning, we arrived at
Wilpena Pound
to climb Mt. Ohlssen-Bagge. The hike took about 6 hours. As I mentioned before, while I enjoy hiking as an outdoor activity, I seriously dread the ascending bit. So is it any wonder that I was the last one to reach the peak? Not really. The view from the peak was quite breathtaking. I told Watto that I had told Jen if the view had been disappointing, I would have thrown him down. At some parts on the hike down, I was walking next to the Germans; namely Christian, Noab and Stefan. Having my eyes closed, I can almost imagine being taken hostage to a detention camp by a group of Nazis. Think of movie 'Life Is Beautiful'. Haa.

After the hamburger lunch, we took another short 2.5 hr hike to
Arkaroo Rock
to see the Aboriginal cave paintings. I was completely drained out by this time and for once, I was whining. So when Watto asked if we have any questions, I quickly asked if this was the last hike. "For today, it is," he snorted his reply. Not a brilliant question, I agree, but definitely relevant in proportion to my energy level.
We stayed the night at
Rawnsley Park
sheep station. Upon reaching our respective dorms and picking my bed, I quickly took a shower. Unashamedly I tell you I did not bathe at Parachilna coz I was too lazy to. After that, I headed to the dining area and got acquainted with the 2 French girls – Miss Ingrid and Anna. I shared with them the places of interests in Thailand and Hong Kong as they were heading there in the next month.
After that, Watto asked if I know how to cook rice. Without thinking, I told him I was good at it and that it would only take 30 minutes. When the answers left my mouth, I realized that I have only cooked rice for 1 pax all this while and with the help of a rice cooker. Damn. I'm screwed. So in fear of getting scolded, I struggled to cook the rice for 25 pax, in a giant pot over the stove. Even though the weather was cold, I think my forehead was drenched with sweat, fearing the rice will be uncooked and hard and inedible. Most of all, I feared having the hard rice being thrown to my face. Anyway, the rice turned out slightly uncooked
[shy also!]
but everyone swallowed their meals like hungry crocodiles. I think it was Watto's Green Chicken Curry and Beef Stew that saved the day. I secretly told myself to never volunteer to cook rice for the rest of the trip. Anyway, at the end of the meal, Christian and his wife, Mrs. Ingrid complimented that the rice tasted good. I think they were just being nice.
That night, after a short session heating ourselves at the campfire, I felt pooped and decided to call it a night at around 9.00pm. I woke half frozen at around 12.30am and couldn't sleep after that. It was freezing cold as there was no heater in the room. And even though my bladder was full, I was too scared to run to the bathroom, situated 100m away, for fear of snakes. I finally dragged myself out of bed at 4.30am to empty my bladder and thereafter, headed to the kitchen to toast my hands on the toaster. This has to be the worst night of all. I was lucky I didn't get frost bite on my toes!
Day 7 – Rawnsley Park to Coober Pedy
The journey to
Coober Pedy
, the findings were awesome. After passing through
Port Augusta
, we could see bits of
Spencer Gulf
, which will be the last time we will see any water coastline along the road trip. Hereafter, it's land and desert all the way to
Alice Springs
.
We had lunch at a park in
Woomera
, a quiet government town with a very interesting history. Woomera was used to launch top-secret experimental British rockets and conduct tests in an abortive European project to send a satellite into orbit during the 50s – 60s. So it was not a surprise when we chanced upon the
Missile Park
, which showcases all the remnants of the said rocket tests and satellite launches. It's very interesting, if you ask me.
After which, we took a short stroll to
Lake Hart
, a salt lake where they shoot the rockets over. So we were not allowed to walk too far onto the lake. The view was awesome. I loved every shot taken here. The combination of the khaki-ish ground amidst the brilliant blue sky and white clouds was awesome. On the bottom right shot, you can see how big the lake is judging by how small the people are in proportion. Amazing!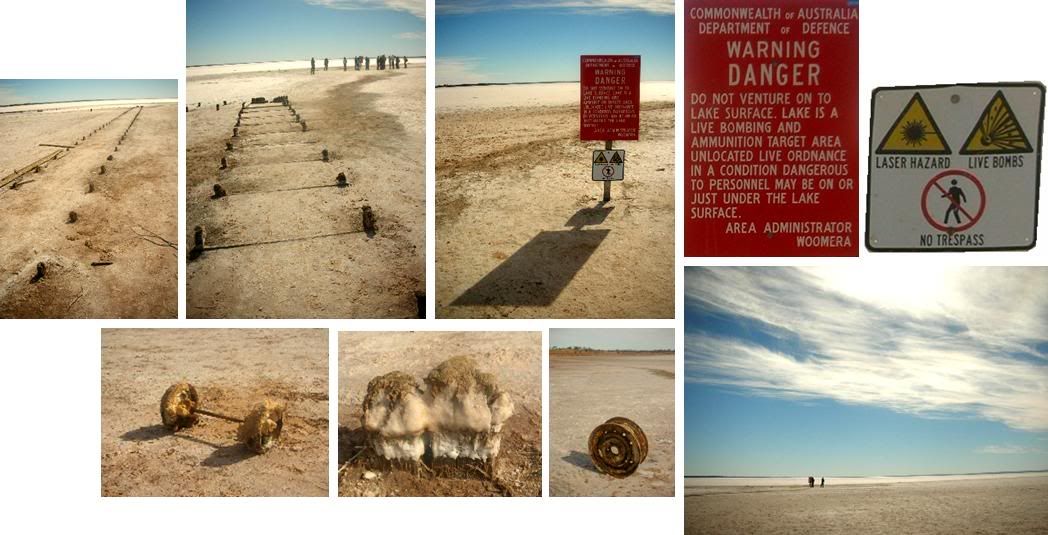 After Lake Hart, it was all desert till we reached
Coober Pedy
, the opal capital of Australia. This place is a melting pot, for a population of 3000, but of 47 nationalities. How amazing is that?
Excerpt from Lonely Planet:
The name 'Coober Pedy' is from an Aboriginal language and is said to mean 'whiteman's hole in the ground'. This aptly describes the place, as about half the population lives in dugouts to shelter from the extreme climate: daytime summer temperature can soar over 50°C and the winter nights are freezing cold.
We visited the church, with an underground altar. I liked the stained glass cross at the entrance. Don't you think it's gorgeous? Then, we visited the
Umoona Opal Mine & Museum
where we were shown a documentary on opal and opal mining. At the galleria, I bought an opal fridge magnet to remember this place by. It's by far the most expensive one – AUD$12 (approx RM35).
Coober Pedy has been described as the 'end of the world', due to it's flat landscape and cones of opal mines which befits the landscape of most sci-fi movies. A lot of movies were shot here, like 'Max Max III' and also 'Pitch Black' starring Vin Diesel. At the bottom right of the postcard is the spacecraft featured in the said movie. I can almost see
Yvy
drooling in excitement reading this…
That night, we had dinner at an Italian pizza place, highly recommended by Watto. We had like 6 types of pizzas. All yummy. Thereafter we headed to the local pub cum disco at the 4-star hotel. I didn't stay too long there as I was sluggish from lack of sleep the night before. We slept in dugout dorms, which was truly an experience. Tomorrow, we leave at 5.30am.
(To be continued)
August 04, 2006 // anjali* pranced on tip-toes all over the keyboard at
10:19 am
|