jump*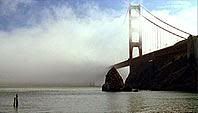 When I was in Bangkok last month, I managed to catch Larry King Live in the hotel room. In that particular show, the controversial documentary "The Bridge" by Eric Steel was featured. The documentary showcases footages of 24 suicidal jumps at the Golden Gate Bridge in the year 2004. Some of those footages were shown as well as interviews with families of victims and also one bloke who actually survived his leap of death.
The whole show brought me back to my own case. The year was 2002 and I was in the deepest pit of my own depression. Both my personal life and career were going downhill. One by one, things just went wrong. My mum passed away suddenly. 6 months after, my 7 ½ year relationship crashed. I had a super bitchy boss. I was broke. I felt hopeless. Useless. Stupid. And ugly. I hated what I see in the mirror. I felt even more depressed knowing that I was depressed. Worst of all, I felt God had abandoned me and all the promises bestowed upon me were just plain old lies. It was a long dark tunnel with no trace of light at the end. I saw no reason to continue living. And everytime I was at the edge of my 10th floor apartment balcony, I heard coaxing voices cheering me to jump.
As I have the tendency to think too much, I thought of the repercussions if I did jump... Definitely my body would be smashed to pieces and the Indon cleaner downstairs would have to clean up the mess. As I am also a neat freak, the thought of having someone to clean up my bodily mess just kills me. And I couldn't stand the idea of my brain end up squashed like tomato puree. So that stopped me for a while.
But finally one day, after having gone through the depression for 4 months, I felt that I had had enough and mess or no mess, I was gonna do it. As I was standing at the balcony, apologizing to God for the action that I was going to partake, I heard a sarcastic, sniggering voice instead.
"You want to jump ah? Go ahead! Be my guest. This problem of yours ah, it's just a piece of cake la. You have gone through worst shit before this, like
[examples snipped],
but God helped you sailed through them, didn't He? And for this molehill you want to jump ah? Then jump la. But before you jump, think about this – If you can't take this simple, passing shit, do you think you could endure the fires of hell for ETERNITY!?"
The words 'ETERNITY' and 'fires of hell' caught my attention. Being an uncommitted person when it comes to anything long-term, eternity seemed extremely, extremely like a very long time. And the 'fires of hell' spelled hot and sweaty discomfort. It was then, I realized that jumping down to end my life was never an option. And those words still scare me till today.
So when I saw footages of those people who actually took the plunge, I felt sad for them. Sad because maybe they didn't have the opportunity to know God, hence no such voice to throw some cow sense their way at those crucial moments.
Looking back at my life back then and what it is now, I can honestly say I am truly blessed for this second chance in life. God continues to honour His promises to me via a prophesy which said He will give me all my heart's desires if I honour Him. That's why I love Him so, more than I can ever imagine. God is so good. All the time. Really. Get to know Him today. He never disappoints.
November 23, 2006 // anjali* pranced on tip-toes all over the keyboard at
11:06 am
|
it's better than alright. it's brilliant*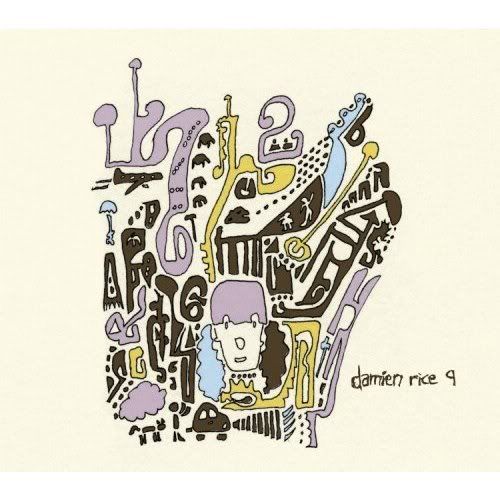 My Irish hearthrob, Mr. Damien
Girl-Holding-Dick-Doodle
Rice has just launched his second album. It's simply called '9'. Thanks to
Tim
for the alert!
There's
mixed reviews
- some say it's better than 'O', some say it's nothing new, some say it's more melancholic...Well, everyone's a critic, isn't it? For me, I took an instant liking to it.
[But of course, it's Damien Rice! Even his fart would smell nice. Heh.]
The lyrics are beautiful. As gorgeous as his snorkel blue eyes. So all I can say is - go get it!
Hey Damien, I still want to marry you. Is that alright with you? Heh.
[P/S You can experience Damien singing all songs in the album live on a KCRW Radio interview
here
. It's simply brilliant! ]
Enjoy some Making Of vids:
Damien Rice - The Making ofThe Making of '9'
// anjali* pranced on tip-toes all over the keyboard at
10:24 am
|
undilah*
This is the obvious case of the shameless stalker's plea for help.
I need this bugger to win so that I can keep my stalking activity going. Smirk.
Pete's first single off 'Television' - 'TOM' - has been nominated in the HitzFM Malaysian English Top Ten awards. It's an award that relies on listener SMS votes to determine the winner. If you live in Malaysia, please vote for the song!
So, please help by following the simple instructions below.
Please send in your votes by
9 December 2006
. Thanks!
November 17, 2006 // anjali* pranced on tip-toes all over the keyboard at
1:21 pm
|
run, monks, run*
Whaddya know…I have decided to be a little bit more efficient this time and post the first entry on my Laos trip early. The only disparity is that I have decided to be
lazy
brief and let the pictures tell the story.
For starters, here is my signature shadows montage. Of course, this time they're of my Lao shadow. This habit of shadow snapping is basically a self syok-sendiri habit, but a fun one, if I may say so. My favorite is the fourth one from the left, coz it has some Lao alphabets in it. And on the far right shot, you get a sneak peek of my sexy legs. Bwahaha. Shameless is me.

Anyway if you must know, my most enjoyable newfound hobby in Lao P.D.R [People's Diplomatic Republic] was to run after and shoot all the monks. 'Shoot' as in snapping shots of them la. Aiyo, what were you thinking?
Honestly, some of them monks were serious eye candies. I lie you not. And most are actually just novices as they are below 20 years old, but they got very well-toned bods. I can only predict they will soon grow to be the new breed of metrosexual monks. Nice. Very nice. I like. I like lots. Lot lots, actually. Heh.
Phooh. Let me take a breather.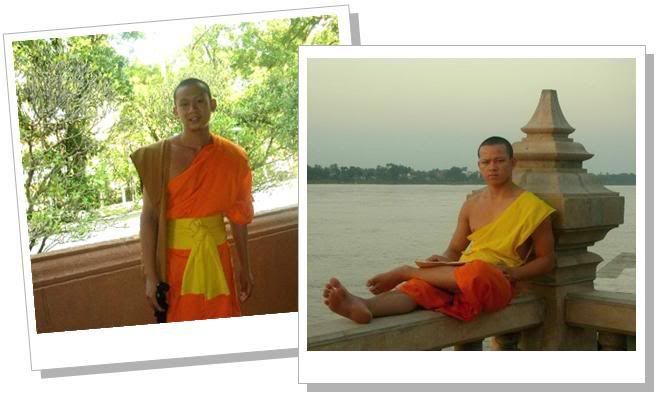 The one on the right is my favourite shot of all. Taken at sunset, at the waterfront of the Mekong River in Nong Khai, the border town. He had run down the stairs and took a high leap, thrashing his slippers while doing so. Then he jumped and sat on the barricade to read his scriptures. I sneaked quietly but he caught me, gave a smile as a gesture of giving permission to snap. So I paparazzied away. Aiyo. He is so handsome la. Don't you think so too?
The one on the left is equally cool. He amazed us all by conversing excellent English. He told us that he just joined as a novice less than a year so that he could get his higher education paid for. And we also exchanged email addresses, coz he wanted to further improve his English. How cool is that?
After the second day, my newfound travel mates got into the concept of my new obsession with monks, and started looking out for new victims for me to 'attack'. That was kinda funny.
Below are five more shots which I liked, especially the 4 monks enjoying the simplistic yet refreshing Nong Khai iced coffee which costs 120 baht per cup.
So how? Like the shots or not?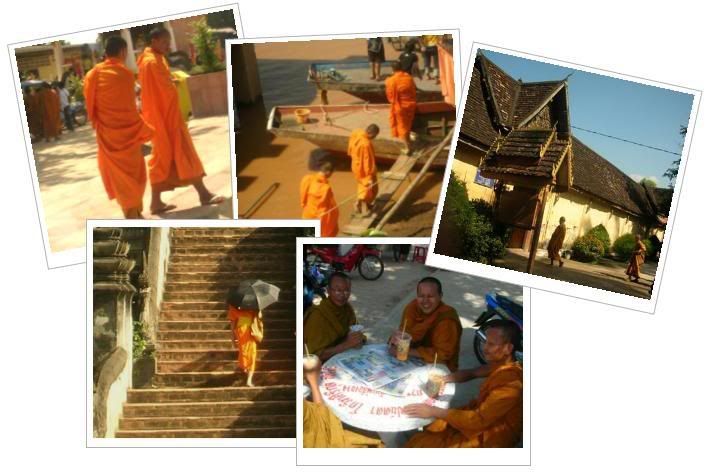 November 03, 2006 // anjali* pranced on tip-toes all over the keyboard at
10:45 am
|