election day*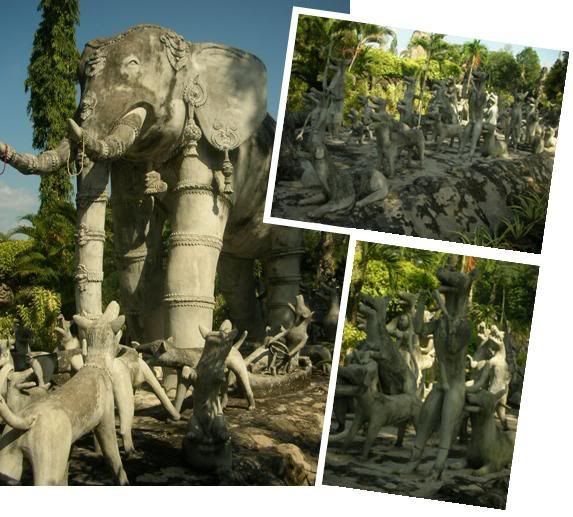 While we were at the border town of Nong Khai, we visited this large garden called "Sala Kaeo Ku" which houses many strange statues that depicted a combination of Buddhist and Hindu gods and goddesses. It was built by Luang Pu Lua, who believed that all religions are integrated. This is also the same guy who built the famous Buddha Park in Lao P.D.R.
Anyway, the one thing that caught my attention was this whole stage of dog statues surrounding an elephant, as though they were all worshipping the huge mammal like a leader. The amazing thing about those dogs was that they all had erected penises. All of them, I swear.
And that made me wonder. Which led me to this theory:
In the land of the dogs, the elephant, by sheer default of being the bigger creature, held supremacy in politics. But our dear elephant believed in diplomacy and doggies' right to vote. So came the Election Day, and its doggy supporters decided to hold a rally for him by chanting "Election! Election! Election!". The only problem was all the dogs were Chinese. They had mistaken the chant as
Erection
instead...
Heh.
December 26, 2006 // anjali* pranced on tip-toes all over the keyboard at
11:07 pm
|
mumbles*
<1>
I read somewhere that it is lonely at the top.
It's true.
<2>
Nowadays, Mr. Smokes only responds to me calling him "Porky Pork". This is what I refer to the Laotian grilled pork floss, which he loves to bits.
<3>
Last week I told Jens that I have been sleeping in my new pair of Levi's. She asked, "Isn't that bad for your crotch?" I dunno. Is it?
<4>
Someone recently asked me why I am so against relationship. I corrected her - I am only against BAD relationships. If you don't think your current partner is right, then bloody well leave and be happier.
<5>
I hate the hypocrisy that is so blatant in the ad industry.
That's why I am leaving it. Soon.
<6>
I dislike Chinese men. I loathe them even more now.
Does that make me racist?
<7>
I once thought I am never the type to drop everything for the sake of love.
I proved myself wrong. Twice.
<8>
I think Damien Rice writes his songs in a lovemaking formula. He starts with a slow foreplay, builds the rhythm up to an intense climax, and ends by hugging you gently, before softly letting go. Then he repeats it in the next song. And the next.
December 06, 2006 // anjali* pranced on tip-toes all over the keyboard at
12:55 pm
|