cold napkin, anyone?*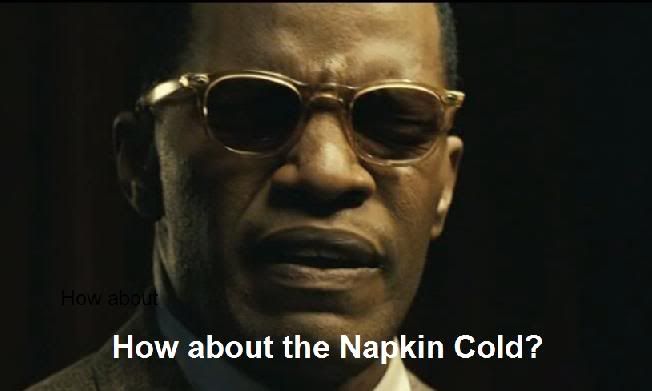 Though the movie 'Ray' was not meant to be a comedy, it automatically befits itself into the category once you watch it with the subtitles on. And without a doubt, this one reigned as the winner.
Scene: Ray just reached Seattle by bus, met up with a young Quincy Jones and was brought to a live music joint where he was allowed an audition. After he seated himself in front of the stage piano, he addressed the crowd with "What do y'all wanna hear?"
Upon which he envisioned his beautiful momma saying, "How about the Napkin Cold?" Mr. Nat King Cole ain't gonna be too happy from six feet under.
January 31, 2005 // anjali* pranced on tip-toes all over the keyboard at
9:29 am
|
encounter of the blogging kind*
Last Saturday, I met
David
at the Coffee Beans opposite to PJ Hilton, approximately one year after throwing him the
invite
for some premium priced roti canai & teh tarik as a gesture of my utmost appreciation for helping me with my blog HTML codes.
Technically, he is the first blogger I've met personally.
Mei
and
Genius
simply don't count because I've known and met them before they even started blogging.
Honestly prior to the meet, I felt kinda weird. Scared. Excited. Anguished. Butterflies. Somewhat like the jitters you get with blind dates
(ahem...definitely not speaking from experience!)
Honestly I have no reason to be. Being a hermit with a schizo stalker trait, I quickly churn up reasons why I should not be fearful and was in fact having the upper hand over the situation:
i) By having 'corresponded' via
haloscan
, we were not complete strangers.
ii) And I also found out that David used to do his internship in my company, under the watchful eye of my friend, Steph.
iii) Steph has also told me of all his strengths and weaknesses, which I can use against him if I want to. Hehe.
iv) I know what he looks like.
v) I know which church he goes to pray every Sunday. So if he tries to be too clever, I can just call his pastor to complain. Haa. That a better ultimate weapon than calling his mother! Or even the girlfriend! *evil laugh*
Anyway, we finally met and we chat like old pals. I have always thought of him as a very clever chap coz he knows his HTML codes better than I know my ABC backwards! And he self-taught all the computer geeky stuff. Sometimes, I don't even understand the Engrand on his
other website
. So young and so intelligent. And such a sweet, sweet boy he is. You have my utmost respect, my dear David.
After 1 1/2 hours, I dropped him off at the Taman Jaya Putraline Station as he has to return in time for dinner. We promised to meet up again.
And here's what David has to say about our meet:
I also met up with anjali* of anjalispeaks. She's the first blogger (outside my circle of friends) I've ever met and she's nice :o) We just sat and chatted for more than an hour on all sorts of things. She's pretty artsy and I think she's the creative type, although she doesn't think she is. Anyway, meeting her makes me feel like I want to meet more bloggers.
Awwwww...that's sweet.
So the next question would be - Am I keen to meet more bloggers? Yes definitely, but maybe not so soon.
January 24, 2005 // anjali* pranced on tip-toes all over the keyboard at
11:42 pm
|
a wind-some synopsis*
Being too occupied singing my heart out to "Vicar In A Tutu" by
The Smiths
, I missed the turn to my house. And that wrong road led me to
Pirate King Kong
's shop. Like a loyal dog, there he was with another customer.
As he saw me strolling slowly towards his direction, he greeted me loudly from across the road. "Hey Sister! Long time no come here."
"Ya lah.
See Pek Boh Eng leh
[Damn freaking busy]"
I replied.
"You go look see look see la. We
kah ki lang
[same relations],
I give you special price la."
After going through the deck, I decided to get
Ray
. I mean, I simply couldn't resist the brilliant synopsis printed on the DVD cover. Haa.
THE EXTRAORDINARY LIFE STORY OF RAY CHARLES,
A MAN WHO FOUGHT HARDER AND WENT FART
HER THAN ANYONE THOUGHT POSSIBLE.
January 20, 2005 // anjali* pranced on tip-toes all over the keyboard at
11:43 pm
|
welcome to hermitzville*
I have been thinking about buying over my apartment from the landlord for a bit now. 14 months to be exact. And yet I cannot decide.
Firstly, I hate long-term commitment. And 25-30 loan years would seem like eternity. But I'm thinking - if I'm constantly paying the rental every month, I might as well own it. And gosh, I've been renting for the past 5 years now.
And I do love the house to death. I've looked after it like my own. Decorate it. Sweep and mop the floor twice a week. After all, I always believe just because it's rented, it does not need look shabby. Or like a sty. It should feel 'homey' and I do believe I have achieved that to perfection.
The place is big - 1222 sq feet; with a spacious balcony overlooking the garden below, 2+1 rooms, 2 big baths, 2 kitchens (wet & dry), comes with fitted kitchen cabinet. And it's going for only RM130K though I'm trying to bargain down by another RM10K.
Hee. Need to pay lawyer fees mah.
Really, I cannot decide...So here I am, giving you a virtual open house. Do let me know what you think? Should I buy? Or not?
LIVING ROOM
This is my favourite place of all. The first thing I did when I moved in was to paint the wall in ruby red. Then came the plants - green and red make damn jolly good color combination.
The painting was purchased at Stanley Market, HK
(only cost me RM30, but the framing was at RM168!)
while the digital clock from Jordan Street market.
Hmm
.
Memories. Memories.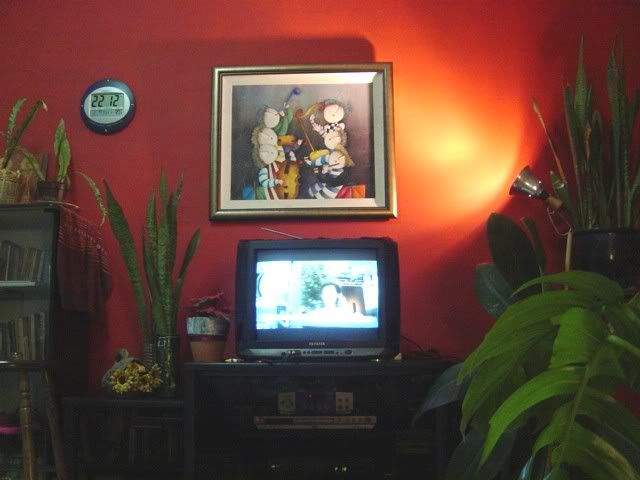 Left pix boasts of my mini book cabinet, with 2 more birdnest plants, a fake banana tree
(from Medan)
and a scrawny plant fighting its height with the cabinet.
Right pix - This is part of my jungle, on the right from the tv cabinet. There's the mother-in-law tongue, the bird nest, the money plant on my mini fountain
(there's actually a small fish splurting water)
and 'Adrien' - my five year old hall monster. I only name 2 of my plants, read on and you will get the full picture.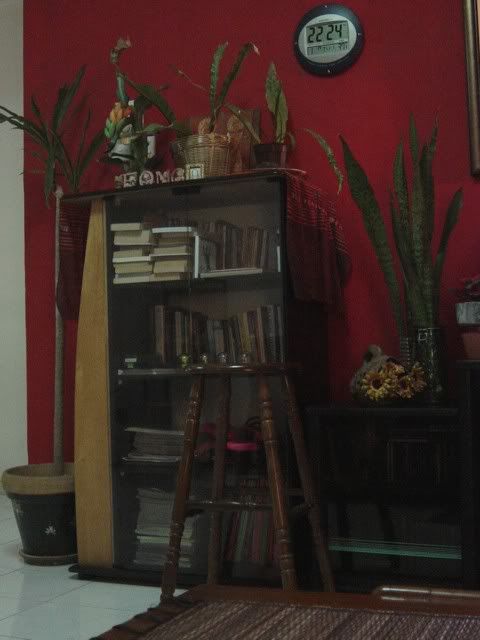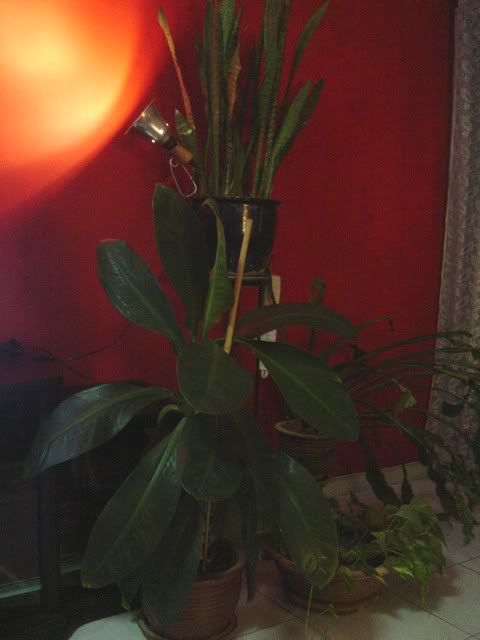 And here's the full pix of the main wall in the living room. There's the fake plant hanging from the ceiling. Most people can't tell the difference. Heh.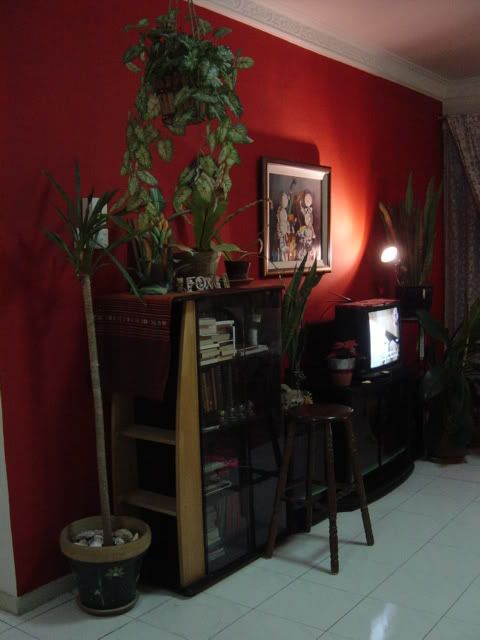 Next we move to the other side of the living room where the sofa sits. On the left to the sofa is the where I place another plant
(close cousin to the money plant)
on top of the side table. Sitting comfortable with the plant is a wooden statue bought from Bali - I like its pose. Very feminine and sexy.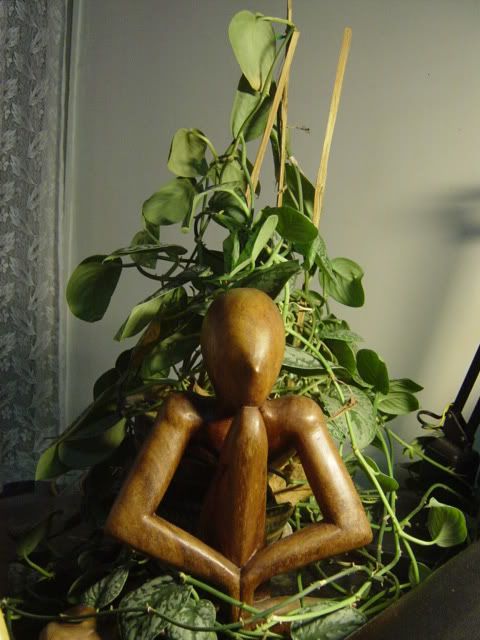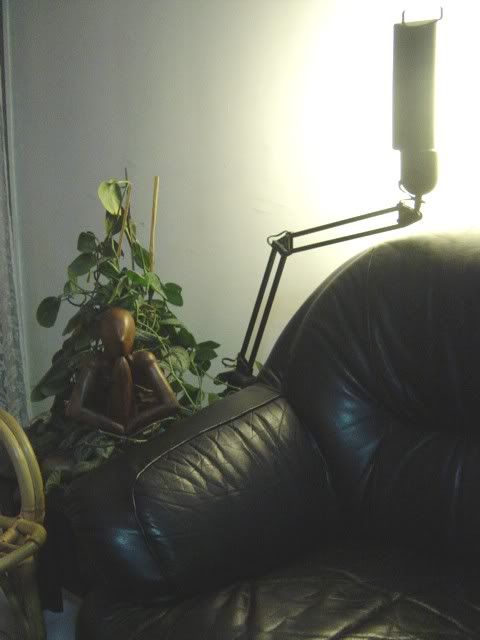 Sandwiched between the sofa and the TV cabinet is the coffee table. And there you will see Rookie, my baby Rottweiler, sitting comfortably watching the tv. 'Fear Factor' is his favourite.
And on your below right is where I usually spend many hours lying watching tv or reading. I really like the swinging bamboo plant above me when I lie. Feels like paradise.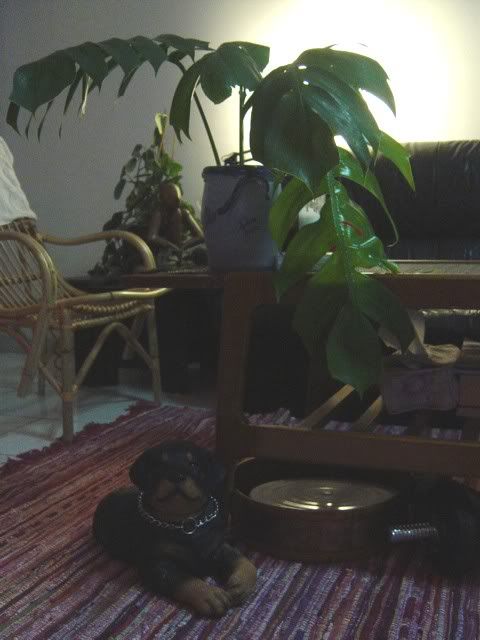 And here's my darling Rookie. I was mesmerised with Rookie during my Phuket trip last year. Rookie is made out of fibreglass. Looks real, eh? Why the name 'Rookie', you ask? Well, I thought that's how an Ah Lian would mispronounce 'Rocky' lor. Bwahaha.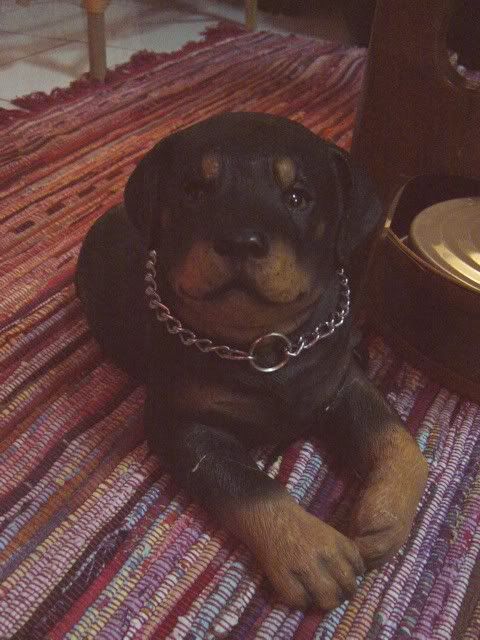 DINING AREA
I painted the dining wall dark prussian blue to contrast the ruby red. The batik painting was given to me by Ardi, my Indonesian friend. The dining table is decorated with a simple bunch of white daisies in an old porcelain water container and the lacquer fruit plate is from Vietnam. Notice the lone red apple?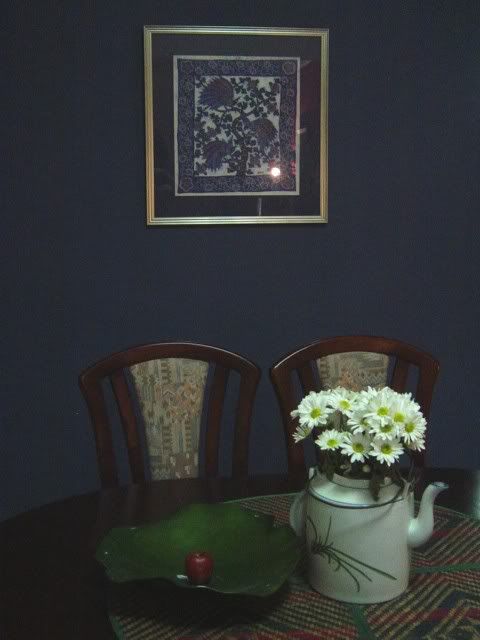 Below is my second favourite corner. I love the whole deco composition - the sporadic mirror arrangement, the cherry blossom, the money plant, the Parisian flea market painting
(which only cost me RM50)
, the candle decos and the great white chest, which was given by Emelia, a close girlfriend. Mind you, the chest is custom made and painted by Emelia personally. She had to give it away to make space for new furnitures in her own apartment.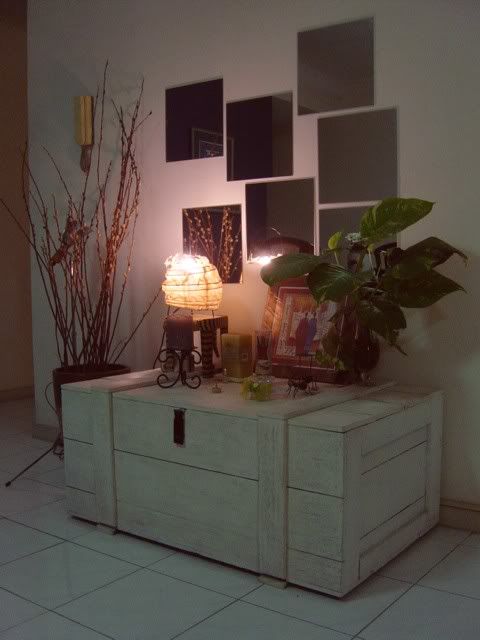 KITCHEN

And on the left, please allow me to introduce to you my new plant resident 'Brody'. See the connection to why I only name 2 of the plants? Next to Brody is my 8 year old faithful Toshiba fridge, which may soon be traded off. On the right pix is the spider plant and another birdnest. The window leads to the wet kitchen area, where you can catch a glimpse of my new Sanyo stove.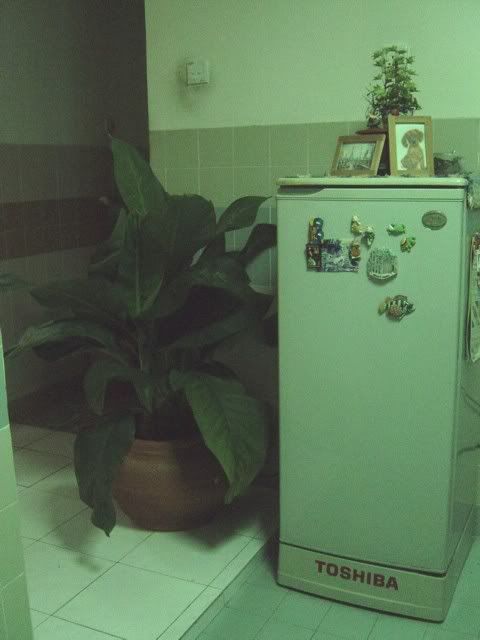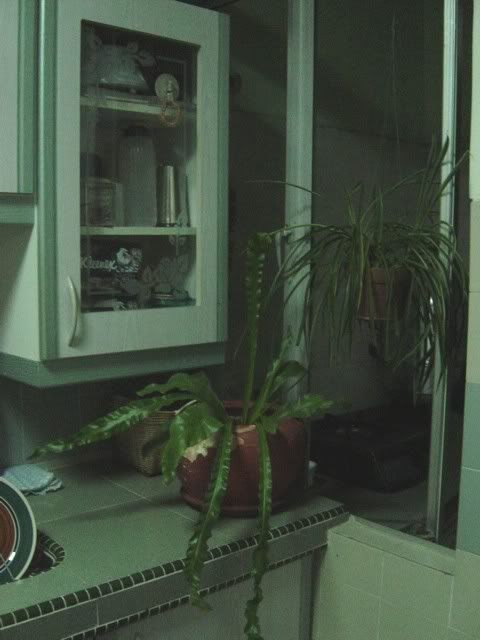 The digital camera battery died on me halfway. So that's the tour for now.
So, should I buy up the place or not?
Update 17 Jan: After much thought, I have decided not to have the Pt II on this subject as I'd like to keep my bathroom and bedroom to myself as these are private areas. Selfish hermit me, haa. In Hokkien, I am "Beh Hoo". Thank you all for the compliments and advice - I am truly honored ;-)
January 11, 2005 // anjali* pranced on tip-toes all over the keyboard at
9:11 pm
|
resolutions la-di-da*
It's that time of the year again. In the wake of the recent global catastrope, I have decided to make several shifts in my life priorities. But before I get to that, I'd like to evaluate how I had faired with
last year's resolutions
.
1. Stop thinking about Jess.
(7
5
% achieved. Have decided he's just too disillusioned & depressed for me. Too much work.)
2. Stop thinking about Jess. (See, this is so, so difficult!)
(Not that difficult once I aligned both my head and heart together. 25% more to clean up.)
3. Read at least one book a month.
(Having read 14 books, yes! This I scored 100%! Woo!)
4. Finish the Bible.
(Errr...this I failed miserably. )
5. Do not be reckless with other people's heart.
(I may failed in several situations, but in my own defense, I border to being too blunt when I try to tell people my opinion. Lesson to learn - only be direct to people I really care about, that way they know I'm saying it out of love and for their own character check.)
6. Don't put up with people who are reckless with mine.
(This I learnt well.)
7. Continue to have Jesus as my best friend.
(Most definitely. He's the one who truly loves and gives. And gives. And gives.)
8. Do not be reckless with Jesus' heart.
(This, I fail, and will try to make up for this year.)
9. Share His love and friendship with others.
(I scored better on this.)
10. Achieve 98% attendance for the Bible Study classes.
(Err. Got kicked out. I'll end the story here.)
11. Know the Word better.
(Most definitely, but can do better this year.)
12. Find true love. Jess?
(Jess can go fly kite.)
13. Stop dreaming about Jess.
(Jess, please go fly kite. Far far away...)
14. Write to Gary Dourdan and ask, "You want to CSI me, ah?" Hee.
(Gary replied, "Warrick only CSI on dead people!". Hah, but my dear Warrick, one of my many talents include my innate capability to roll over and play dead...)
15. Collect all of
Nick Hornby
's books.
(Done, albeit finishing only 10 pages of Fever Pitch.)
16. And read all of
Elizabeth Berg
's books.
(Not all of her books are available here in Malaysia. But I finished Alice Sebold's books though.)
17. Climb
Mt. Kinabalu
again. Only this time, must reach the summit.
(This had to be cancelled at the last minute due to work commitment.)
18. Live like
Morrie. Not just on Tuesdays
, but everyday.
(Am still getting there.)
19. Stop being a hermit.
(Unfortunately, a hermit remains a hermit.)
20. Be good.
(Santa didn't leave me any present this year. Is that a hint?)
I think I scored okay. Here's my list for 2005:
1. Live a life worthy for God.
2. Read 1 Bible Chapter every fortnight. This would be more practical.
3. Read 1 book per month.
4. Continue not to not be reckless with other people's heart.
5. And continue to not putting up with people who are reckless with mine.
6. Continue to have Jesus as my best friend.
7. Do not be reckless with Jesus' heart.
8. Continue to share His love and friendship with others.
9. Be in church on time, every week.
(Unashamedly I confessed I woke at 10.00am this morning. See, church starts at 10.00am too! And I missed my ushering duty. Aiyo...will do better next week. Mei, you can be my score keeper!)
10. Be debt-free. And continue to save for cafe setup.
11. Conquer Mount Kinabalu.
(If all goes well, this will happen in April. Need to start my training now.)
12. Conquer procrastination.
13. Exercise more. (When the jelly belly is toned, it's then time for the belly to dance.)
Wish me luck :-)
January 02, 2005 // anjali* pranced on tip-toes all over the keyboard at
7:05 pm
|