woo! a review!*
After much waiting, Mr Blog Critic finally reviewed
moi's
blog. Overall, I am quite pleased with it. Woo!
The
review
:
Anjali has done some creative work on her blog. It's a Blogspot blog but not one of the usual templates. It's really attractive, especially the header.

However, the number of pictures is mind boggling, and slows down the loading of the page. All those thumbnails of books, movies, singers and yummy men on the right - are they really necessary? The posts also contain photos and pictures, although most are thankfully small.

For some reason though, the images don't really look too much. On another blog they may look cluttered and a waste of space but here they actually add to the overall 'atmosphere'. My suggestion would be to just remove the 'yum yum 2004' to reduce loading time.

Anjali's English is really good and she writes well, mostly about her personal life. I liked the post about Boon Cit, that was hilarious! Too bad she doesn't blog more regularly as I think the posts are quite entertaining and she has a wicked sense of humour.

Not much personal info about the blogger, in fact none at all - as in, there's no blogger profile in the left or right columns. I know what she reads, listens to, watches and the kind of men she likes, but apart from that, nothing. I wouldn't know her if I passed her on the street and that's a shame cos I'd like to congratulate her on a good blog.
My rating: 8/10
February 27, 2006 // anjali* pranced on tip-toes all over the keyboard at
2:15 pm
|
you had me at teruja*
One of my bad habits is reading the subtitles of every single movie that I watch. When I watch DVDs, I always make sure the subtitles mode is turned on. It's almost perfunctory. Almost, because the subtitles serve a small purpose for someone with impaired hearing like me. Yes, you read it correctly. Test results confirmed that my hearing ability is actually below average – due to daily blasting music on the eardrums during my teen years. And no thanks to Sony Walkman.
Anyway, as I was saying…So when I don't hear well, at least I can read the subtitles to comprehend what has been said. That helps tremendously when one's watching those England English movies or those with super thick accents like Irish, Scottish or Australian. While those accents sound super sexy
[think: Colin Firth, Daniel Day-Lewis and Hugh Jackman!]
, you just have no idea what have been muttered.
Besides that subtitles also provide value-added entertainment when the Malay translations get all twisted. Or when the DVDs provide
wrong English subtitles
that doubles as black comedy. Even all the Astro movies provide them subtitles in Malay. This brings us to the subject of this post.
While "blog" was the word for 2004, the most famous Malay word used in 2005 has to be
teruja
. Whoever that created this word, whether intentionally or accidentally, should have patented it. It means excited. Euphoric. Ecstatic. Elated. It's been used in every single sentence you can think of. More so in Akademi Fantasia 3, this makes you begin to wonder if it was an endorsement of sorts.
Usage includes:
o Oh I sungguh
teruja
memenangi anugerah ini. - Translation: Oh I feel excited winning this award.
o Mawi
teruja
sangat makan Mamee.
o Peminat-peminat Mawi
teruja
dengan frasa 'Mawi World'.
o Nyanyian dan persembahan Mawi untuk lagu 'Aduh Saliha' amat
teruja
sekali.
o Ella nyanyi lagu
Teruja
dengan
teruja
sekali.
o Anjali
teruja
extrem dengan janggut abang M. Nasir, oh pahlawan Semerah Padi.
It's
teruja
this.
Teruja
that.
Teruja
here.
Teruja
there.
Teruja
everywhere. If you don't believe me, why don't you peel your ears this week and count how many times you come across this word. Then you will believe me.
So on this auspicious day, I want to be original and tell you - my fellow gorgeous bloggers, readers and friends -
I TERUJA U
. Sounds really nice, isn't it?
Happy Valentine's Day! Have a
teruja
day!
February 14, 2006 // anjali* pranced on tip-toes all over the keyboard at
2:25 pm
|
the most romantic love song ever*
While Prashant Centerpide is listing his Top 14 love songs, here's a bonus post on mine. This was written on 24 Jan 2004.
While I think about love in general, I would never call myself a romantic person. Anything that sets my heart a thumping in public would only resulted in me auto-shifting my gear to 'Buat Donno' and I usually stay cruising on that mode until the course is clear. Sigh.
Also, I cringe at the idea of being whispered sweet nothings.
The meaningless "If I am the moon, you are the sun", "I will swim the deepest sea, climb the highest mountain" crap just sets my toes laughing. C'mon, how true are all these vouch of love? Take for instant the climbing the highest mountain bit. For the past 50 years, the number of successful Everest climbers is below 1500. So unless my date has climbed it before, or at the least have climbed
Mt. Kinabalu
, then I may just believe it. A tiny weeny bit.
So this leads me to the question of whether I like listening to love songs…
Yes, I do. But not the lovey-dovey Daniel Bedingfield's "If You're Not The One" type. Also none of those Enrique sob craps, puh-lease.
I like love songs that's less desperate, but very real nonetheless. The lyrics must be relevant to my own perception of love and the reality of maintaining successful relationships.
I like Natasha Bedingfields 'These Words". And I think Beautiful South writes beautiful love songs. Two of my favourites are "I'll Sail This Ship Alone' and 'I Love You, But You're Boring.' But the one song that has been staying at the number one spot on my Top Romantic Song chart is…..
[drum roll please]
…Sentuhan Listrikmu by M. Nasir.
And I am not being bias. I think very highly of the man. Some may swoon over Viggo Mortenson, but why search so far when we have such an amazing multi-talented man here in our very own Klang Valley. I mean, M. Nasir is a singer, songwriter, poet, writer, actor and a loving husband and father.
[Marlia Musa, I envy you!]
He may not be a pro photographer, but I'm sure he knows how to handle the camera – family shots count too. I am not sure if he is an artist – but even if he is not, it doesn't matter. I won't think any lesser of him.
Back to the song '
Sentuhan Listrikmu'
, the lyrics are simply beautiful. M. Nasir writes gorgeous Bahasa lyrics. His choice and play of words are simply awesome. Terror kaww kaww.
Here's my own lame interpretation of the song. I had used this during my interview with Ah Chin Chong DVD Enterprise as a freelance translator and he never call me back for a second interview.
Bisakah aku bertanya padamu
Dari mana datang saying ini
Dari redup matamu
I love a man with loving eyes. Especially if he has eyes for only me. If not, see if I will poke them with my dirty chopsticks! I can fall in love with that deep set beautiful eyes. (which is the reason I could not fall for a Chinese man – sepet eyes are never sexy.)
Atau bisikan mesra.
This is not whisper of sweet nothings. But tender loving heartfelt conversations.
Adakah kerana sentuhan listriku?

I love tender touches. Not lustful. Just loving caresses.
Membuatku terus berjanji
Hati ini hanya milikmu saja
And to have the one man professed that his heart is forever yours, that's beautiful.
Sentuhanmu bukan datang dari dunia materi

I do not believe in being materialistic. I am happy with just sufficient amount of dosh, and it's okay if the guy is not loaded either. But he must be rich in character.
Terasa ini pernah mengusikku
Bagai dejavu

Ku rindu sentuhanmu
Ku damba sentuhanmu
Tiada lain yang ku inginkan
Hanya sentuhanmu
Ooohhh….I teruja this song to the max!
// anjali* pranced on tip-toes all over the keyboard at
2:11 pm
|
of yvy and valentine*
Sometimes, a friendship starts with just a click. With
Yvy
, it took two. Well, sort of. The first click was when she pressed the 'Send' button on my comment box singing praises with a chirpy hint that she was going to be my blogstalker for life. And she hasn't disappointed. Heh.
Being a stalker myself, I thought it would be a great idea if I meet up with her and find out if she is as scary as me. So on the 4th day of CNY, we met and clicked. For the second time. The 3-hour-7-tehtarik-1-limau-ais meet was super smooth, much like the drive from SP to Kulim. As she
wrote
, we talked about nearly everything under the sun. For me, it was fun coz I think I got to know more about her than from her blog, since I don't really have the luxury to read about her in detail. So that kept the getting-to-know-you conversation running on auto-cruise.
So what can I say about Yvy? Well, she was not Chinese. And she is a nice person to have a decent conversation with. Nice voice too. What's important was she has opinions. And she's sweet. If I had stayed for another hour, I would have been diabetic. Heh.
She hopes to come down to KL before her wedding in August and I have offered her accommodation at my place in return of 2 rounds of sweeping, mopping and picking up Smokey's poops. Which she agreed almost instantly. So I do look forward to that.
Cheers, babe.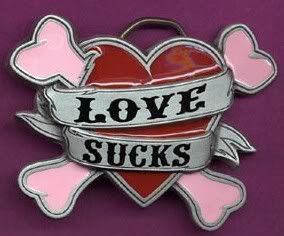 And peeps, there's gonna be a double dose of Valentine's Day this year - Chap Goh Meh on the 12th and the Ang-Moh version on the 14th. For the desperados, here's some survivor tips which I recieved via email today. Embrace them with caution.
How to survive through Valentine's Day.
1. Wear black, and lots of it.
2. If someone else in the office has received flowers, chocolate, singing telegrams, and other forms of dating expressions, glare at them. Snarling and grunting optional.
3. Same goes for anyone wearing excessive amounts of red. Especially if they are wearing heart-shaped items like pins.
4. Later in the day, eat the chocolate, run the flowers through a food processor, and beat the crap out of the singing telegram people. (Most people will thank you for this, anyway). For the rest of the day, labour over the effect all that chocolate is gonna have on your waistline.
5. Return home and destroy at least one item given to you by an ex.
6. Feel guilty. Call the ex. Make up story about having a hot date.
7. Watch TV. Turn off TV after noticing every channel is airing a clone of "While You Were Sleeping" or, worse yet, a "Friends" Valentine's Day.
8. Realize how lame not having a hot date is. Head to bar.
9. Plot massive torture of anyone who shows up at the bar with a date. Slow torture if the couple is in anything above semi-formal dress.
10. Massive quantities of alcohol. Beergoggling. Wake up next to someone - male or female - with way too much facial hair.
11. Remember (and regret) this incident for the next 364 days. Complain about never having a good Valentines Day.
12. Wait until some bizarre calendar date Hallmark has labeled "Sweetest Day." Rinse, lather, repeat to get in practice for next Valentine's Day

.
As for me, I will buy myself 2 giant durians and head to
Kelly Dorji
's house and upon seeing him, I will try to throw it on his head. In case I missed, there's the second one as back-up.
Whatever you do, don't contract VD. Haa.
February 10, 2006 // anjali* pranced on tip-toes all over the keyboard at
5:31 pm
|