birthday prayer*
It's my birthday today. Mei gave me a collection of prayer cards yesterday and my favourite is this.
"O Lord, grant that I may see the joke of things,
The little things that bother now and then.
Lord, grant my sense of humour to be strong.
To weep a bit - and yet, to smile again.
God, grant there be a chuckle in each tear,
To every trial, Lord, grant a funny half."
September 27, 2004 // anjali* pranced on tip-toes all over the keyboard at
11:25 am
|
irony*
Just came back from a 4D3N Phuket trip. Pride of trip - I conquered the Ocean supermarket with a victorious purchase of 5 heels at one-go : Black x2, Maroon x1 and Natural x2. Damages? All for less than RM100!
When I reached home on Sunday evening, I spent 2 hours admiring my 5 new babies and played model to my own shoe fashion gala in the room. Motto for the night - 'Self admiration is better than none at all'. Haa.
Monday morning came. I decided to wear one of the black heels; the one overloaded with silver tabs. And I paired it with a new pink blouse and flared black pants. I complemented the whole outfit with pretty pink toenail polish.
Self-admiration for another good half hour. Vanity has become my maiden name.
"I have the whole week lined up with new heels! Ooh...how exciting! " I thought to myself. Gosh, was I ready to conquer the world! I was practically floating on air.
As I strut away from the apartment lift and headed towards the steps...I slipped and fell on my jelly ass. And sprained my left ankle. Luckily there was no laughing witness around.
Now, I am limping like Quasimodo.
The Chinese
SinSeh
advised against wearing any heels for at least a week, or more.
Damn!
What freaking luck!
Now isn't this ironic?
September 21, 2004 // anjali* pranced on tip-toes all over the keyboard at
1:37 pm
|
silent prayer*
It's been 3 years now.
But it's still vivid fresh on my mind, like it just happened yesterday.
How fast time flies.
Let's all give a moment of silence to pray for peace.
The world just ain't safe anymore.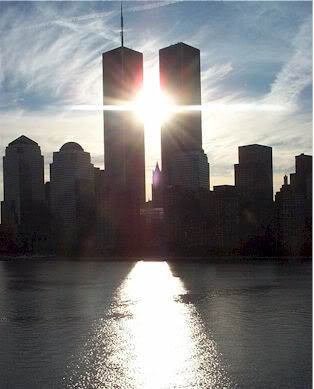 September 11, 2004 // anjali* pranced on tip-toes all over the keyboard at
3:41 pm
|
yawn*
"What do you think is the most important thing to keep a relationship going?",
Gorgeous
asked me last night.
"I guess my top most priority would be...good conversations."
"Aah? That's it?"
"Yep."
Pause.
"Yeah. I want to be with someone who can stimulate me mentally. Keeps me going back for more. Conversations should be a 2-way traffic thingy, y'know."
"Was that the reason you ended your relationship?", Gorgeous asked with a lost puppy look. You must be there to appreciate that look - you just wanna hold his face, squeeze and lick it! Ha.
"I guess. Among many other reasons. Towards the end, we have nothing much to talk about. Our conversations were mostly one-sided. Sometimes I'd think Kurt* would make a better conversationalist. At least he banged his head against the aquarium wall whenever he wants privacy! Or when he's hungry. And when he's mad, he just ignores you."
[ Kurt was my 1-footer arowana, which was named after Kurt Cobain. And I discovered Kurt was a Muslim - it died on a humid Raya Haji morning!]
"Haa. How can a person be more boring than a fish? And eh, you are also one cold fish, remember?"
"Haa. Only when it comes to hugging, dude. Tell me, how stimulating can it be when his replies were constantly "Is it?" to every single sentence uttered?"
"Hey, did you know XXX got married?" "Is it?"
"This afternoon, YYY had an accident. But he's okay." "Is it?"
"ZZZ is dating XYZ" "Is it?"
"Your mother is your grandmother's daughter." "Is it?"
"Your father is your great grandpa's grandson." "Is it?"
Get the drift?
I remembered once I was so pissed I told him, "Eh hello, you are a copywriter la. Can you be more creative and say something else? There's more to a conversation than just "Is it?", y'know."
And his reply?
Come on. It does not need a rocket scientist to guess this.
"Is it?"
Aiyo. Honestly, I felt like running him over with my car. Reverse the gear. And run him over again. And again.
And I guess many people feel the way I do. Boring partners like that will totally kill you...s - l - o - w -l - y!!! Even Mick Hucknall sang about it. Read on. I think the lyric's hysterical!
So Beautiful
Simply Red
I was listening to this conversation
Noticing my daydream stimulated me more
I was crumbling with anticipation
You better send me home before I tumble down to the floor
You're so beautiful but oh so boring
I'm wondering what am I doing here
So beautiful but oh so boring
I'm wondering
If anyone out there really cares
About the curlers in your hair
My little golden baby, where have all your birds flown now?
Something's glistening in my imagination
Motivating something close to breaking the law
Wait a mo before you take me down to the station
I've never known a one who'd make me suicidal before
She was so beautiful but oh so boring...
And then this other gem.
I love You But You're Boring
Beautiful South
Birds are singing in the trees
As we rise up on a beautiful morning
But I can't hear
That beautiful sound
Because I'm permanently yawning
What about the time of the fancy dress
When you came dressed as your mum
And there I was splendid in my penguin suit
So scared to show my bill
You must have been listening to your Carousel
Your Carousel, that Carousel
Remember the time
When I turned the house into a rocket ship
And you refused to come to Mars
You said "It's too far"
You had to be back by six to watch your Carousel
Saturn's much too far
You had to watch Carousel
(What's going on in there?)
When we first met
I asked you for your hand
I didn't really mean that hand
I meant join hands
Bake phallic cake (Bake phallic cake)
Carry round sticky tape
And love those devil dogs
Be an Indian elephant (Be an Indian elephant)
Bait straight people
But you must have missed my wink
You must have missed my wink
(I love you,
But you're boring, you know,
I really do love you
But you're so particularly boring)
Maybe you were too busy listening to Carousel
watching Carousel, living Carousel
You were listening to Carousel
You were watching Carousel
Can you emphatise with them?
I know I can!
September 09, 2004 // anjali* pranced on tip-toes all over the keyboard at
6:29 pm
|
his mysterious ways*
I woke to a sms message sent at 4.33am. Sender's number was unfamiliar. It read "Surprise? How hv u been keeping lately? Hv u started yr business? Pray u'll HOLD ON 2 HIM who brought u out fr all of d past into d NEW. WL"
WL was my cell leader from my old church in Desa Melawati. Since my move to ECF, I have not kept in touch with her for maybe two years now. So yes, the message was a good surprise. Especially in the wee hours.
I replied "Am doing good. Tx 4 d sms msg. Am working now, business on hold. Tx for the confirmation - I am touched."
Her reply - "I felt very impressed 2 sms u when i was up 3am 2 pray."
God works in mysterious ways. He will use any willing vessel to do his work. And amidst all this, it's heartwarming to know God was thinking of me and sent WL to let me know just that. I feel loved. I feel honoured. I feel His grace and mercy.
Thank you Lord. I shall draw nearer now.
September 03, 2004 // anjali* pranced on tip-toes all over the keyboard at
8:43 am
|