for a coupla hours, i was 15 again*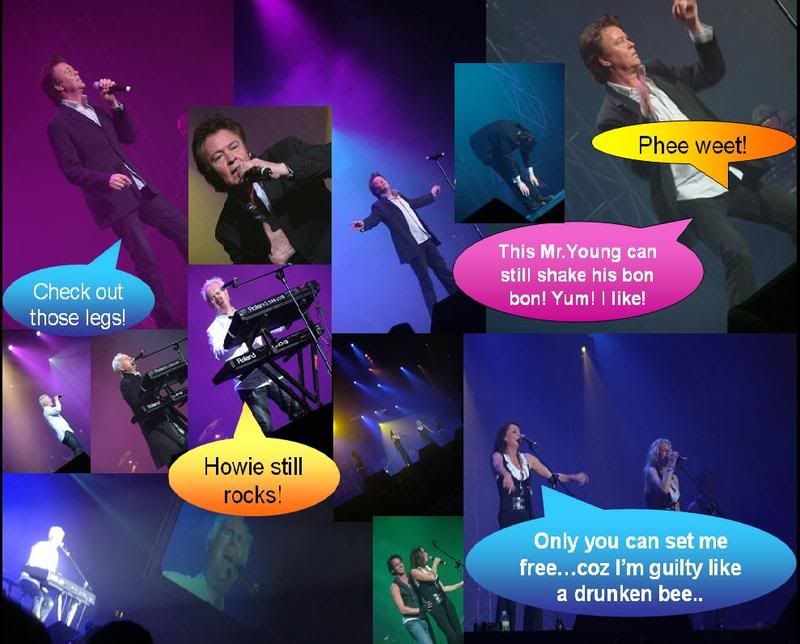 [All pixs courtesy of Tim . You can view more pixs
here
]
All I can say is this is the closest I can get to fulfil my lifelong dream to be at Top Of The Pops show. I mean, I was a true blue TOTP fanatic and being in this concert with Paul Young, Howie Jones, Bananarama, Johnny Hates Jazz and Limahl was just awesome beyond words. Great concert, great company, what else can I ask for? Yeah, maybe a dinner date with Paul Young would be great. And then some, afterwards. Heh. I am surprised I still drool at the sight of Paul's long legs and firm thighs. This man, though no longer young, except for his surname, is still hot.
There was a 10 min short break after Paul Young. It was then we got upgraded from having free tickets at the left side of the stage to the RM700 seating areas! Oooh, how heavenly! It is great to have friends with connections. Smirk.
Right after, Howard Jones came on. His vocal was as great as I remembered him. When he sang "New Song", he just made my
day
night. Then Bananarama made it perfect with their energetic rendition of "Love In The First Degree". Tim's memorable line of them -"Waa...these old birds can still move la. Terror woh." Ha.
This is definitely one of the highlights of my life. Without a doubt.
March 23, 2008 // anjali* pranced on tip-toes all over the keyboard at
1:29 pm
|
me is going. don't jealous yo*
March 10, 2008 // anjali* pranced on tip-toes all over the keyboard at
9:01 pm
|