i'm too sexy for this tee*
Hello there. I am back!
One of the first things I did the morning after I reached home was to dress Smokey in the FBI t-shirt which I bought from the Jatujak weekend market.
I honestly thought it looked really cute on him, but our opinions contradict…In the failing attempt to get out of the tee, he decided to appease himself by scratching me on both my arms. Most friends thought I deserved the ill-treatment; rationalizing that what goes around comes around. Sigh. All I wanted to do was to get him a souvenir. Obviously he has no understanding of that concept.
Or maybe he felt uncomfortable coz the tee was a bit too small for him. I had underestimated his plumpness.
Anyway, I personally interpreted FBI as Feline Body Inspector. Heh.
October 30, 2006 // anjali* pranced on tip-toes all over the keyboard at
11:26 am
|
hey ma*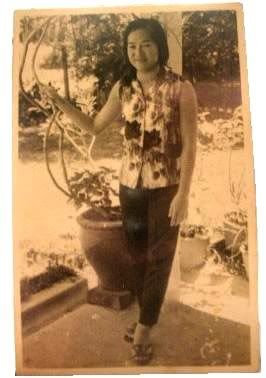 This coming October 22nd marks the 5th anniversary of my mum's sudden demise. Though I have learnt to place her memories at the back of my mind in other months of the year, I still find October a stiff month to pass by. Maybe this explains why I try to get away at around this time, in attempt to numb the pain. To numb my missing her sarcasm. Her wit. Her dirty jokes. Her sharp tongue. And it's tough sometimes to face the fact that I no longer have someone to call 'mother'.
One of her nicknames is 'Alice'. Simply coz she loved the song 'Living Next Door To Alice' by the band, Smokie.
She was around 21 when this picture was taken. She's such a beauty, isn't she? Gosh, I miss her so.
[Read
Bonda
]
October 17, 2006 // anjali* pranced on tip-toes all over the keyboard at
1:29 pm
|
Laos ah, wait wait, I am kambing soon*
Being raised in a small town, I have this thing for serene landscape; peace and quiet, away from this concrete jungle with hazardous hazy skies called home. I am always game for anything that includes mountains. That's why I believed I could be a mountain goat in my past life.
Mmbeckk!
Taking advantage of the long festive holidays next week, I made a split second decision join a tour group to visit Laos. I will also be in Bangkok for the very first time; and my friend Gib will be my personal tour guide.
Here's the itinerary:
Oct 19 KUL - overnight bus to Hatyai
Oct 20 Hatyai – overnight train to Bangkok
Oct 21 Bangkok – overnight train to Nong Khai
Oct 22 Nong Khai
Oct 23 Nong Khai – Vientiane
Oct 24 Vientiane - Vang Vieng
Oct 25 Vang Vieng – Vientiane
Oct 26 Vientiane - Nong Khai - Udon Thani – Bangkok
Oct 27 Bangkok
(Shopping!!!)
Oct 28 Bangkok – KUL
Take care now.
P/S
Happy Deepavali and Selamat Hari Raya Aidilfitri!
Think of me when you feed your face with muruku, vade, lemang and serunding
.
October 16, 2006 // anjali* pranced on tip-toes all over the keyboard at
11:27 am
|
do you love me?*
This morning Mr Smokes meowed at me for food.
I asked him if he wanted the wet food in a sachet.
He replied with a soft meow.
Then I asked him if he knows that I love him.
Again a soft meow.
Then I asked him if he loves me.
Silence.
I asked again.
Silence.
Then I told him if he does not love me, I will not open the sachet.
He gave a loud roar.
October 12, 2006 // anjali* pranced on tip-toes all over the keyboard at
4:26 pm
|
HELP WANTED*
A good plumber to be specific.
Cat getting too fat.
Kept sitting in the toilet sink.
Now sink is broken and near collapse.
So please help, if you know of any good one.
If good looking with good bod, better still.
Heh.
Thanks in advance.
October 11, 2006 // anjali* pranced on tip-toes all over the keyboard at
12:02 pm
|
what a difference a day made*
Yesterday was quite a bad day...but it turned for the better at the stroke of midnight.
First I realised I had misplaced my passport. I know it is somewhere in the house; but the question is in which crevise is it hiding? I looked high and low, turned the house upside down but it was not to be found. I can't go for my hols if I don't find it! Aiyaya...
Then I had to make a big deposit in the toilet. When I flushed, my specs fell down and got flushed away. Shite!!!
(Pun not intended)
Guess? brand some more! Now I am as blind as a bat! And have to spend unnecessary money to get a new one. Looking at my current circumstances, the beggar down the street is richer than me! Sigh.
Thereafter, I did my weekly laundry. When I placed my clothes on the balcony temporarily while I place the clothing on the hanger one by one, my red thong decided to take a dive and commit suicide. Again. Double shit!
Failing to comprehend my luck, I rallied a few friends to help me pray together about the passport. Then at the stroke of midnight, I had a strong hunch to open my book cabinet, took out an envelope on the 3rd bottom shelf and walla! the passport fell onto my lap. God is so Great!
So all ended well...
I got my passport.
The shit in the sewage can see better now.
And the Indon cleaner has a new red lacy thong.
Yay?
October 04, 2006 // anjali* pranced on tip-toes all over the keyboard at
1:00 pm
|