run, monks, run*
Whaddya know…I have decided to be a little bit more efficient this time and post the first entry on my Laos trip early. The only disparity is that I have decided to be
lazy
brief and let the pictures tell the story.
For starters, here is my signature shadows montage. Of course, this time they're of my Lao shadow. This habit of shadow snapping is basically a self syok-sendiri habit, but a fun one, if I may say so. My favorite is the fourth one from the left, coz it has some Lao alphabets in it. And on the far right shot, you get a sneak peek of my sexy legs. Bwahaha. Shameless is me.

Anyway if you must know, my most enjoyable newfound hobby in Lao P.D.R [People's Diplomatic Republic] was to run after and shoot all the monks. 'Shoot' as in snapping shots of them la. Aiyo, what were you thinking?
Honestly, some of them monks were serious eye candies. I lie you not. And most are actually just novices as they are below 20 years old, but they got very well-toned bods. I can only predict they will soon grow to be the new breed of metrosexual monks. Nice. Very nice. I like. I like lots. Lot lots, actually. Heh.
Phooh. Let me take a breather.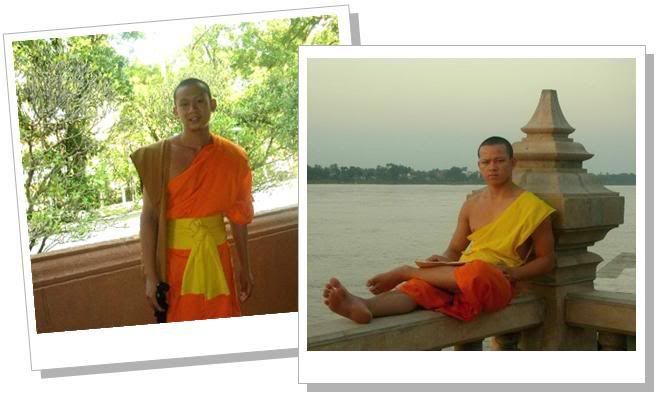 The one on the right is my favourite shot of all. Taken at sunset, at the waterfront of the Mekong River in Nong Khai, the border town. He had run down the stairs and took a high leap, thrashing his slippers while doing so. Then he jumped and sat on the barricade to read his scriptures. I sneaked quietly but he caught me, gave a smile as a gesture of giving permission to snap. So I paparazzied away. Aiyo. He is so handsome la. Don't you think so too?
The one on the left is equally cool. He amazed us all by conversing excellent English. He told us that he just joined as a novice less than a year so that he could get his higher education paid for. And we also exchanged email addresses, coz he wanted to further improve his English. How cool is that?
After the second day, my newfound travel mates got into the concept of my new obsession with monks, and started looking out for new victims for me to 'attack'. That was kinda funny.
Below are five more shots which I liked, especially the 4 monks enjoying the simplistic yet refreshing Nong Khai iced coffee which costs 120 baht per cup.
So how? Like the shots or not?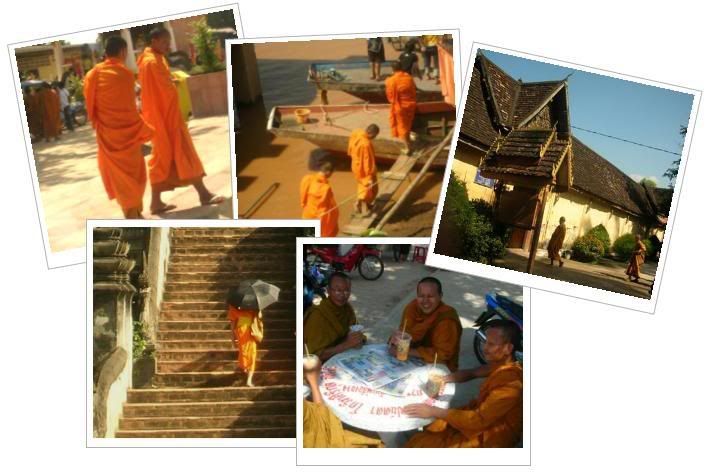 November 03, 2006 // anjali* pranced on tip-toes all over the keyboard at
10:45 am
|