oh noooooo*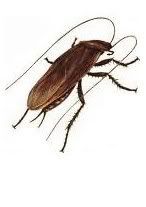 Yesterday, I saw a relatively large cockroach crawling on my freshly-mopped-with-Dettol floor. It came out of my housemate's room. I was mightily impressed when Smokey crept towards it, almost immediately, like a jungle warrior and watched over the crevice on the chest which the pest had crawled into. I decided to move the chest to expose it and let Smokey pounce on it and do his hero thing, whatever it might be.
So moved the chest, I did. And exposed the 6-legged
[
I hope this is correct! This time!]
creepy crawly, I did that too. But to my dismay, upon seeing the bugger, my assumed warrior went running and hid under the dining table. In a flash!
So in the end, I had to execute the damn roach with my bare hand. It was then I had to face the ugly truth - I've raised a wuss! Sigh.
February 13, 2007 // anjali* pranced on tip-toes all over the keyboard at
9:59 am
|