leave my country [pt 1]*
Hey there. I am back and hope that the New Year has been porky fine to you. This was actually the first time I am away on CNY, mainly because I could not find myself going through the painful "tong tong chiang" tunes, mistakenly passed off as festive music, any longer and decided to get away. Only to be somewhat disappointed, coz it somehow managed to stowaway and followed me to Cambodia. The phrase 'You can run but you cannot hide' fitted the situation appositely. Sigh.
So…do I like Cambodia? Mostly, I enjoyed visiting the temples of Angkor. Not to mention the good company I was with. But I was exceptionally disgusted with the locals, children and adults alike. Having said that, I did meet quite a number of nice people and monks (yes, you get them in abundance in Cambodia as well) so that sort of stroked a balance for me; between the sweet memories and the uglies-you-wanna-erase-from-your-memory-bank types. In a nutshell, I'd just like to say that this is one country you need to visit once in a lifetime - to witness the awesomeness of Angkor as well as trying mightily hard to comprehend the callous Khmer Rouge bloodshed of the Killing Fields. And then you leave the country, never wanting to return, ever again.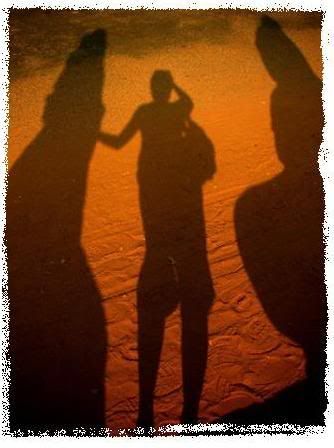 As always, I will start with the sole cam-whore pix of my own shadow. This time, I will only show the one I loved most. It was taken in front of the Bayon temple south gate, where I stood sandwiched between two of the devil warriors with the rising sun at the back of me. I think it's one of the nicest shadow shots I've taken so far, if I may say so myself.
So, without much ado, let's start…
DAY 1 - SIEM RIEP

[From left to right]
o We arrived in
Siem Riep
about 11ish local time. I like the Lat cartoons on the plane. (Pssst…Datuk Tony Fernandez, this is me promoting your airline. So please feel free to pass more free tixs my way, eh? I've scratched your back already, this is my cue for you to scratch mine, eh?)
o This is part of the deco in the Siem Riep International Airport, after you passed through the immigration. That must be the biggest golden disco light I have ever set my eyes on. I could almost hear Abba's 'Dancing Queen' playing in the background. Yeah, that's the bimbo side of me doing some blog contribution. Heh.
o To escape the scorching heat, we hung out at
The Blue Pumpkin
. I ordered my second cuppa in Siem Riep – creamy Mexican coffee which came with a piece of ginger biscuit. Price USD$1.75. (At this point in time, the concept of anything and everything here wearing the USD$ price tags has not hit my thick skull just yet. ) The coffee was super strong and nice. Just when we were getting cozy and my eyelids grew heavy, the electricity was cut off. Maybe that was their subtle way to kick us out…
And I needed to soften the shock I had during lunch an hour before – After saying the millionth no's to a boy who harassed us to buy his pirated books for the past 10 minutes, he hissed his poisonous, "You leave my country!". It was then I decided that I don't like this hardscrabble country very much. And this feeling lingered on throughout the entire trip. Can you imagine being chased off a country by the 2nd hour upon arrival? And then we were asked to leave the country again the next day! How fun was that? Sheesh…

Basically the above showcased some of the brief window shopping one can do around the Old Market area. While my partner-in-crime was practicing her price-haggling skills, I decided to have fun with the figurines displayed. Heh.
For dinner, I need to mention that we had the Cambodian barbeque, which is similar to the Korean barbeque where they have the charcoal grill and the soup areas. We had 4 types of meats – chicken, fish, prawns and my favourite - yummy kangaroo! I've been dreaming of having kangaroo meat since I left Alice Springs in May last year.
DAY 2 - ANGKOR WAT & PHNOM BAKHENG
We decided to visit Angkor Wat at sunrise. We had bought a 3-day pass which costs USD$40. As I entered the main door into a dark hallway, with the magnificent sight of Angkor at the end, the whole experience reminded me of when I visited Taj Mahal. Both equally breathtaking.
Excerpt from Siem Riep Angkor Visitors Guide:
Angkor Wat is visually, architecturally and artistically breathtaking. It is a massive three-tiered pyramid crowned by five lotus-like towers rising 65 meters from ground level. Angkor Wat is the centerpiece of any visit to the temples of Angkor. Angkor Wat is surrounded by a moat and an exterior wall measuring 1300m X 1500m. The temple itself is 1km square and consists of three level surmounted by a central tower. The walls of the temple are covered inside and out with bas-reliefs and carvings. Near 2000 distinctively rendered apsara carvings adorn the walls throughout the temple and represent some of the finest examples of apsara carvings in the Angkorian era art.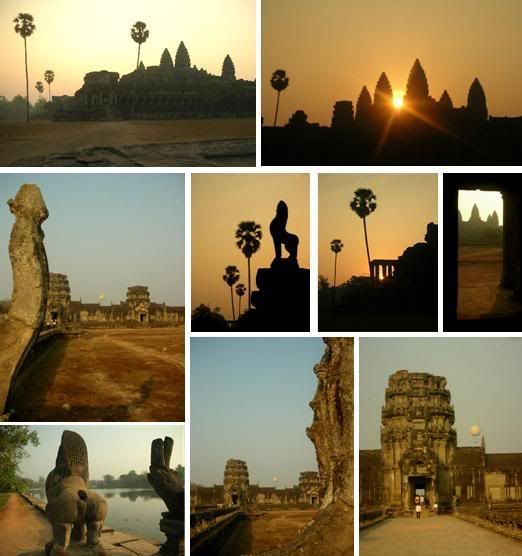 While we were there, we met up with 3 gorgeous looking siblings and they were more than happy to pose for us. Their bright red colored t-shirts against the brown grey walls created such brilliant contrasts, resulted in really beautiful portraits.

We returned to the hotel in the afternoon to rest a bit and for me to charge my battery. My only battery died on me right after we reached Bayon. I had lost the back-up battery somewhere, which remains a mystery till today. In the evening, we went to
Phnom Bakheng
to see the sunset. Honestly the place was overcrowded and the sunset was not spectacular that day. But we met a group of Thai monks. They were super obliging and such great posers. It didn't take long before they became the centre of attention as nearly everyone paparazzied away. They must have felt like celebrities walking down the red carpet of Angkor.

DAY 3 – ANGKOR THOM, BAYON & TA PROHM
We visited Angkor Thom and Bayon for 2 days, one in the late morning the day before and today, in the early morning, shortly after sunrise.
Excerpt from Siem Riep Angkor Visitors Guide:
Angkor Thom (Big Angkor) is a 3km square walled and moated royal city and was the last capital of the Angkorian empire. There are five entrances (gates) to the city, one for each cardinal point, and the victory gate leading to the Royal Palace area. Each gate is crowned with 4 giant faces.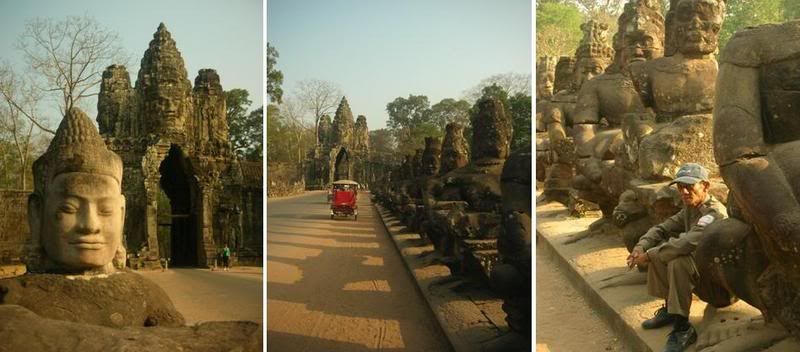 The giant faces of Bayon have become one of the most recognizable images connected to the classic Khmer art and architecture. There are 37 standing towers, most and not all sporting four carved faces oriented toward the cardinal points.

I really enjoyed
Bayon
; being in midst of the stillness of the morning glow, before the invasion of the herds of noisy tourists. Seated among the giant carved faces, I absorbed the tranquility to my inner being and felt really peaceful. And before anyone says anything, this peace has nothing to do with religion; I just welcomed the nice quiet feeling after having to brace myself in the concrete jungle's rat race for too long.
After lunch, we headed to
Ta Prohm
. Though the temples looked almost the same after awhile, this one stood out because of its 'tree-in-temple' atmosphere. And it is also in this temple, we came face-to-face with the celebrity tree, which was made famous in the movie 'Lara Croft Tomb Raider'. Being in its midst made me feel like David, facing my Goliath.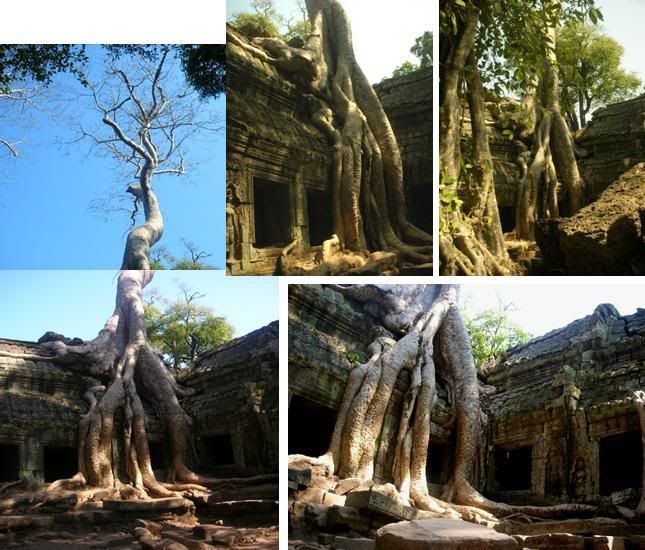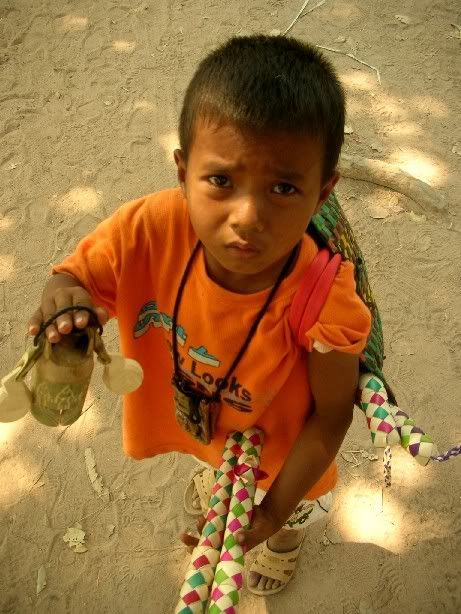 It was also at
Ta Prohm
, that I met this boy whom, for once, I did not felt irritated from his lengthy harassment to buy some stuff. He looked really pitiful, I decided to give him 1000 Riel to leave me alone. I really liked the shot of him.
During sunset, we had dinner seated on the straw mat placed facing the moat of Angkor Wat. I had roasted chicken (USD$4.00 per chicken) which I shared with our tuk-tuk driver and one char grilled corn. Though the meal was simple, it was really nice. While eating, we had the pleasure of the company of three dogs, which finished up all the bones. Thereafter, we went again to Angkor Wat to see the sunset. There, we met the same group of Thai monks. They remembered us and asked us to take photographs with them.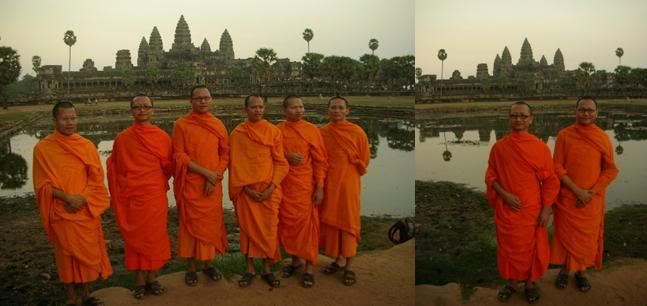 As we left
Angkor Wat
late, we were fortunate to see the test run of the light & sound show (sans the sound). This was its fifth night of test. It was really awesome beyond words. My battery died on me again that night, so I did not take any shots. But if I get my hands on some, I will try to post it. Promise.
[Update 27 Feb - here's a shot courtesy of my travel partner, who wants to remain anonymous for now, of the light shot I told you about. Isn't it awesomely gorgeous?]
DAY 4 – BANTEAY SREY & BANTEAY SAMRE
On the third and last day, we visited
Banteay Srey
and Ba
nteay Samre
, which were located about 38km away from Siem Riep, and it took about 90 minutes by tuk-tuk. These two temples are worth the distance as the wall carvings were much more intricate and delicate.
Excerpt from Siem Riep Angkor Visitors Guide:
Banteay Srey loosely translates to 'citadel of the women' but this is a modern appellation that probably refers to the delicate beauty of the carvings. Built at a time when the Khmer Empire was gaining significant power and territory, the temple was contructed by a Brahmin counselor under a powerful king, Rajenravarman and later under Jayavarman V. Banteay Srey displays some of the finest examples of classical Khmer art. The walls are densely covered with some of the most beautiful, deep and intricate carvings of any Angkorian temple. The temple's relatively small size, pink sandstone construction and ornate design give it a fairytale ambiance.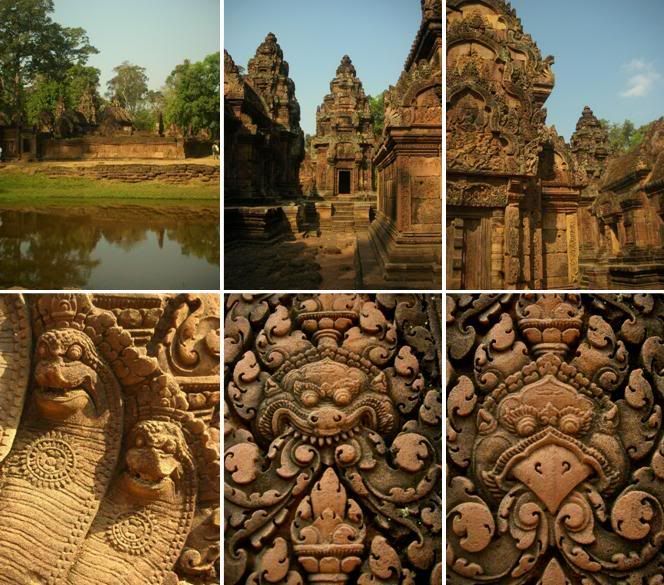 Banteay Samre – Large, comparatively flat temple displaying distinctively Angkor Wat-style architecture and artistry. Banteay Samre was constructed around the same time as Angkor Wat. The style of the towers and balustrades bear strong resemblance to the towers of Angkor Wat.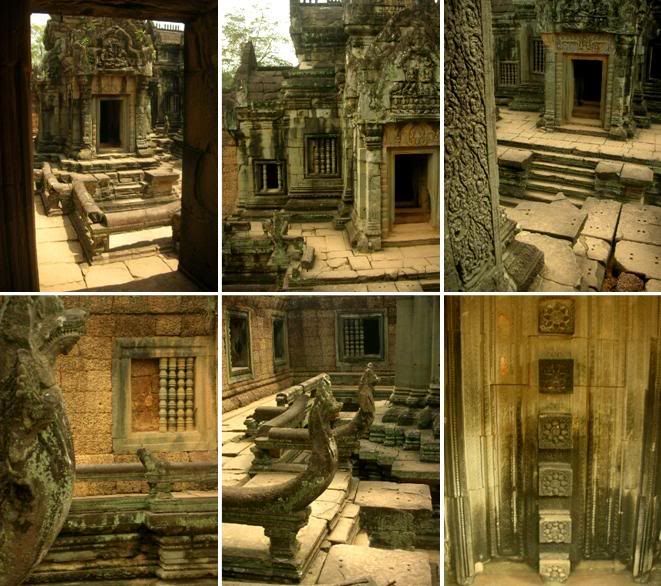 On the way back, we stopped again at Angkor Wat. This time, to go inside the temple and climb it. The climb was scary, but we did it anyway. And the view on top was rewarding enough. And if you think going up was scary, climbing down was even worse. The stairs were narrow and steep. I think they should consider including climbing Angkor Wat in the Amazing Race Asia 2. With that in mind, I prepped myself up in anticipation of that, in case I decide to enter. Smirk. I let the pictures show you how scary it is.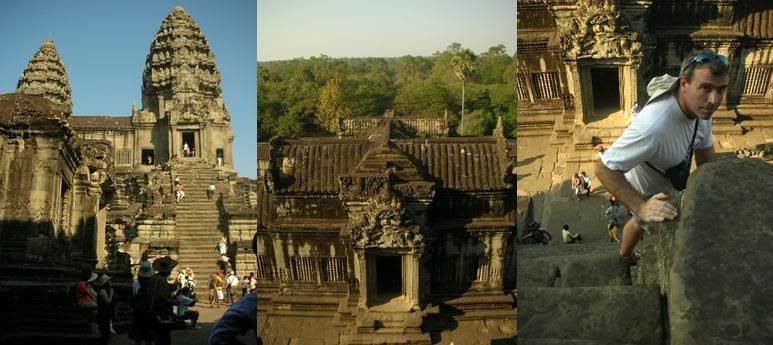 I end Part 1 with another set of portraits I took of a small adorable boy in Angkor Wat, who tried so hard to smile for me. And no, my maternal instinct has not kick in yet. I hope you had fun reading this. Part 2 coming soon. I hope.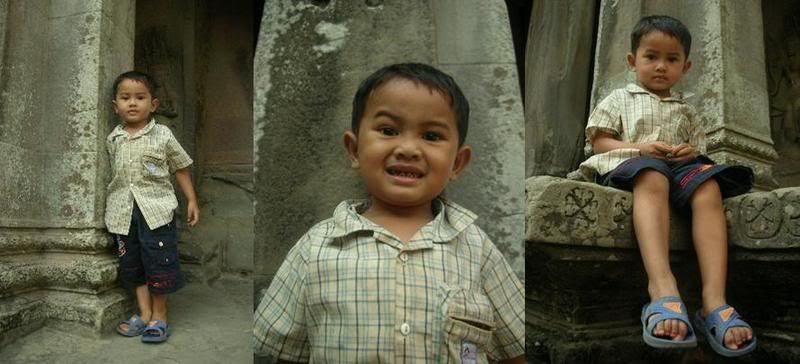 February 26, 2007 // anjali* pranced on tip-toes all over the keyboard at
10:39 am
|