election day*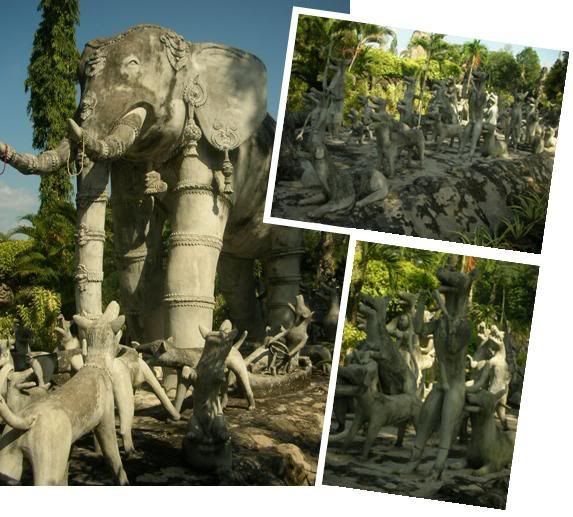 While we were at the border town of Nong Khai, we visited this large garden called "Sala Kaeo Ku" which houses many strange statues that depicted a combination of Buddhist and Hindu gods and goddesses. It was built by Luang Pu Lua, who believed that all religions are integrated. This is also the same guy who built the famous Buddha Park in Lao P.D.R.
Anyway, the one thing that caught my attention was this whole stage of dog statues surrounding an elephant, as though they were all worshipping the huge mammal like a leader. The amazing thing about those dogs was that they all had erected penises. All of them, I swear.
And that made me wonder. Which led me to this theory:
In the land of the dogs, the elephant, by sheer default of being the bigger creature, held supremacy in politics. But our dear elephant believed in diplomacy and doggies' right to vote. So came the Election Day, and its doggy supporters decided to hold a rally for him by chanting "Election! Election! Election!". The only problem was all the dogs were Chinese. They had mistaken the chant as
Erection
instead...
Heh.
December 26, 2006 // anjali* pranced on tip-toes all over the keyboard at
11:07 pm
|