i see with my bespectacled eyes...*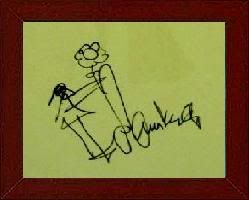 I saw it when dear Mr. Rice was drawing it. When we were in the cab, I asked Raine if she sees it too. She said "Now that you mentioned it, ya la, but I don't think he will draw such thing la..." and I let the matter lie. For a short while.
Then I showed it to
Tim
and asked if he could see it. He said No.
Mei
also gave me the same answer. And no one brought it up when I posted the
story
.
I am beginning to wonder if I am in fact as dirty-minded as my friends and siblings say I am.
So what did I see, you ask? Err...I saw with my 4-eyes the doodle of a girl holding a dick with flower at the end. I mean, don't tell me you didn't notice the 2 nuts and 1 standing boner?
Really meh? You really cannot see it? Really, really? Cross-your-heart-and-hope-to-die really? I still don't believe you lor...
Now the million dollar question - should I throw my dirty head into the washing machine for a good spin? Sigh.
April 25, 2006 // anjali* pranced on tip-toes all over the keyboard at
7:33 pm
|