damienized*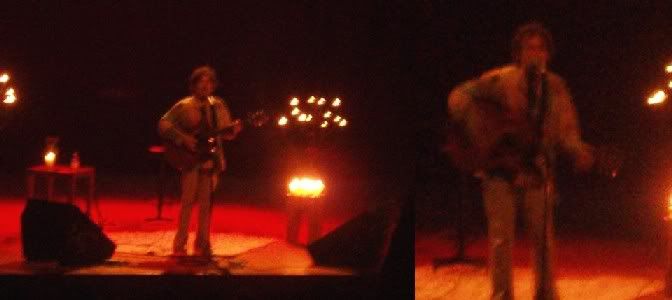 Well, what can I say? It's been 13 days since the concert at Suntec Theatre and I'm still in a daze.
It all started with me reading a
post
, then the
daydream
to attend Damien Rice's concert one fine day, and then maybe a chance to meet him in the flesh. And if I'm lucky, maybe with an autograph thrown in. Fat chance la, I thought, he'd never come this side of the globe. And I left it be as another of my desires.
Desires…Have I ever told you that I was given a prophecy back in 1999, that God will give me my heart's desires? I will dwell more on this in another post, but I will tell you this much for now – He hasn't disappointed.
See, I had already planned to go to Singapore from 29th – 1 April since February. Basically I wanted to do a bit of domesticated shopping – to get a new mop and few packs of multipurpose wipe cloth. Yes, you read that correctly. I needed to stock up on those wipes. So when I found out that the concert was on the 30th, I was bowled over at the coincidence. Perfect timing!
Fast forward of events thereafter:
Raine confirmed going for the concert too -> I wanted the S$138 ticket, she the S$68, we compromised and decided to meet each other halfway with the S$98 ticket -> I booked the bus tickets -> on the 30th morning, we journeyed down south.
Also, a week prior, I started memorizing all the lyrics. For me, it's crucial to know the songs by heart prior to any concert, in order to sing along and enjoy the show to the max. An added fun would be the ability to detect mistakes made by the singers themselves. There was once, an uncle sang "Susie came to town last night on the 1945" when it should be "7.43". And I thought only my mother never taught me arithmetic and numbers. Heh.
The show kicked off at 8.30pm with the song 'The Professor & La Fille Danse', followed by 'Delicate', 'Woman Like A Man' and then on the fourth song, 'I Remember', the irony took place. He had sung the first line and then he sighed the loveliest melody of an exhale made by any man and continued strumming his guitar. I turned to Raine and whispered, "I think he forgot his lyrics!" Almost immediately, Damien spoke for the first time, "This is ironic – The song is called 'I Remember' and I had forgotten the lyrics!" For a sec, I wanted to do the heroic thing – to run down the stage and pass him my lyrics sheet, but I chickened out and stayed put on my seat. It's the classic case of the willing heart and the wobbly legs.
The best performance was for 'Cold Water', which Damien requested for the stage lights to be switched off. So all I could see was his silhouette. The desperate cry to the Lord was so strong and heartfelt on the chorus bit that it sent shivers down my spine. This is Damien Rice at his best, I thought. Song after song, all I could do was just absorbed myself to the whole candlelit setting, the silhouette, the vocal, the raw strumming of his guitar, a short playful snore, a few more forgotten lines, many more lovely sighs, up to the last song 'The Blower's Daughter', which he sneaked in 2 verses of Radiohead's 'Creep' towards the end before drifting softly to the line "Til I find somebody new…" He definitely deserved the standing ovation which lingered for a good 10 minutes.
[When I told Mei about the lovely sigh, she snapped back, "Aiya. Even if he farts, you will also think it smells nice la." Tsk. Tsk. Tsk. Such unrefined friends I have. I will discount that to jealousy talk la.]
Even though I knew the show is over, I wanted to hang around for a while longer in the theatre hoping to catch another glimpse of the man again. Outside the theatre, I kept my ears peeled to kepoh
[busy body]
a bit and to hear others' experiences; a group of 3 girls were spellbound at the fact that one of them shouted a line to "Childish" to Damien, a girl claimed she never liked 'Cold Water' until that night, and many more. We sat on the floor outside the theatre until everyone has left before we went down the escalator toward the exit.
The queue for taxi was long, and many decided to call for their cabs. One by one, the crowd dispersed and I was getting a bit restless. Then we decided to call for a cab ourselves and were told to wait another 8 minutes. In my heart, though the concert was swell and all, I was a bit disappointed to the fact that even on Row 14, all I could see was a blurred vision and silhouette of Damien. I had brought my CD in vain, I thought.
Then the unthinkable happened. I turned and I saw him! For a moment I was unsure if it was him and blinked copiously, but then I recognized that patchwork shirt. Oh gosh, it's Damien Rice walking out with a Caucasian man and a tall girl. No bodyguard. No nothing. I started jumping like a kangaroo on heat and screamed at Raine, "It's Damien! It's Damien!". While I continued jumping away, I asked Raine if I should go and ask for an autograph. She screamed back, "Go lah. What you waiting for???" So I ran after him and tapped his shoulder. He turned and our eyes met. I must tell you he has the most beautiful blue eyes I have ever seen. "Hi Damien, can I have an autograph puh-leez?" "Sure." He replied with a smile.
I opened my backpack, carefully pulled out the CD which was placed inside a plastic seal, and pass it to him. He asked if I had a pen. At this point, God was having fun as well – I searched and searched my bag and could not find my freaking pen. Damien chuckled and asked "It's in there somewhere, eh?" I blushed and apologized and felt like Oda Mae Brown (Whoopi Goldberg) in 'Ghost' where she had a bagful of rubbish and could not find a pen either. Raine was a good ally and started asking around for a pen. Then Damien's male friend said he's got one and passed it to Damien. What a relief!
Me and Raine quickly sandwiched him as he wrote my name and doodled a girl holding a flower before signing his name next to it. The guy friend asked if we would like him to take our photo with Damien and we shrieked our yeses. As we posed for the picture, I could feel Damien tapping his fingers on my waist. I cannot explain the feeling of it all but the thought of not bathing for a week did crossed my mind. Right after, the guy showed us the photo, we said our thanks and the three of them continued their way. Five steps after, me and Raine screamed and jumped in delight and he did a double take on that. He must have thought us crazy.
See, desires fulfilled! If I have to sum up this whole experience in one word, it would definitely be
ORGASMIC
. And as aptly as it may sound, I believe that's what "O" stands for.
And I am not faking it.

P/S The CD cover has been framed up to preserve Mr. Rice's DNA. Ha.
April 12, 2006 // anjali* pranced on tip-toes all over the keyboard at
1:31 pm
|