where've you gone, dudes?*
Since young, I have been more inclined to make friends with the male gender. Now don't get me wrong. When I say "make friends", I meant exactly that. Literally. Being a tomboy since young, and blunt and crass and sometimes vulgar, I don't fit into the whole feminine mannerism and thus felt more comfortable being around the boys.
I grew up playing
guli
[marbles]
and arm-wrestling with my male neighbors. I even had my own solitude hiding place in a "tree house" made from one solid plank placed securely on two branches on the mango tree, where I liked to throw water-filled balloons at the Malay boys when they returned from their Maghrib prayers.
I guess that could have been influenced by my upbringing. Being born as the fourth daughter in the family, my dad had always wanted me as a boy. And to accentuate that assumption, he bought me toy soldiers, fishing sets, guns of various types and sizes, battery operated robots and darts to play with. Being deprived of a Barbie doll to play with, I think that's why I am a bit screwed up now. Heh.
Anyway, one of my favourite hobbies during my teen years was pen pal writing. At one point, I had about 15 pen pals from around the world. I spent most of my allowances and savings on postage. And it doesn't take a rocket scientist to guess that I write to mostly males. From that pool, there were 3 whom have impacted my life most. Though we have lost touch, I still do cherish them greatly and think of them once awhile. Wondering where they are now. How they are leading their lives. And how I miss them. Ever so much.
They are:
ALAN BIRCH – UK
Alan was about 11 years my senior and was a struggling artist when he first wrote to me. He writes well and is full of emotion. You can say he was my English teacher – I learnt so many new words from his letters. Our topics ranged from his constant struggles as an artist; trying to sell his work, getting sponsors for exhibitions, his teaching job in an art school to stories of his hang-out sessions with Mick Hucknall from Simply Red, who was his peer in Manchester Art School. He even sent me a Polaroid of Mick taken on set of "Money's Too Tight To Mention" video. See, back in 1985, Simply Red was just an upcoming UK band. With all those stories, I think that's one of the reasons why I always have a soft spot for the group and felt like I had some sort of a distant "connection" with Mr. Hucknall personally.
[Perasan la tuu...]

He wrote of his struggle –
Whereby most people work to earn money for their "free" time, many artists must work in their "free" time to earn money for their work. Crazy eh?
Alan was my emotional consultant as he was very matured. He gave me a lot of moral support to be what I want to be, to go after my dream no matter how hard it may take to achieve. He shared details of his dates (the good, the bad and the horror) and the last I remembered; he was dating a sculptor by the name of Jill Randall. I hope they are married coz he was crazy for her.
Here are 2 of Alan's colourful works, which were printed as postcards.
"Snooker Loopy"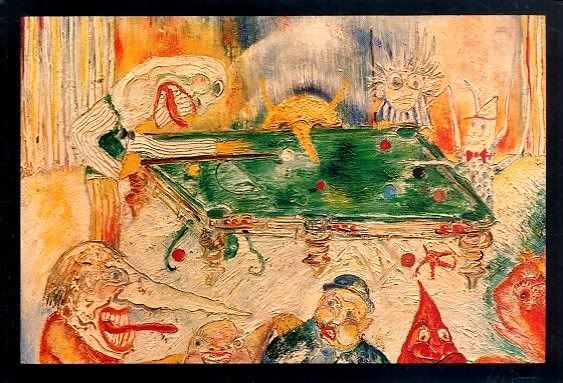 "The Man Who Couldn't Resist A Joke"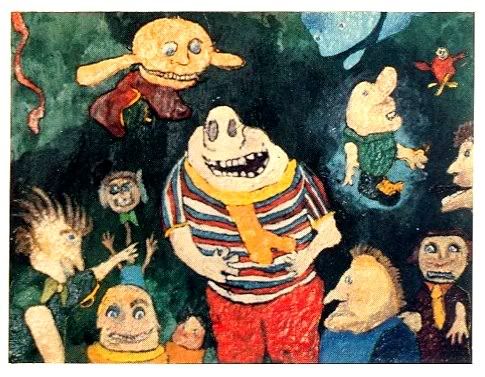 And here's an added bonus - 2 sculpture works by Jill Randall. [Updated 24 Feb]
"Singing A New Song"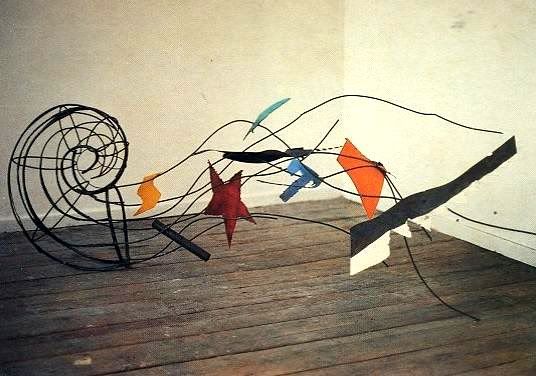 "End Of The Line"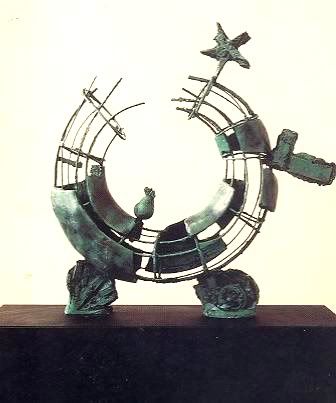 JACOB A – KL / USA
Jacob was one rascal and I loved his authentic sense of humor. He must one of the most colorful men I've ever known and he cracked me up with his writings. When I first knew him, he had just completed SPM and was working as a croupier in Genting while awaiting the results. He shared many gamblers' stories which were appalling. And thereafter he went to PJ Community College near Asia Jaya for his twinning course in Business Admin.
In his letters, he shared all the dates he had, his lecturers, his peers, the girls he scored homerun with (including some explicit details) and also his Casanova moves on one particular girl whom he had the lust for. I think her name was Amy.
He ridiculed me as the kampong girl who has yet to be deflowered and see the world. When I came to KL in 1988, I met up with him and Amy. Amy told me that he was so excited to having finally met me after 3 years of corresponding. And I, the same. Before I left for KL, he wrote me this…
"The escalators are able to move up on its own. So remember: you just stand still and don't walk up like a normal staircase. Please don't embarrass yourself."
Bastard.
Thereafter, he left for USA and we continued corresponding. For my 21st birthday, he sent me Playgirl magazine as my "deflowering" present. The magazine was placed between some university brochures. He must have conned the administrator to send the university brochures to me, a potential candidate. Clever move – (i) the mag passed through our Malaysian postal censors (ii) he saved some postage dosh.
After scrutinizing the pages for a week, I remembered asking him why all the American dicks are so small and limp. Even the American Africans'. Fuyoh - the sarcastic reply I got from him was super colourful. Haha.
He sent me lots of nonsense stuffs too - like colorful and flavoured condoms and some US military secret films about UFOs existence, which I had to hide them somewhere safe. Like real.
When he returned to KL after his graduation, he worked in for a local institution for awhile and married Amy. We met once and then we lost touch. Sad.
ABANG ASZMAN ABANG ZAINUDDIN – Kuching / UK
Aszman was the kindest man I've ever known. While he also has his own unique sense of humor, we shared so much in common it was unbelievable. Our letters are always 3-5 pages long at minimum. He writes poetically and I love to read and reread his letters every other day until I receive a new one. And then the cycle starts again.
I knew him when he was in Form 3 and I was in Form 1. After SPM, he got himself a scholarship to study Mechanical Engineering in the University of Sheffield. While he was in UK, he influenced me with lots of UK bands. One of them was U2, especially the album "Joshua Tree". I was a Top of The Pops junkie; whereby I subscribed to a monthly dose of new shows on video. We would discuss about the performances played, latest videos and latest hits.
By the time he graduated, I had migrated to KL to study. He joined Shell in Miri and would come down about twice a year for meetings. We met after 7 years of correspondence and it was the best meet ever. We just talked and talked and talked over countless paper cups of Coke at the food court in Lot 10. I loved his Brit accent with his semi-deep voice and how he chuckled at my jokes. He looked much better in person than his passport photograph, which at that particular angle made him looked somewhat Neanderthal. Orang Asli mah. Haa.
Like Alan and Jacob, he too shared about his rendezvous with a Singaporean pen pal, whom he later married. After that, we too lost touch.
Looking back, I must say that I loved them like brothers. They were my pillar of emotional support and confidantes during my adolescent years. They knew details about me even my mother is not aware of and me, them. If I had to do it all over again, I would still choose them three. Without a doubt. Without a blink.
I pray that one fine day they would be narcissistic enough to google their own name and find this post. I would love to resume the friendship from where we left off.
Where have you all gone, dudes? I miss you lots.
April 22, 2006 // anjali* pranced on tip-toes all over the keyboard at
11:48 am
|