of yvy and valentine*
Sometimes, a friendship starts with just a click. With
Yvy
, it took two. Well, sort of. The first click was when she pressed the 'Send' button on my comment box singing praises with a chirpy hint that she was going to be my blogstalker for life. And she hasn't disappointed. Heh.
Being a stalker myself, I thought it would be a great idea if I meet up with her and find out if she is as scary as me. So on the 4th day of CNY, we met and clicked. For the second time. The 3-hour-7-tehtarik-1-limau-ais meet was super smooth, much like the drive from SP to Kulim. As she
wrote
, we talked about nearly everything under the sun. For me, it was fun coz I think I got to know more about her than from her blog, since I don't really have the luxury to read about her in detail. So that kept the getting-to-know-you conversation running on auto-cruise.
So what can I say about Yvy? Well, she was not Chinese. And she is a nice person to have a decent conversation with. Nice voice too. What's important was she has opinions. And she's sweet. If I had stayed for another hour, I would have been diabetic. Heh.
She hopes to come down to KL before her wedding in August and I have offered her accommodation at my place in return of 2 rounds of sweeping, mopping and picking up Smokey's poops. Which she agreed almost instantly. So I do look forward to that.
Cheers, babe.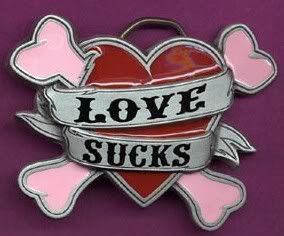 And peeps, there's gonna be a double dose of Valentine's Day this year - Chap Goh Meh on the 12th and the Ang-Moh version on the 14th. For the desperados, here's some survivor tips which I recieved via email today. Embrace them with caution.
How to survive through Valentine's Day.
1. Wear black, and lots of it.
2. If someone else in the office has received flowers, chocolate, singing telegrams, and other forms of dating expressions, glare at them. Snarling and grunting optional.
3. Same goes for anyone wearing excessive amounts of red. Especially if they are wearing heart-shaped items like pins.
4. Later in the day, eat the chocolate, run the flowers through a food processor, and beat the crap out of the singing telegram people. (Most people will thank you for this, anyway). For the rest of the day, labour over the effect all that chocolate is gonna have on your waistline.
5. Return home and destroy at least one item given to you by an ex.
6. Feel guilty. Call the ex. Make up story about having a hot date.
7. Watch TV. Turn off TV after noticing every channel is airing a clone of "While You Were Sleeping" or, worse yet, a "Friends" Valentine's Day.
8. Realize how lame not having a hot date is. Head to bar.
9. Plot massive torture of anyone who shows up at the bar with a date. Slow torture if the couple is in anything above semi-formal dress.
10. Massive quantities of alcohol. Beergoggling. Wake up next to someone - male or female - with way too much facial hair.
11. Remember (and regret) this incident for the next 364 days. Complain about never having a good Valentines Day.
12. Wait until some bizarre calendar date Hallmark has labeled "Sweetest Day." Rinse, lather, repeat to get in practice for next Valentine's Day

.
As for me, I will buy myself 2 giant durians and head to
Kelly Dorji
's house and upon seeing him, I will try to throw it on his head. In case I missed, there's the second one as back-up.
Whatever you do, don't contract VD. Haa.
February 10, 2006 // anjali* pranced on tip-toes all over the keyboard at
5:31 pm
|