hawaii-five-o oh ooh oooo-la-la*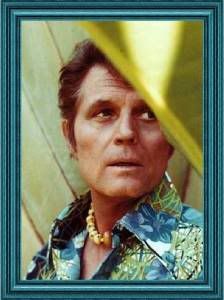 Yesterday, something great happened on MixFM. For me, it was one of the most entertaining morning session ever hosted by Richard and Shazmin.
On most mornings,
*ahem, trying to sound like a celeb*
I wake up to Tim and Shareena of Red104.9FM. I have come to realise that men (and young boys alike) named Tim are gifted with distinct taste in music and quirky sense of humor, even though sometimes they tend to emo shut off and on.
[Private tease.]
But I digress.
They played the
MixFM Top 20 TV Themes Countdown
. It was really great hearing all those TV themes from my growing years.
So you can imagine my excitement when they revealed that Hawaii Five-O was voted to Number 1 position. Oooh, how I love the theme. And of course, Jack Lord as Steve McGarrett - so
hansem
with his square chiseled chin. And so macho.
It's funny how some things stick with you. I think I was in Standard One when Hawaii Five-O hit the Malaysian shores. On Sunday nights. At 11.00pm. I remember I would sneak to "listen" to the show from my room door, which I kept open by about an inch. See, mum had forbidden me to watch as I have school the next morning but being an owl that I was and still is, I would not sleep until I hear the theme for the second time, meaning the show is over.
And I would sneak to "hear" the show week in , week out.
Mum found out after a while and decided I might as well watch it. So you see, patience and perseverence always win. Heh.
Anyway, I hope MixFM will do a CD compilation of all the themes. I would surely buy it!
September 22, 2005 // anjali* pranced on tip-toes all over the keyboard at
8:45 pm
|