postsecret*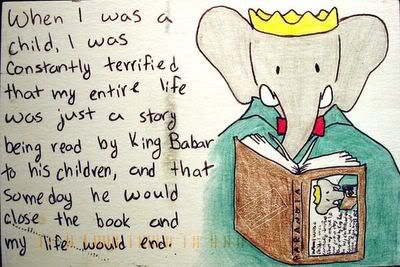 Once in a while, one would chance upon a mind-blowing site that just needs to be shared.
Postsecret
is such a site.
In November 2004, blogger Frank Warren started Project Postsecret, to art exhibit a collection of secrets from strangers met at subway stations. Conditions: i) The secret has to be true. ii) It had to be a secret that had never been shared with anyone.
The result is the blog site, which is truly the most powerful I have ever seen. It provides great insight to what people keep as secrets. Some simple, some emotionally draining, some thought-provoking and some just simply funny. But all raw and real nonetheless.
All in all I think, if we dare to look deep down and be truly honest with ourselves, we will realise that we are more similar than we'd like to acknowledge, regardless of our skin color and the race we represent.
Poignant.
Powerful.
So damn powerful.
["Babar" secret
is posted with Frank's permission.]
July 04, 2005 // anjali* pranced on tip-toes all over the keyboard at
12:42 pm
|