pissed about pissing*
For the past week, I have been feeling pissed about work. There's just too many incompetencies loitering and lurking around. Like a shadow. You just can't shake them off. Worst than having a horny dog shagging on your leg and won't let go. And to add salt to the wound, I get them laced with primadonna-ish antics, free of charge. It's like the usual gift-with-purchase retail promos. Only this time, I wasn't even a keen buyer. But they shoved it up my face anyway.
And being the 'mulut laser' that I am, who voiced out my POV and will not condone to be treated as a servicing doormat, the wheel is turned on me that I am the one with the attitude. Hah! The only saving grace to pull me through this dark tunnel is knowingly realised that my true employer is God himself. When I sleep at night, my conscience is clear - I have given the best to my capabilities.
I also believe in this line – The task ahead of you is never as great as the power behind you. I pray that my bladder will be in better working order and thus, the pissing period will reach its end soon.
While we are on the subject of pissing, Leeds sent me this Friendship message today. Nice. Heh.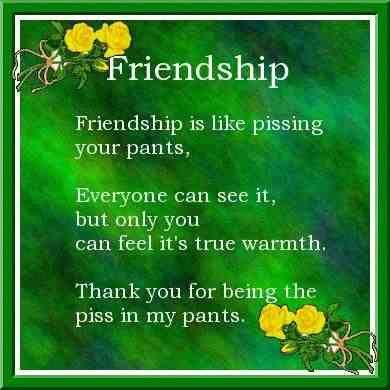 I will part with
Badly Drawn Boy's
Pissing In The Wind lyrics.
I've been pissing in the wind
I chanced a foolish grin
And dribbled on my chin
Now the ground shifts beneath my feet
The faces that I greet never know my name

Just give me something
I'll take nothing
Just give me something
I'll take nothing
April 15, 2005 // anjali* pranced on tip-toes all over the keyboard at
11:39 am
|