eloping to oo-sa*
Tomorrow is Valentine's Day. Aahhh....the one day which all restaurants, hotels, florists, card, chocolate and lingerie companies can take full advantage to trap lovers (or lovers wannabe's) with the guilt-trip for a fancy romantic candle-lit dining, chocolates, mushy card and one earth-shattering rendezvous in the hotel suite. And if the man still has some stomach space to spare, do throw in the edible panty as well. Suckers!
This whole romantic hullabaloo got me reminiscing about my very first heartbreak.
I was 8 going on 9.
I had just started Standard Three.
And I was in love.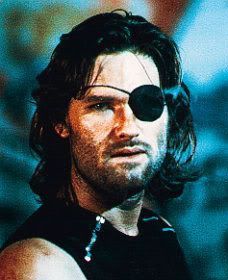 With
Kurt Russell
.
Honestly, for the life of me now, I have no remnant of past memory whatsoever as to why I was so in love with him then, but he was truly the love of my life. I breathe, eat, sleep, dream and ride my bicycle thinking of Kurt, Kurt and Kurt.
I remembered it being a Sunday. Coming back from school (I hail from Kedah, so Sunday is a school day la!). After a heavy lunch, I glanced through 'The National Echo' newspaper for some Hollywood gossip.
And to my horror, there it was - Kurt Russell's wedding photo!
(to actress Season Hubley.)
I shrieked in sheer disgust. So loud that my sisters came running to my desperate cry.
"Why? What's wrong?"
I could only throw the page to them, and continued to cry my lungs out.
"My life is over! He is to marry me!" I yelled.
My sisters were dumbfounded. And for once, they were lost for words.
"Can you all give me money? I want to fly to Oo-sa* and have Kurt cancel the wedding! He is supposed to marry me!!!" the crying continued.
"Are you nuts?" my second sister tried to put some sense to my head. "You are still schooling la!"
"I have finished Standard Two with flying colors. I have learnt my algebra! That's enough for me. I want to spend my life with Kurt! Aaarrrrghhhhh!!!!!! How can he do this to me!"
"You know his address meh?"
"I can find him! Just give me a ticket to Oo-sa and I will find him!"
"Siao**!" and they left me be.
I swear I really made a big fuss over Kurt's wedding. If I was at the wedding, I would have made my violent objection. Anyway, it took me two good weeks of crying and massive loss of appetite before I finally give up on any chances of flying to Oo-sa.
And it took me three years before I had another crush. This time to
Harrison Ford
. This crush lasted 20 years. It ended the day I read about Harrison's divorce to Mellissa Mathison, his wife of 18 years and also the scriptwriter for '
E.T. The Extra-Terrestrial
", only to end up in the arms of Calista Flockhart. Such swine. This only proves the theory accurate that men (ok, most men) think with the lower head.
Anyway, I wish you a very Happy Valentine's Day! Have fun.
* Oo-sa - actually it's the Bahasa Baku pronunciation to USA. Haa.
** Siao - 'mad' in Hokkien.
February 13, 2005 // anjali* pranced on tip-toes all over the keyboard at
7:20 pm
|