shall we belly dance, mr. sumner?*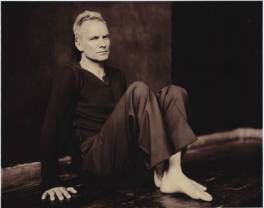 I was stung last week and I have been a walking trampoline since. Move aside Santa, the English-teacher-turned-rock-deity Sting is coming to town. Again!
I had the privilege to attend his 1994 concert in PWTC. All thanks go to my cousin brother who bought me the ticket as an early birthday present. Back then, as a student, there was no way I could have afford the RM200+ ticket. I am still thankful for that gift, even though I had to be the lamp post to him and his girlfriend; now his wife. But hey, I did leave them to join a group of French men midway...
Sting was a sight to behold, his performance was world-class and his booty was perfect 12 out of 10 on my drool poll. And he's looking sexier than ever in his 50s. He must owe that great physique to his tri-weekly 5-hour tantric activity, I'm sure of it.
His
'Sacred Love' World Tour stop in KL
is due on 1 February 2005 at the Bukit Jalil Stadium. Me and my executive have bought the Platinum tickets, which cost RM470 each. But hey, he is so worth it. Even if I have to eat instant noodles for the next 3 months, so be it.
And guess what? I am planning to take up belly dancing classes. Why? Because Mr. Sumner loves it. In fact, he's been known to have fans belly dancing on stage to 'Desert Rose'.
Don't believe me?
Click on the left pix and read all about Venus' experience with Sting.
And for the KL tour, maybe I would get the privilege to do the same for him. Ya, ya...I may be end up being too chicken shit to move even a finger when he actually calls me up, but the remedy is simple. 2 shots of vodka may just remedy all the
retard genes
!
To date, I have the support from my friends, Lisa and Tracy, who are also keen to learn belly dancing with me.
So people of Malaysia, lend me your moral support. I may just end up on MTV! Woo!
Update 2 Jan: After much thought (which was also strengthened by the dominant alter-ego chicken - I swear this to be Tan Ah Yam's curse!), I have decided to postpone my belly-dancing classes to June '05.
Why?
Many reasons (good ones!) being:
i) I am not the flashy sort of person. But definitely fleshy - seriously need to tone that jelly belly of mine before any public / private display of sorts.
ii) The RM470 ticket has burnt my pocket badly. I need to be thrifty for the next quarter.
iii) I need to start saving for my 2nd Kinabalu climb due in April 2005, with a nice resort stay included.
December 14, 2004 // anjali* pranced on tip-toes all over the keyboard at
11:20 pm
|