hung-over*
I had not slept for 2 nights and prior to that had only 3 hours of REMs. And even so I was constantly woken up drenched in cold sweat - the client became my Freddie Kreuger every night. I fall deep into the black hole in the gap between his teeth. This 2005 brand plan was really driving me to suicidal point.
I had lost 2 kilos in 2 weeks. Guess that was the only plus point to this yearly torture. While I thought I looked great, others thought I'm perfecting the zombie look.
One more week to go before the big presentation to the gap one.
"Help me God. Let me not walk alone in the valley of death!" became my constant plea.
I need a break. Definitely after the preso.
Just as the clock hits 7.00am, DJ Tim from Red 104.9FM opened the lines for the "Comedy 4U" radio contest. The first 4 callers with the right answers to these questions will win 2 free tickets to watch William Hung live!
Questions:
1) Where will it be held? [Answer: Arena of Stars, Genting Highland]
2) What's the date and time of the show? [Answer: 15 November, 8.00pm]
"Ha. Let's give it a shot!" I thought.
"Lord, I could use some laugh to unwind. So please let me win." I plead again.
I was the second caller through! Woo!
I dialled Mei's number and told her about my latest windfall.
"You must be joking, right? Are you okay? Do you need to see the doctor?" she quipped.
"Aiyo, I am fine la. Wanna come or not? It'll be fun!" I pleaded.
She thought for quite a bit before agreeing. 2 weeks to be exact.
"I am only doing this because you begged me to. If anyone asked, you went alone, ok!"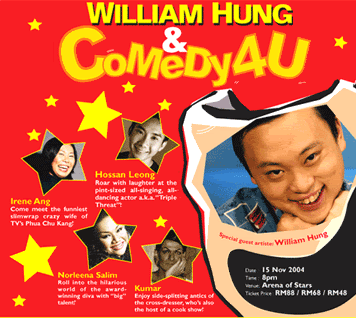 >> Fast track to November 15, 2005.
I picked
Mei
up from her condo at 5.00pm. As always, she lets me yak away. This time, until we reached Arena of Stars.
We were entertained with tunes from William's album. That was a real eardrum test. Show kicked off with Norleena Salim and Hossan Leong. Then Linda Ang asked the audience to stand up and danced like William, to give him the support before he makes his appearance.
Without a blink, Mei jumped from her seat and proved that she too can bang.
"Get up woman! Shake your booty! C'mon shake it, shake it like a polaroid picture! Woo!!!" I could only offer a sheepish smile and turned her down.
Mei danced, jumped and screamed when William came on stage with "She Bangs". Holy cow udder, can she bangs. For the record, she bangs good.
Then she screamed, "William, I love you.", followed by "William, I want to have your babies!!! Take me, William! Take me!"
And to think she is my cell leader!
I was tempted to lay hands on her and cast all the demons out. Then it hit me - this is a once-in-a-lifetime opportunity to see her misbehave. Nevermind, the SOS call to pastor can wait till tomorrow. I'm having double dosage of pure entertainment - so why spoil it! Instead, I silently thanked God heartily.
She slowed down when William covered Elton John's "Rocketman". Then she hit it high again with the Village People's "YMCA".
On the journey home, she was grinning from both earlobes and humming the chorus to "She bangs" and I let her be. It's my turn to listen.
The next morning, she called to say she's got a bad hangover. From a different kind of high, I supposed. She confessed her memory failed her and asked "Did I do anything stupid?".
"No, dear. You were ice cool."
I couldn't bring myself to tell her the truth. The beautiful truth that she can bang so well. Even if I did, she'll definitely deny it all.
December 07, 2004 // anjali* pranced on tip-toes all over the keyboard at
8:45 pm
|