close call*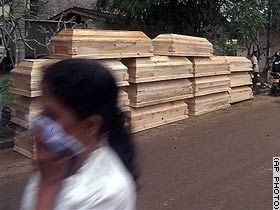 2004 is coming to an end. And definitely with a thought-provoking end. The tsunami disaster death toll has risen to the 67,000 mark and the number is ascending as I type away.
Who would have thought this to happen; especially a day after Christmas. A day after Jesus Christ's birthday. Jesus - the one who died, so all of us can live. The one who is the Lord and Saviour. The
perfect man
.
Why thought provoking?
Because I did felt a slight tremor that Sunday morning while sitting on the bowl. I brushed it off as me being groggy after having only 3 hours of sleep. It was only during mid-noon I learnt of the disaster through
CNN
. And the next day, I read about the evacuation of residents in a neighbouring condo. Gosh, the tremors I felt were real!
And that set me thinking seriously about life. I mean, in a way, this is my second close brush with death. The first time was back in 1988 when the Penang ferry terminal collapsed. I was lucky enough to aboard the last ferry. Out of the group of 12 making that fateful trip together to see the Kwan Yin Procession; 9 fell, 1 died and 2 escaped. Till today, my cousin sister who fell can still feel the pain on her ribs when it pours.
And that is the key reason why I detest crowded places.
A fellow Christian blogger, James raised a good point that we must
live a life worthy of God
. The second coming is definitely drawing near. It may come next decade. Next year. Next week. Even tomorrow. Or tonight...
So let me end the year right with this note.
To Whom It May Concern, if you have lived your life not knowing who the real God is, it is still not too late. And if you have been hurting and you wonder where God is when bad things happen, my dearest, look no further than
here
.
May the truth set you free.
God bless!
Update: As of 11.40pm on 29th Dec, the death toll is at 80,427 and rising. Sigh. May those souls rest in peace.
December 29, 2004 // anjali* pranced on tip-toes all over the keyboard at
8:10 pm
|