bridget sucks*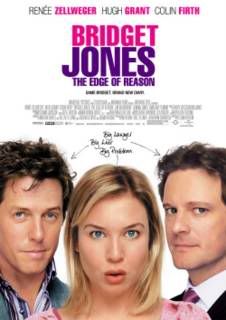 Watched 'Bridget Jones The Edge Of Reason' last week. Couldn't wait for it to hit our shores, so I furtively head down to patronise my pirate king, Ah Kong's stall. Pirate King Kong, who coincidently share the same ash blonde hair color as me. Sometimes I wonder if that was the key reason he calls me "Sister" while he refers to other gals as "Leng Loi". Hmm.
Well, what can I say about the movie?
In a nutshell, it was a major disappointment with capital letters, 44 point size. Yet, for the record, I watched it twice. Back to back.
5 reasons why I agree with Bull Durham's comment of "Same plot different diary" :
(i) Renee Zellweger's bad Brit accent. That really got to me. I am beginning to dislike her and her silly antics, which borders to being irritating. They seem deliberate this time. Definitely trying too hard.
(ii) The Colin Firth / Hugh Grant girlie fight did not impress me either, though I would love to have 2 hunks fighting for me.
Dream dream
. Again same idea- wet fighting scene. This time, instead of pouring rain, it involves a fountain. The key saving grace to this scene was the accompanying song; The Darkness' "I believe in a thing called love". They should have featured the ever sexy Justin Hawkins. Yum.
(iii) The thunder ass on the camera scene was no longer funny second time round.
Yawn
.
(iv) The third party and the jealousy. Personally I think Mark Darcy should go for her instead of Ms. Boring Bridget.
(v) Giant girdle scene - major put-off. Who in the world wears girdle anymore?
The only saving grace to the whole movie is (of course) the firth factor - seeing
Mr. Mark Darcy
naked!!! Okay, okay...it's only from waist up but you can actually see Mark's left nipple in its full glory. Unashamedly I confess, I paused and drooled over this scene for the 39th time now. The latest count was last night at 2.31 a.m.
And I do wish I am the one staring at him sleeping...Understandably I'm feeling quite dehydrated. Gonna grab myself some milk now. Ha.
December 11, 2004 // anjali* pranced on tip-toes all over the keyboard at
1:47 pm
|