meanwhile*
Most friends know that my cafe plan has been given the backseat due to financial constraint. Facing the crossroad, both Ir and myself decided to return to our 'glamorous' advertising jobs (hah!) and continue saving for sufficient capital. So like prodigal daughters, we did that. With weighty hesitance.
One day, while watching
Music Room on CNN
, I texted Ir and cheekily suggested that I wanted to migrate to Australia and
do something I will not share publicly on this blog.
She return text to say that she too, was contemplating to quit and maybe go to Singapore for awhile. To work at
Borders
, this would be heavenly - being amidst endless rows of books and reading them for free.
We laughed at our own silliness.
On some blue moons, I'd call Ir for some catching up and amuse us both with gossips entwined with wicked humour and sarcasm. Such sharing of good humour lifts me up, especially when we are the victims of our own jokes. But at the hidden corner of our conscience, there lies an unsettled deep urge to take the plunge into unknown territory. At most times, our heads still reign over our hearts. Or is that just lame excuse for being chicken shit. Shrug.
Looking and reading around, I am equally encouraged witnessing others taking the plunge. See them zig while I am still zagging.
For starters...
1. MQ, an ex-colleague and good friend, recently opened a boutique coffee joint in Changkat Bukit Bintang called 'Ole Cafe'. A bit pricey but the Taiwanese barista, Shiong (aka Bear) can churn some mean latte. Especially the one with a dash of Bailey's. Slurp!
2. My pastor decided to heed the Lord's call and go fulltime into the ministry. Besides that, he and a fellow church mate will be buying over a cafe at IOI Mall.
3. Tracy, an ex-client and friend (and fellow church mate) decided to start small - she will be selling 'thong-sui' at the upcoming flea market at Plaza Damas. Wonderful!
4. Jo, has started her own line of t-shirt designs. For the past three weeks, she has been selling her creations at the Street Market of 1-Utama. I was with her last Saturday and we both had a jolly good time.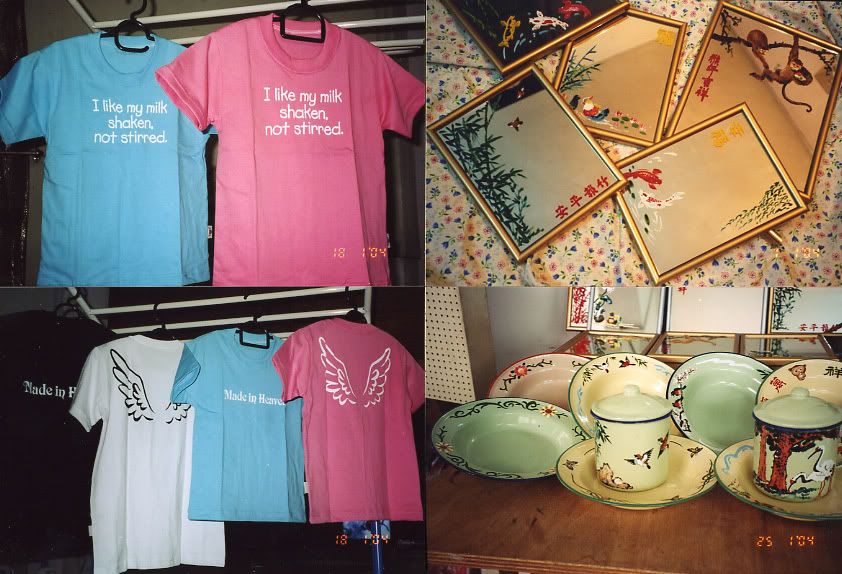 5.
Genius
, despite his
terrorist
idiosyncrasies, walked the narrow path of fulfilling his heart's desire albeit all odds. Now, besides songwriting and singing, and with strings of awards to his name, Genius has branched out to HTML geekdom, writing and acting. Oh, and did I mention he's now also a full-time stalker to KLites with his news and pixs everywhere.
(Horror!)
[One more terrorist story here]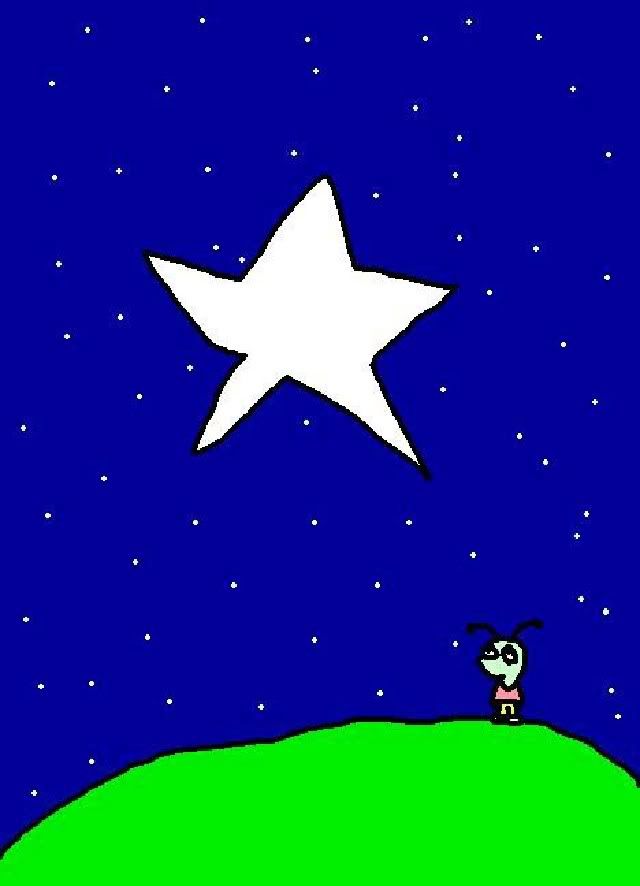 6.
Moby
(
the other genius!)
has opened
Teany Cafe
. Go check it out. Just like Moby, think the cafe idea is super cool. This is another
terrorist
to watch out for - he writes, he masterminds music, he draws, he's human and he's not a whale.
(Corny!)
'Big Star', on the left, is one of Moby's many drawings. I loved it the second I saw it and decided to decorate it on my wallpaper. Laced with Leo Burnett's brainy quote
'When you reach for the stars you may not quite get one, but you won't come up with a handful of mud either.'
as a constant reminder of the bigger thing to come.
Hmm...one fine day, our dream will come true.
It's all in God's timing. Am sure of it.
Till then, just be nice to me and I may feed you with my evil yam cake, wicked assam laksa, devillish laksa johor (which will make the
shack people
cry in shame), lobak and my now-perfected banana walnut cake. Whoa!
August 30, 2004 // anjali* pranced on tip-toes all over the keyboard at
2:11 am
|